Gold Eagle Coin Sales Already 3X Last Year's Total And US Mint Still Struggling To Produce Silver Eagle Coins
As the Fed and central banks continue to prop up the global economy with massive monetary stimulus, investors are just beginning to move into the precious metals to protect wealth.  In the first seven months of the year, investors have already purchased three times the Gold Eagles that were sold during full-year 2019.
According to the data from the U.S. Mint, total Gold Eagle sales (in troy ounces) were 152,000 last year versus 456,000 as of July 23rd, 2020.  Amazingly, that is exactly three times the 2019 sales figure: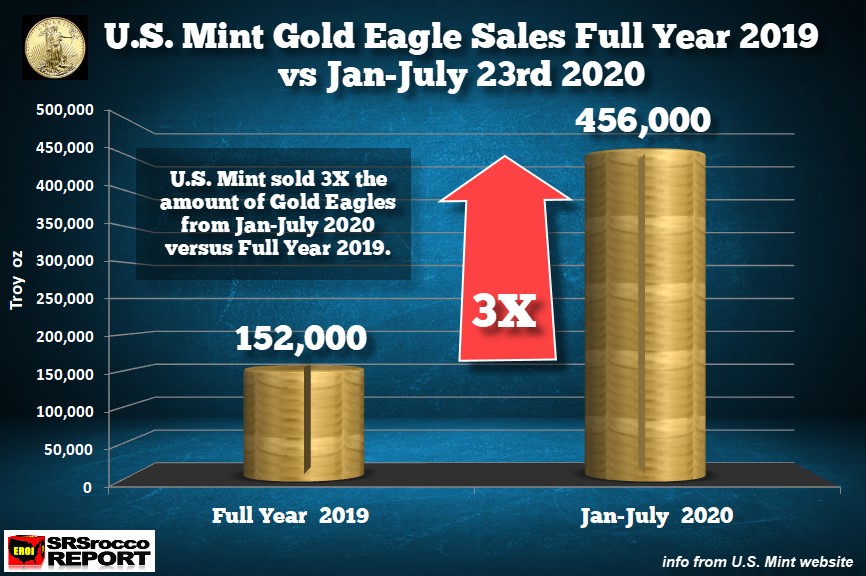 With five more months remaining in the year, we may see double that figure if the U.S. Mint remains open and can access the gold blanks it needs to mint the 2020 Gold Eagles.  Here is the breakdown of Gold Eagle sales per month in 2020:
Monthly Gold Eagle Sales 2020 (troy ounces):
January = 60,000
February = 7,000
March = 151,000
April = 105,000
May = 11,500
June = 44,000
July = 77,500
As we can see, due to the global contagion, investors bought up record Gold and Silver Eagles in March.  However, over the following month, the U.S. and Canadian Mints were shut down as well as many large gold refineries across the world.  Gold Eagle sales dropped in May and started picking up in June as more supply was available.  However, with gold now reaching $1,900 an ounce, we see another surge in Gold Eagle buying.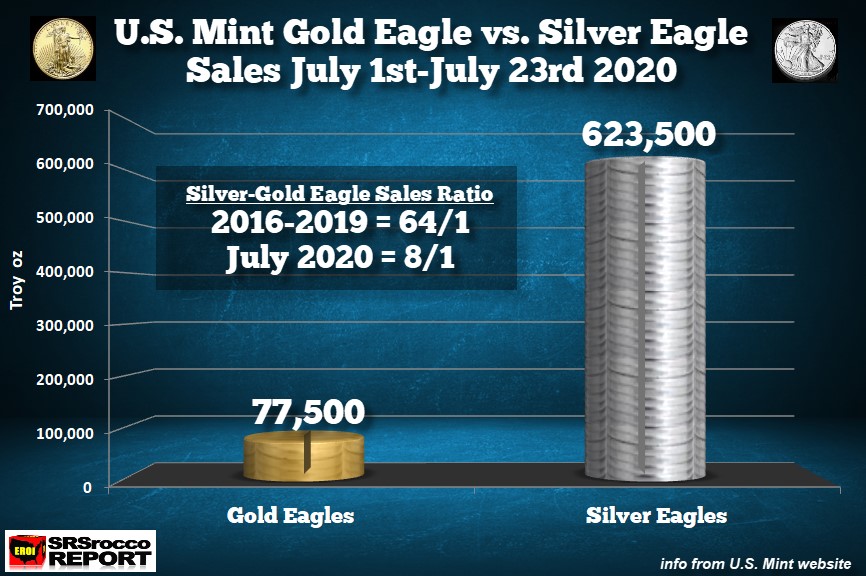 Interestingly, the ratio of Silver Eagle (623,500) versus Gold Eagle sales (77,500)  in July is only 8 to 1.  The average for the past four years (2016-2019) was about 64-1.  Because the U.S. Mint is still struggling to produce Silver Eagles as well as investors switching to other lower premium sovereign official silver coins, such as the Silver Krugerrand, Silver Maple, Silver Philharmonic, and Silver Britannia, sales of Silver Eagles have been much lower than usual.  But I think this will change in the next few months.
Total Silver Eagle sales for 2020 are 13,220,000 versus the 14,863,500 sold during 2019.  If the U.S. Mint is able to produce Silver Eagles are larger monthly volumes, total sales will likely surpass 20 million this year.
I reached out to Tom Cloud today, and he did say that investors were switching to other official silver coins due to the much lower premiums compared to the $6-11 premium range for 2020 Silver Eagles that I have seen from the top online dealers.  Furthermore, several large online dealers are "Pre-Ordering" 2020 Silver Eagle sales that won't be available to the first or second week of August.  So, this just goes to show that if the U.S. Mint had plenty of available supplies of Silver Eagles, then these dealers wouldn't be selling them as "Pre-Orders."
Tom also told me that they are still selling more silver bullion products than gold in ounces and dollars.  With the current Gold-Silver ratio at 83 to 1, investors can buy a lot more ounces of silver for the money.  As the Gold-Silver price ratio continues to fall back to the average 65/1 ratio, and even lower, wise investors will continue to buy more silver than gold.
To find out more about investing in precious metals, check out this page:  PRECIOUS METALS INVESTING.
Steve St. Angelo, SRSrocco Report
*********