Gold Forecast – This Could Be the Last Opportunity to Buy Gold Below $2000
Metals and miners turned lower, and it looks like we will see a little more downside into month's end.
The last two cycles bottomed as we changed months, so I'll be on the lookout for evidence of bottoming in the final days of June or the opening days of July.
Our Gold Cycle Indicator slipped to its lowest level since November; long-term investors may want to update their shopping lists and consider adding to their portfolios. 
Our medium-term outlook anticipates a breakout in gold above $2100 in Q3 and a new bull run towards $3000 by this time next year. 

Fed Watch
The market is placing the odds for a July rate hike at 71.9%, and this is pressing gold lower. I don't think the Fed will hike on July 26th, but the market disagrees. Gold should find its footing and begin to rally once it becomes obvious the Fed is done hiking. Until then, investors must remain patient.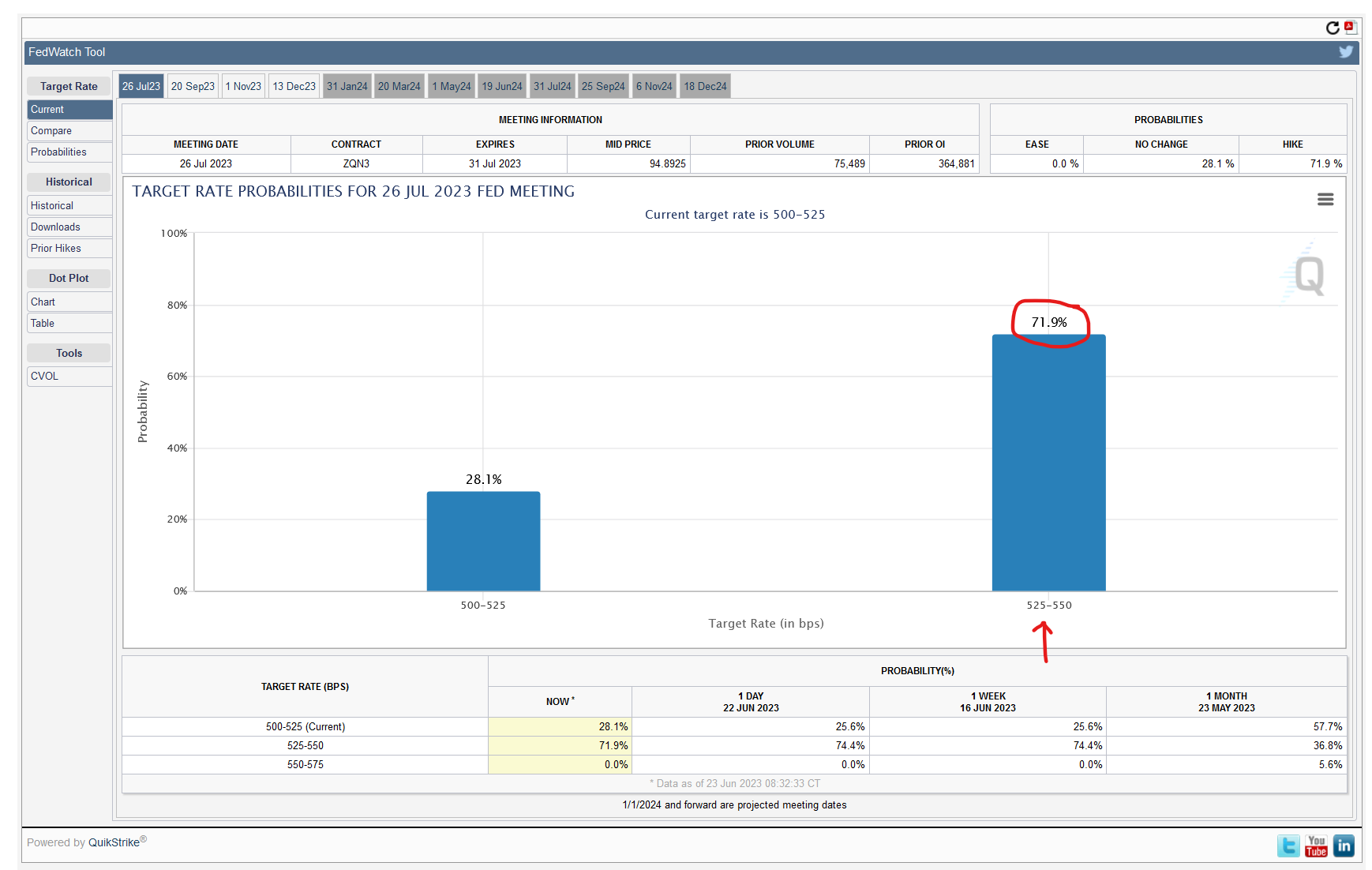 source: https://www.cmegroup.com/markets/interest-rates/cme-fedwatch-tool.html?r...
The Gold Cycle Indicator finished at 85. We are in the timing window for a cycle low, which could arrive any day.
GOLD- Gold slipped to fresh lows, and I believe we are rapidly approaching a cycle bottom. Ideal support is between $1860 and $1900, so I placed the target window surrounding $1880. As I stated in the weekend newsletter, prices have been changing direction at monthly turning points, so I'll look for evidence of bottoming during the last week of June or the first week of July. 
SILVER- Silver reached its 200-day MA, but prices could dip a little further to test the rising trendline. Registered COMEX inventory jumped from 27 million ounces to 32 million in the latest report; reserves appear to be stabilizing for now.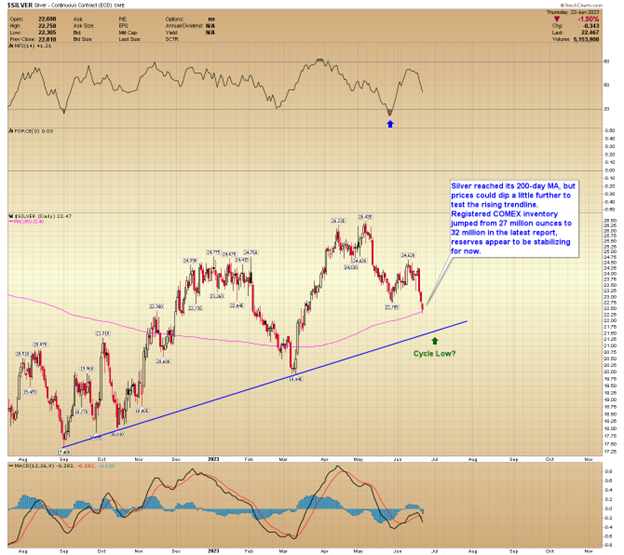 PLATINUM- Platinum continues to bleed lower, and prices could retest the $900 level in the coming days. The last two cycles bottomed as we changed months, so we should be nearing a bottom. I continue to expect a robust bullish advance starting within the next 1 to 3 months, and if I'm correct, this could be the last time we see platinum below $1000 for the remainder of this commodity cycle.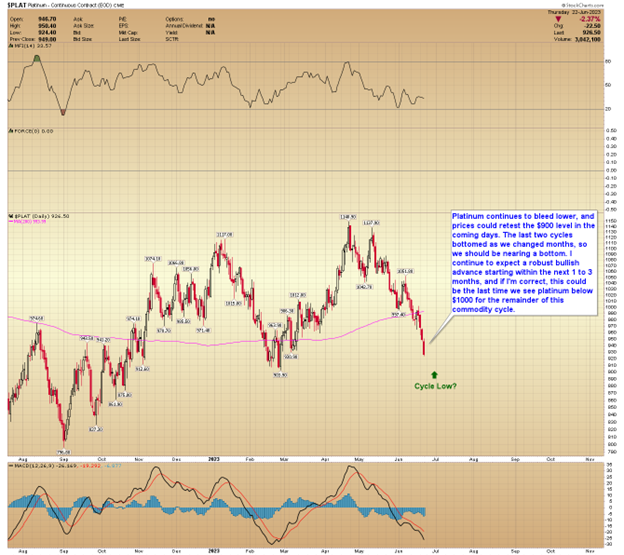 GDX- Gold miners were down less than gold today, which may be a positive sign. As prices near the 200-day MA, I'll look for signs of bottoming – a retest of $28.00 remains possible.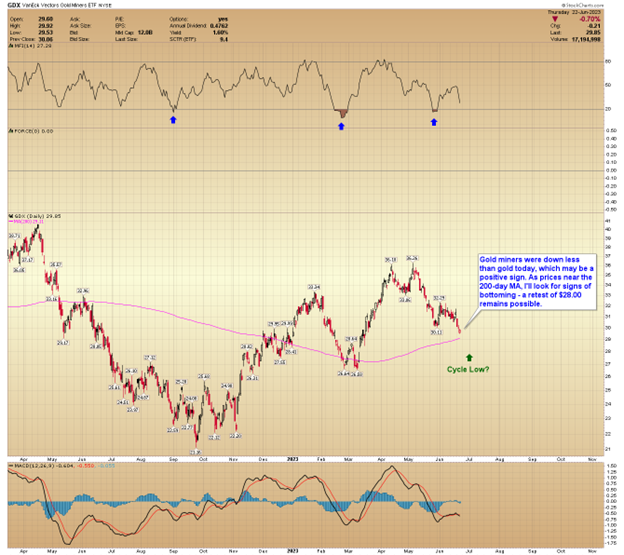 SILJ- As we near a cycle low, I'm looking for areas to put money to work. The junior silver ETF has performed poorly, but I'm not ready to give up on it yet. If prices drop below $9.00, I'll consider increasing my position in the metals portfolio.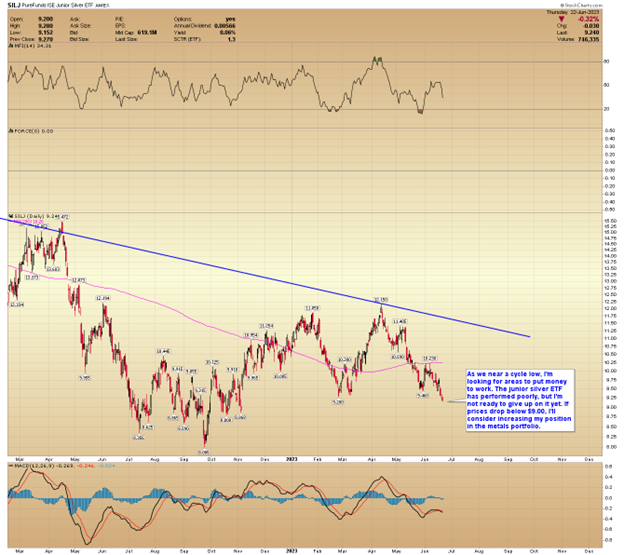 NEM- Newmont is down roughly 50% from its 2022 high, and there has been little to get excited about until recently. Last month they announced a merger with Newcrest Mining out of Australia. If the deal goes through, this will make Newmont 2.0 the largest gold producer by a wide margin. I'll cover this in more detail in the weekend newsletter, but the acquisition would add significant copper exposure and reduce margins significantly. Analysts estimate Newmont could produce 8 million ounces annually with all-in-sustaining-costs near $1000 per ounce by the decade's end. If capitalized, this would make them a cash flow machine. I like the deal and I'll be looking to accumulate on a price drop below $40.00.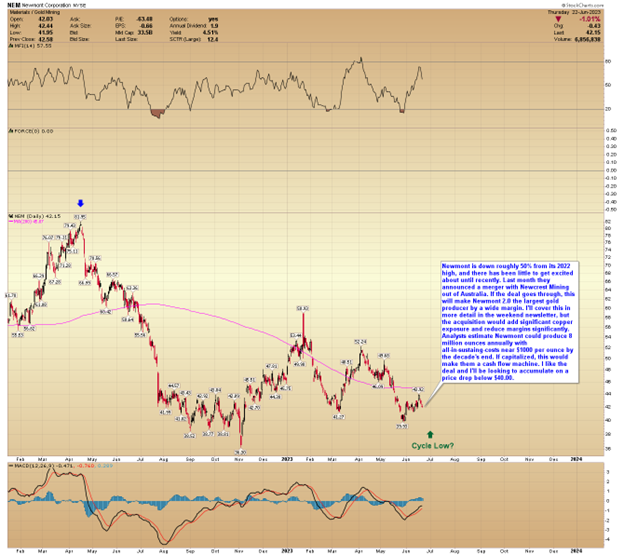 BTCUSD- Bitcoin bounced off support at $25,000, and prices could make a new rebound high. The recent rally (hype) is over Blackrock applying for a spot Bitcoin ETF. The SEC should decide within the next 90 days. To date, all spot ETF applications have been rejected. 
Conclusion
Gold is likely very close to its next cycle low, and a breakout to new all-time highs is possible in July or August. Once gold gets above $2100, it may never look back, and we see $3000 as possible by this time next year.

********