Gold Forecast: Expect New Highs Ahead of Growing Recession Concerns
I get the overwhelming sense the economy is rolling over into recession faster than markets expect.
U-1 unemployment is shooting higher, and permanent job losses are accelerating, consistent with prior recessions. 
Long-term inflation expectations reached 12-year highs, and consumer sentiment remains depressed. 
Soaring bankruptcies, crashing volumes, and mass layoffs in shipping indicate a brutal recession is coming, and it's worldwide.
Rising Unemployment
The U-1 unemployment rate for people out of work for more than 15 weeks compared to the prior 12-month low is flashing recessions. Currently at 0.28%, anything above 0.15% signals danger.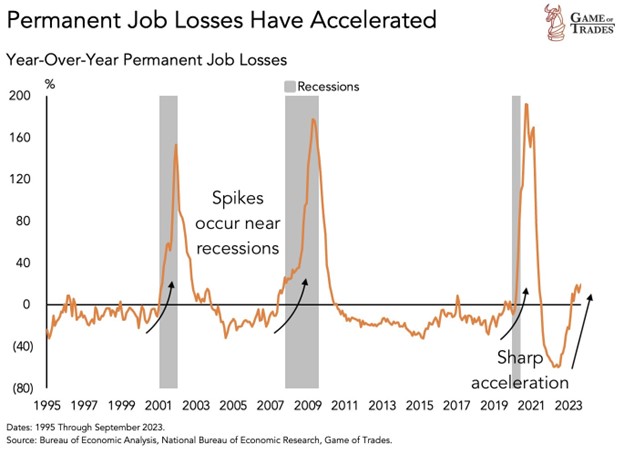 Inflation Expectations 
Long-term inflation expectations reached 3.2% and a fresh 12-year high. After decades of low inflation, consumers are beginning to realize something has changed. Sentiment measured in the bottom panel remains depressed and could reach new lows in 2024. 
Bankruptcy Filings
Bankruptcies are soaring as the world adjusts to higher rates. During the 2010s, zombie companies were kept alive by ZIRP (zero interest rate policy). That time is over, and thousands of unprofitable companies face bankruptcy.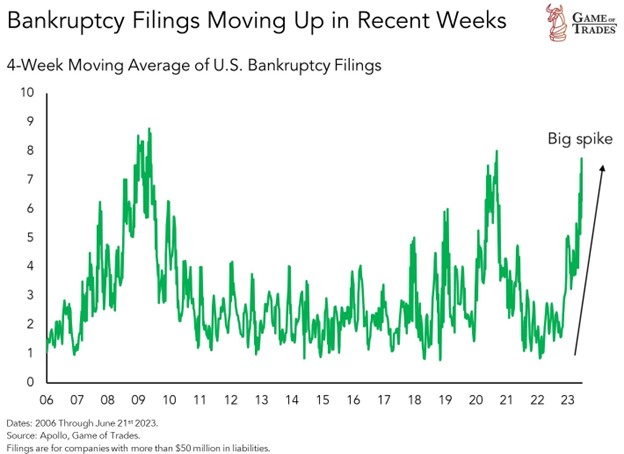 Peak Rates
By all accounts, it looks like we've reached peak interest rates for this cycle, and the recession clock has started. I think the Fed will be slow to cut rates in 2024, fearing a 1970s-style rebound in inflation. Powell's worst fear is becoming another Arthur Burns.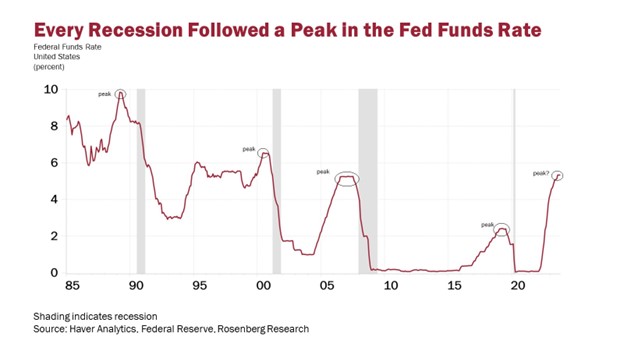 Inflation Update
Headline inflation fell from 3.7% to 3.2% in October. 
The odds for another Fed rate hike plunged to zero.
The stock market jumped on the news, but recession alarms continue to sound. 
Headline CPI
Consumer Price Inflation was 0.0% in October, largely due to lower energy prices. Overall, I think the economy is rolling over into a recession faster than most expect. 
*The CPI breakdown for October shows deflation in energy and used vehicles. 
The Gold Cycle Indicator finished at 95.
GOLD- The mid-cycle pullback is complete (prices bottomed out at $1935.60), and gold should take out the October high in the coming days/weeks. Sustained closes above $2020 will open the door for a retest and potential breakout above $2090 in December.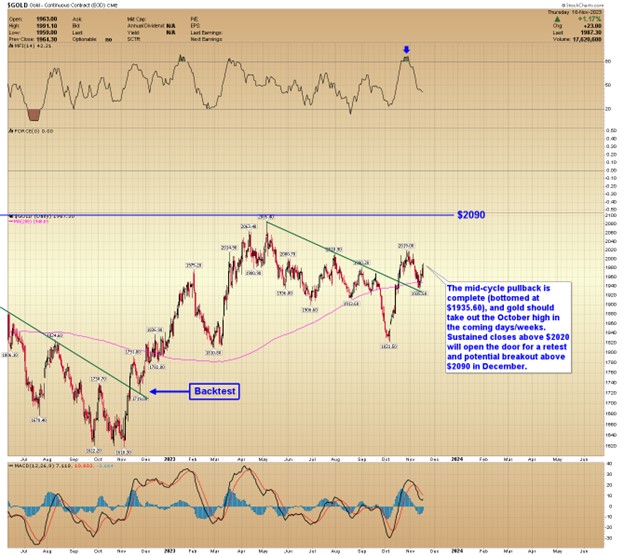 SILVER- Prices bottomed on Monday at $21.92 and quickly took out the October high. Progressive closes above $24.00 would open the door for a retest of the 3-year trendline.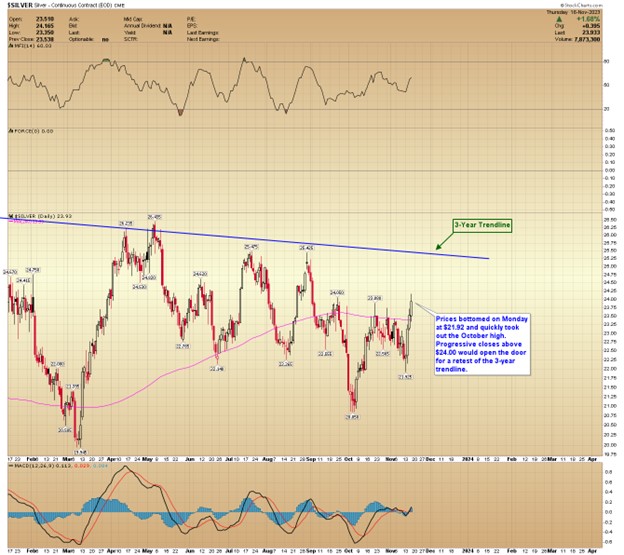 PLATINUM- Platinum bottomed after making a slightly lower low, and prices need progressive closes above the 200-day MA to establish an uptrend.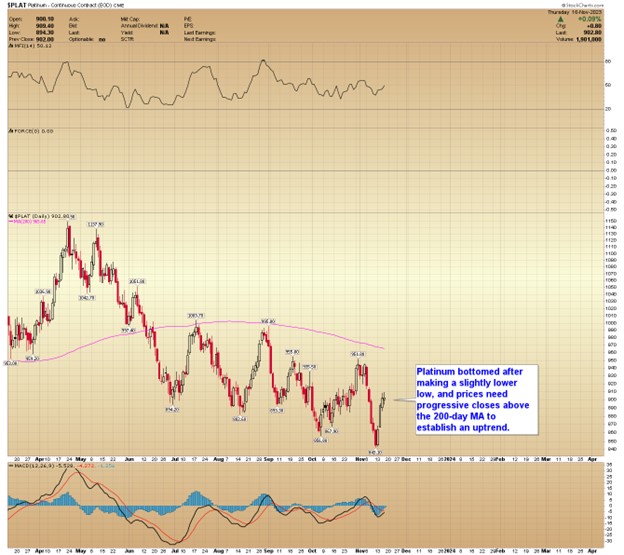 GDX- Miners resume building a potential head-and-shoulder bottom, and a close above $30.00 is needed to establish a breakout—initial target $35.50 to $36.00. 
GDXJ- Gold juniors need progressive closes above the neckline of the head and shoulder pattern to signal a breakout. 
SILJ- Silver juniors need progressive closes above $9.15 to signal a bottom.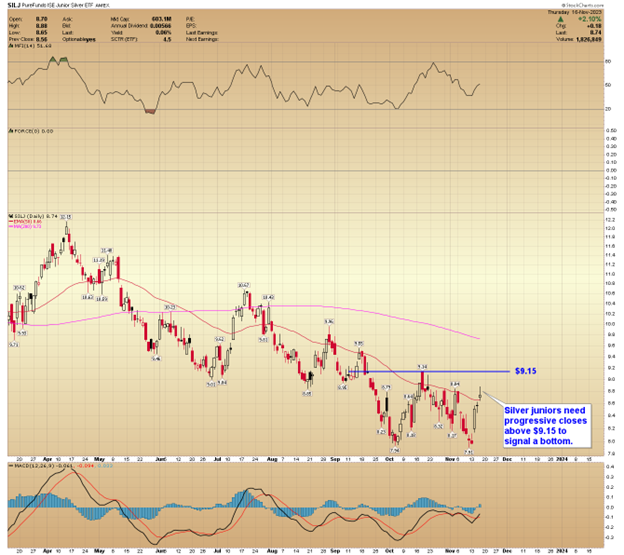 WTIC- Crude oil has been much weaker than I envisioned, and prices are deeply oversold. We may be near a bottom in the near term, but my call for $100+ by year-end is doubtful.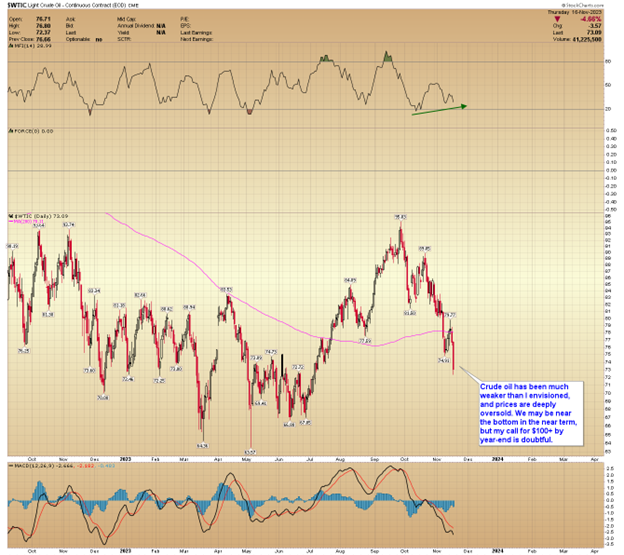 -S&P 500- Stocks jumped over weak inflation data, assuming the Fed is done hiking. Closing below the 4400 level would support a bull trap similar to last year. In contrast, a continued rise above the July 4607 high would promote more upside into year-end before the next downturn.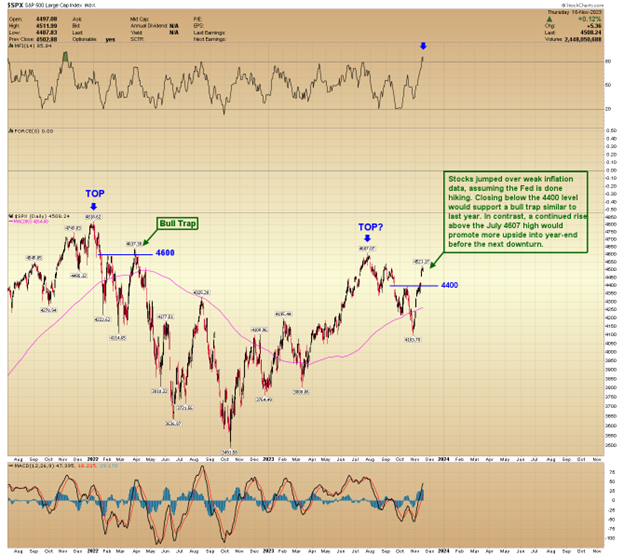 BTCUSD- I don't trust the recent advance in bitcoin, and a breakdown below $31,000 would imply a bear trap and renewed bear market. In the meantime, however, the trend is up and should be respected until prices close below the short-term (dashed) trendline. 
Conclusion
Gold prices are done correcting the initial breakout and should take out the October highs in the coming days. A daily close above $2020 would open the door for new all-time highs by year-end or early 2024.
Click here to read our article on $10,000 gold and $300 silver.
AG Thorson is a registered CMT and an expert in technical analysis. For regular updates, please visit www.GoldPredict.com.
********