Gold Market Update
The chances of gold breaking out to new highs in the near future are rapidly diminishing as the heavy hitters who have always prevailed up to this point are dramatically ramping up their short positions. Our COT chart shows a big increase in Commercial short positions just over the week up to last Tuesday to levels that in the past have preceded major reactions in gold. While there is still a fair chance of gold making a run at its highs over the short-term, there is considered to be very little chance now of a breakout to new highs, and any such advance towards the highs would likely be accompanied by a further ballooning of Commercial short positions to an even more extreme level that would all but guarantee a heavy reaction.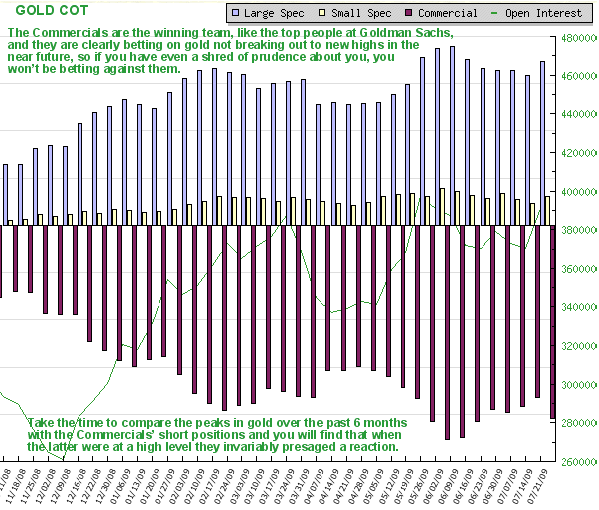 On the 6-month chart for gold we can see that the steep uptrend from its early July lows stalled out last week at a zone of resistance, with the uptrend being broken marginally late last week, by virtue of the price moving sideways. While this is increasing downside risk, especially given the aforementioned ominous COT structure, there remains a fair to good chance that it will break higher and run at the highs. Should it do so, watch what happens to Commercial short positions - if they balloon still further as we would expect, then it will make sense to reverse positions in gold and larger gold from long to short. Should gold break lower immediately, which would be signaled by a sharp down day, it will be a signal to lighten long positions.
There is currently a disparity between the COT structure for gold which is increasingly bearish, and that for silver which is considerably more positive. This is explained by the fact that silver is much more of an industrial metal, that does better when the stockmarket is rising. In itself the fact that the Commercial short position in silver is not ramping up suggests that silver could advance further and that the stockmarket rally still has legs.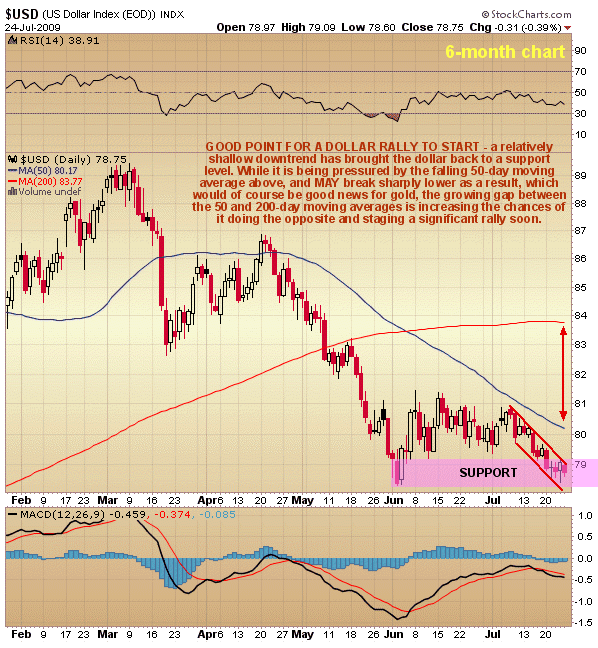 The relatively shallow downtrend in the dollar of the past couple of weeks has brought it to an important support level at its early June lows. While it is being pressured from above by its falling 50-day moving average and MAY break sharply lower as a result, the magnitude of support in this area coupled with the now substantial gap between its 50 and 200-day moving averages suggest a probable intermediate reversal, which would of course be expected to coincide with a reversal to the downside in gold and silver.
Pulling all of the above together we can arrive at the following conclusions: the risk of a reversal to the downside by the broad stockmarket and gold, silver and PM stocks has increased significantly in recent days. Despite this there is scope for them all to break higher and stage another upleg. Should this occur, however, the likelihood of a much more severe reaction developing later will increase dramatically, particularly as we move towards the Fall months. This will be especially true for the PM sector if the Commercial short position in gold continues to expand.
Although silver moves very much in lockstep with gold, it is looking considerably stronger than gold at this point. The reason for this is its role as an industrial commodity - when the stockmarket is high and rising, as now, silver usually outperforms gold, but once the stockmarket turns, silver then underperforms.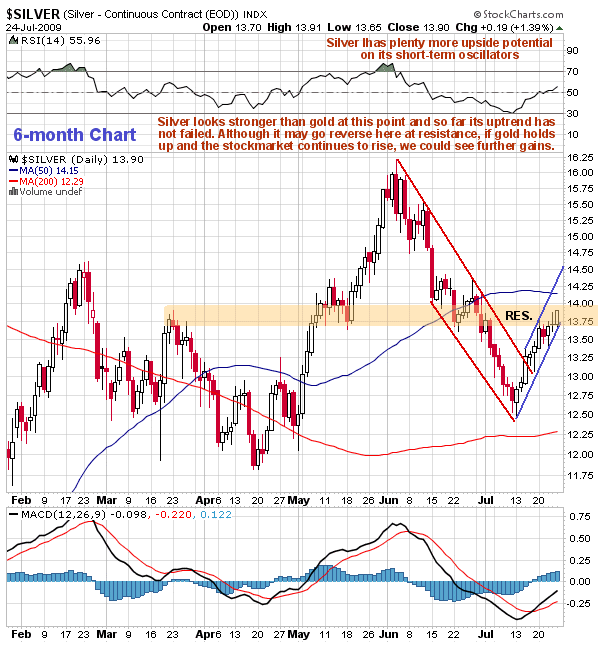 On its 6-month chart we can see that silver currently looks more robust than gold and as of the end of last week, its steep uptrend from its early July lows remained unbroken, unlike gold, but clearly should gold now turn lower it will take silver down with it of course, and this would be a logical point for it to go into reverse, having risen into a zone of significant resistance. However, silver is not overbought as measured by short-term oscillators and still has substantial upside potential, and should gold make a run at its highs over the short-term, as looks possible, silver might make advance to the zone of heavy resistance at and above $16 again. The key point to keep in mind though is that as gold has little chance of breaking out to new highs on account of its unfavorable COT structure, silver is unlikely to make it above $16 in the near future.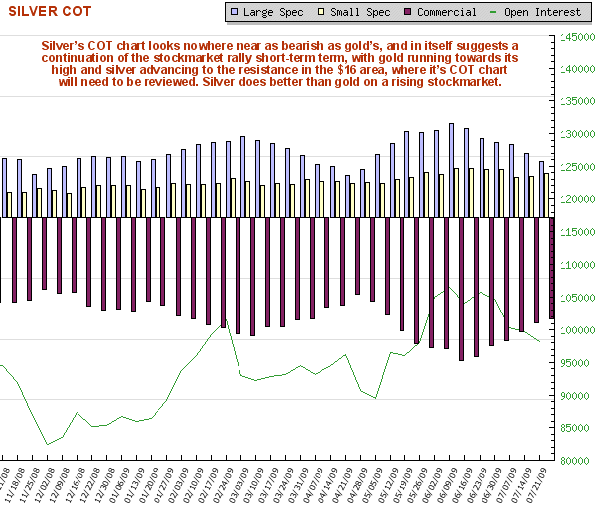 A curious anomaly existing at this time is that while the gold COT is looking increasingly bearish, silver's is still looking modestly bullish. While this won't save silver if gold caves in, it does suggest that any reaction in the near future is unlikely to be serious as would otherwise be the case.
Clive Maund, Diploma Technical Analysis
[email protected]
www.clivemaund.com
Copiapo, Chile, 26 July 2009