Is Gold Nearing Another Top?
GOLD DAILY - As expected, we should see some chop, then a top. This may take several weeks. The $1,350 level should contain price and momentum for now. I'm looking for divergences to develop as a top forms. In the Example Portfolio (EP), we are looking for a low risk setup to take advantage of this weekly cycle top forming.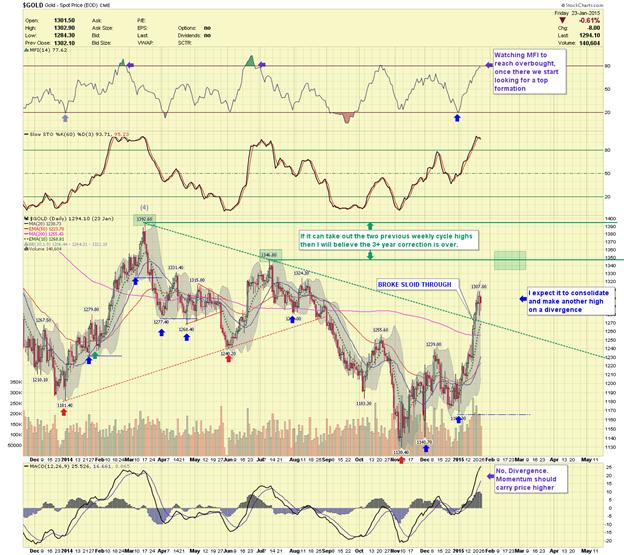 GOLD WEEKLY - Nothing new in the weekly chart. This chart seems similar to the late 2012 pattern that proceeded a nasty fall in price. Currently, I'm leaning towards lower lows in gold, but as we know, Gold loves to surprise.
GOLD MONTHLY - If prices continue lower, I see the 200 day moving average (sma) as a major inflection point. Price, should stabilize in or around there (currently at $935). Once the bottom is in, we should have a 50%+ move upwards in the following 14-18 months.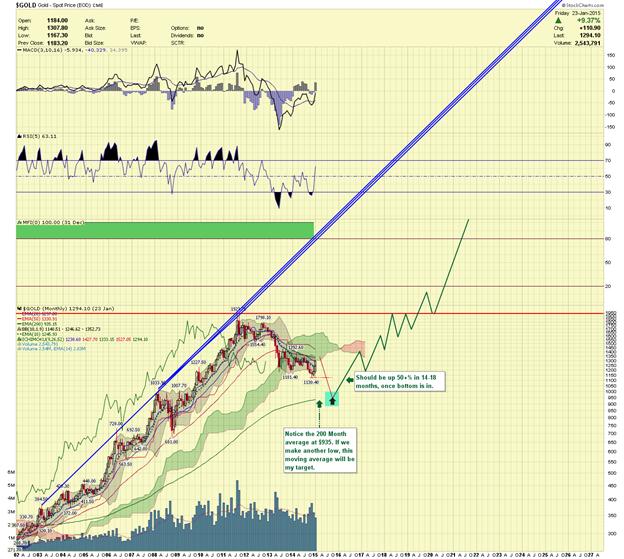 GDX DAILY - Like gold, we are watching for a divergence and a topping formation.
GDXJ DAILY - I would love to believe the moves in gold, silver and miners if it weren't for GDXJ. Normally, during a major move in gold, gold juniors precede the move. I would expect them to be up several percent above GDX. As you will see in the chart below, they are hardly past their previous high.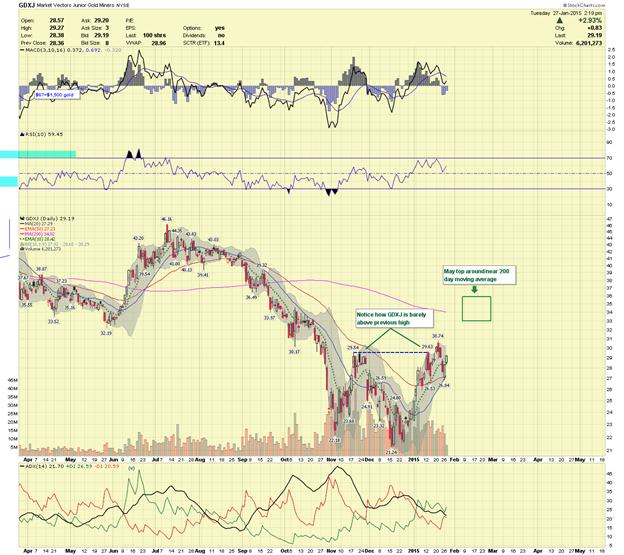 SILVER DAILY - Silver is my favorite investment, as many of you know. This Weekly Cycle is nearing its end, and the easy money has been taken off the table.  We will look for a favorable short trade in the next few weeks, as the top draws nigh.
MINER OF THE WEEK - Magellan is a penny miner in Brazil (not my favorite mining country), they have 2.3 million oz of gold, at decent grades. They should be able to build one or two mines by 2016; if all goes well.  If they get financing and don't make silly mistakes, this could be $5.00+ stock.
JUST FOR FUN - I wanted to look at a couple charts in the coal sector. Coal stocks are never coming back, or we need to start looking at the fundamentals.
Either coal is dead, or this stock is cheap. Regardless, this is a prime example why we at chartseek don't take a position until we confirm a bottom. WLT has been crushed!
CLF - Also CLF (a coal company), has been utterly destroyed. What makes it interesting, is that in the recent past, CLF went from $1.50 to over $100. Will it do it again? Without a divergence, I must stand aside until I have some glimmer of hope coal is not dead.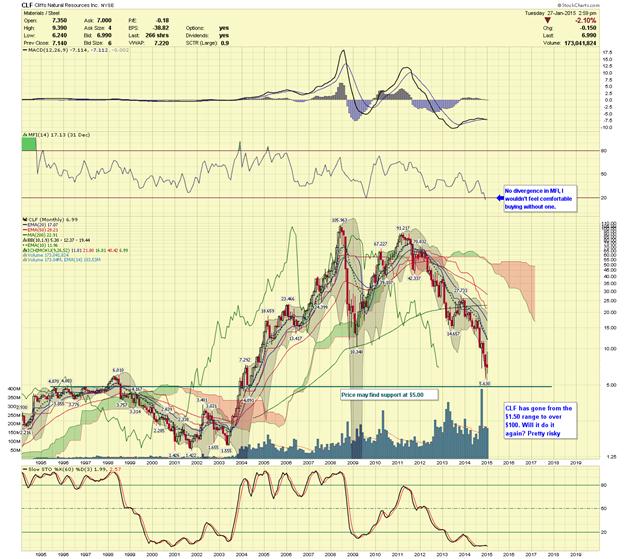 The above two coal charts are prime examples of why we don't try to catch a falling knife.
******** 
Courtesy of http://www.chartseek.com/