Gold Price Forecast: Metals & Miners Testing Critical Levels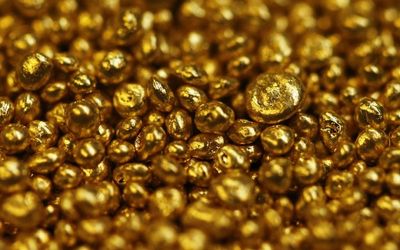 Gold futures tested critical resistance near $1800 last week, and we could be nearing a significant infection point. The larger pattern remains intact and supports new all-time highs, after some consolidation. 
After their meteoric rise in 2016, gold miners have left investors frustrated. Over the last 4-years, miners have moved sideways and lower, making trading them difficult. To put this in perspective: Gold reached $1377 in 2016 when GDX peaked at $31.06. Some 4-years later and gold is at $1700 (23.5% higher), and GDX is still trading at $29.94 (about 3.5% below its 2016 high). Will miners continue to underperform bullion, or are they about to get their act together and finally breakout? We should have our answer soon. More on this later. 
Gold Big Picture Chart
A multi-month consolidation is likely to begin between $1500 - $1800 as gold stores up energy to breakout to new all-time highs in 2021 or 2022. Longer-term our forecast calls for $8,500 - $10,000 gold later this decade.
Gold Weekly
After peaking at $1923.70 in 2011, gold entered a massive 10-year basing pattern. Surprisingly, the design has remained oddly symmetrical. In June 2019, gold broke above $1400 and completed the 6-year rounded bottom. The current advance should terminate around $1800, and we could get a multi-month consolidation with support around $1500. Once the consolidation has concluded, gold should break above $2000 and push upward to new all-time highs.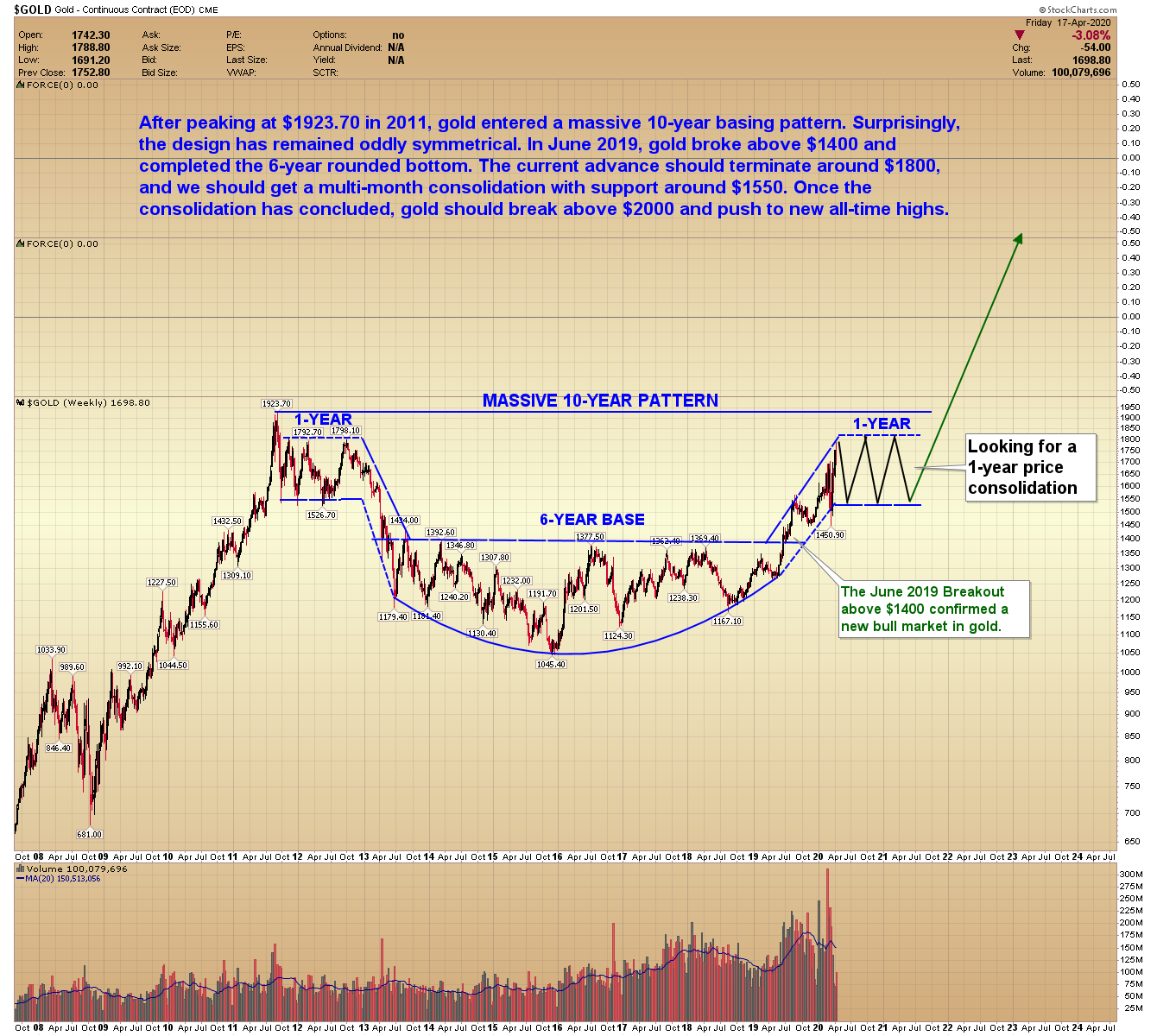 You will see in the charts below that the miners have been building a sizeable multi-year base below the 2016 highs. Gold prices are challenging key resistance now, and a breakout is possible in the coming days/weeks. If prices fail to breakout, then they will likely drop back to test their March lows. 
XAU Weekly
The XAU mining index has been building a base just below the 115 level. A confirmed breakout above 115/120 would support a bullish advance towards 190 kicking off the next phase of the bull market. Failing to breakout above 115/120 in the coming days/weeks would send prices back down towards 60.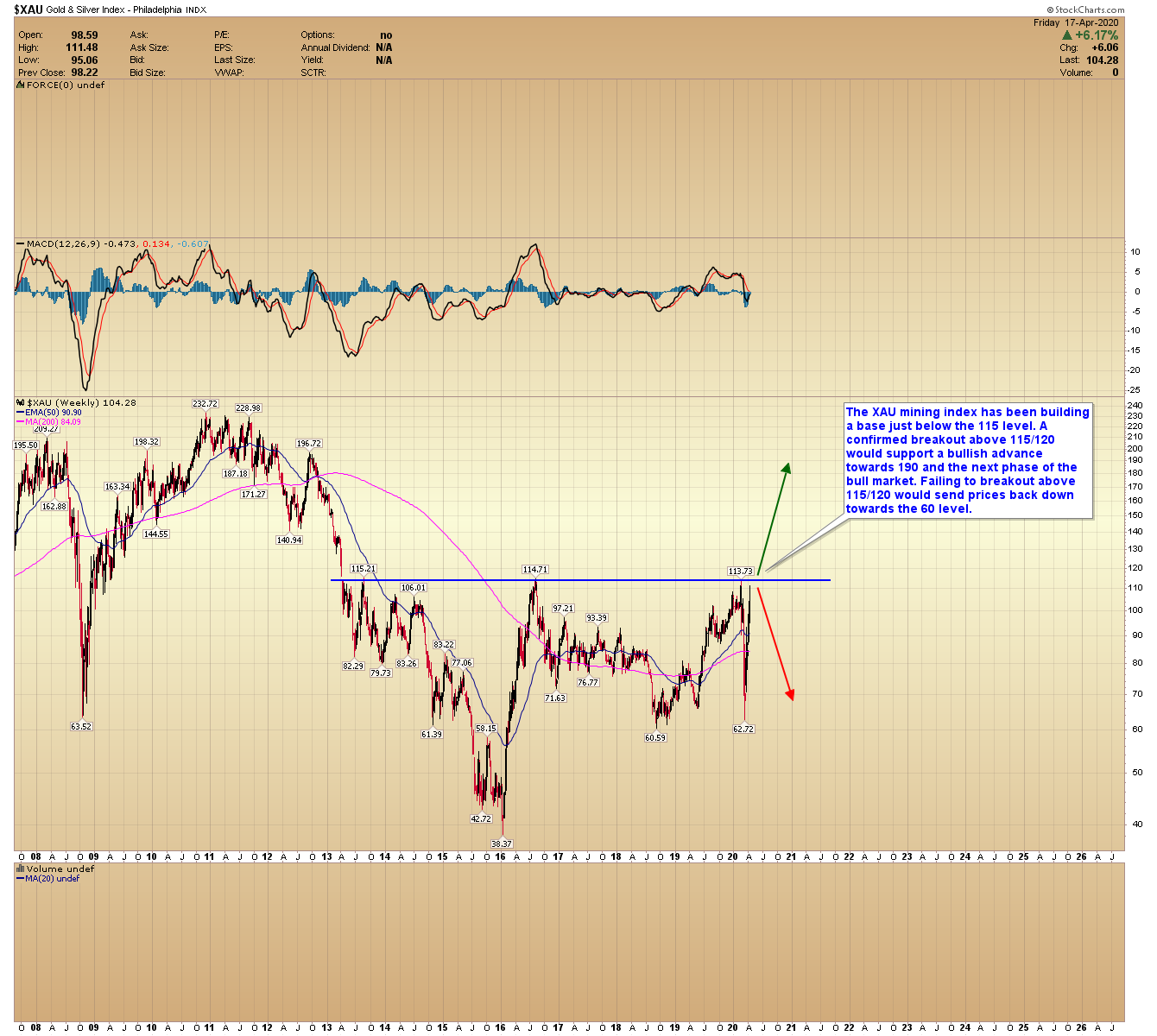 HUI Weekly
The set up in the HUI mining index is similar. A breakout above the 280/300 level would support an immediate advance back towards 500. Failing to break above 300 would send prices back down towards 160. 
GDX Weekly
In GDX, prices need to clear $33.50 on big volume to signify a breakout. If established, I think momentum could carry prices back towards $50.00 (minimum target $38.00 to $40.00). Failing to breakout above $33.50 will send prices back down towards $18.00. 
GDXJ Weekly
Currently, junior miners (GDXJ) are trading a bit lower than the other indexes. This is primarily due to underperformance in silver. It would take a decisive move above $50.00 to register breakout and signal the next phase of the bull market.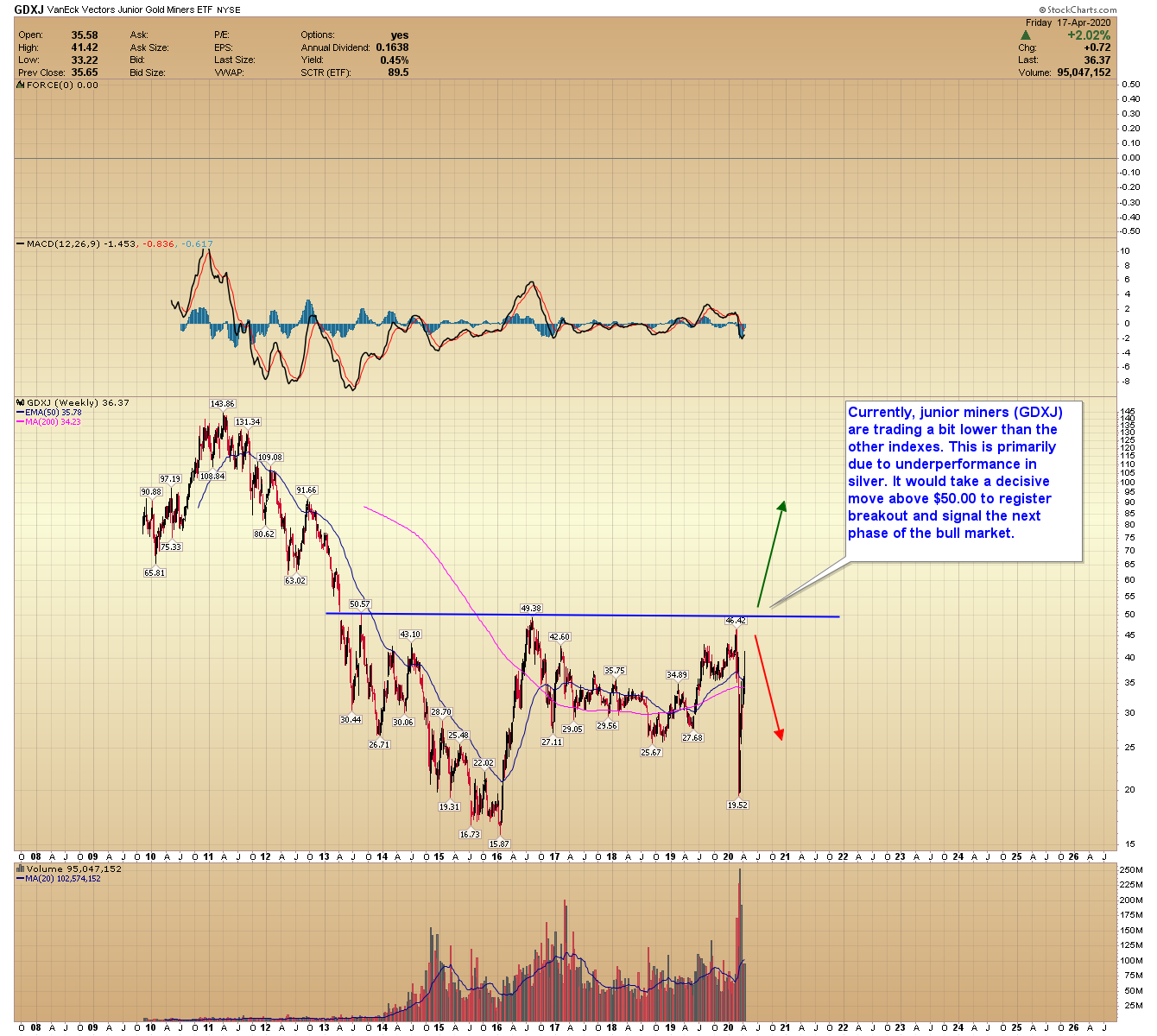 In conclusion, the immediate upside in gold may be somewhat limited, but that does not mean miners cannot breakout - they have been lagging gold since 2016. A successful breakout in the coming days/weeks would signal the next stage of the bull market as miners play catch up to the price of bullion.
The only precious metal "asset" that increased over the last four years was physical gold. Gold miners remain below their 2016 high - silver, and platinum fell to new multi-year lows. This has been the most frustrating and unpredictable 8-year cycle I can remember. Additionally, the extreme volatility and seeming manipulation in these markets make them nearly impossible to trade. 
More and more, it is beginning to look like a simple, percentage-based portfolio may be the way to go. In theory, it should be much less stressful and should improve long-term gains. 
Our gold cycle indicator finished the week at 372. We are at a level where gold may begin to form a top.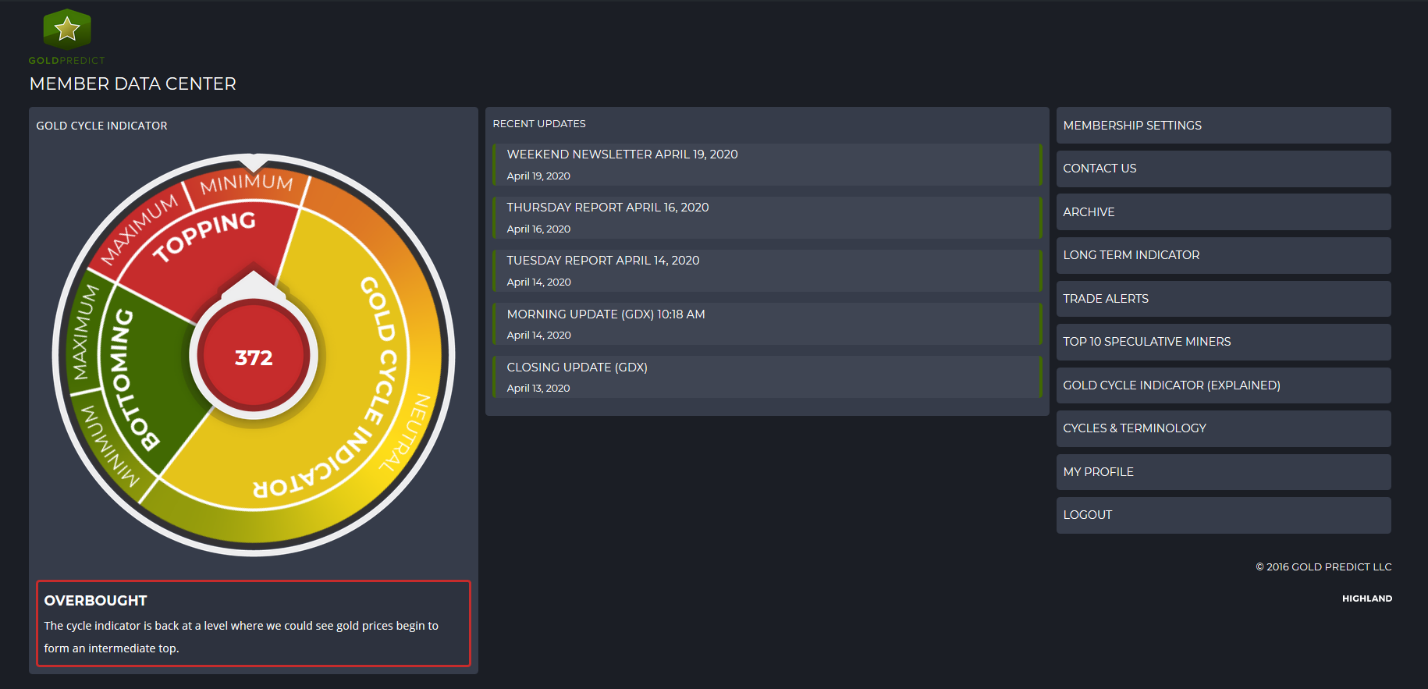 AG Thorson is a registered CMT and expert in technical analysis. He believes we are in the final stages of a global debt super-cycle. For more information, please visit here.