Gold Price Forecast: Series Of Minor Corrections And Higher Highs
Last week's trading once again saw gold forming its low in Monday's session, here doing so with the tag of the 1918.30 figure (December, 2020 contract). From there, strength was seen into late-week, with the metal pushing all the way up to a Friday peak of 2004.50 - before backing slightly off the same into the weekly close.
Gold, Short-Term
For the near-term action, with last week's rally the upward phase of the 10-day cycle is still deemed to be in force, but is well into extended territory: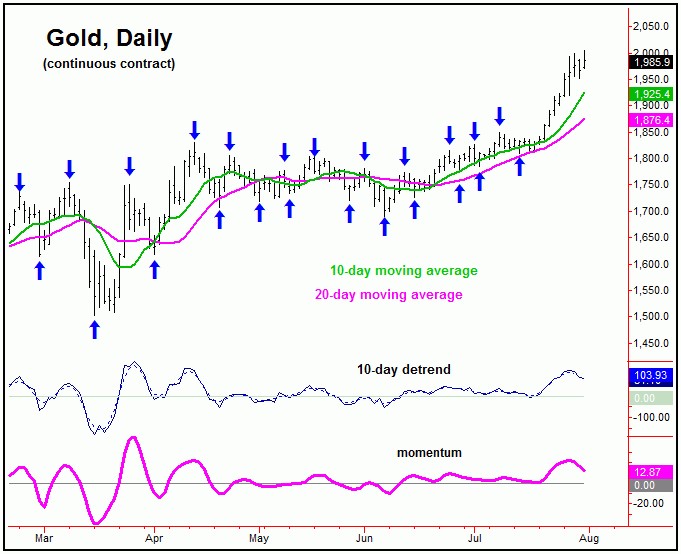 In terms of time, the next 10-day low is due to materialize this week, with the greater-majority (i.e., 85% or better) of the downward phases of this wave having seen a drop back to the 10-day moving average before bottoming. That 10-day average is a good bit below current prices - but is moving up rapidly, and with that will be at a higher level by the time this wave troughs.
Stepping back slightly, the larger 34-day wave ended up putting in a contracted bottom at the 7/14/20 low, and with that is deemed to heading higher. Here is that cycle:
With the above said and noted, should a short-term correction with the smaller 10-day wave play out in the coming days, then the probabilities should favor higher highs to again follow - before attempting another peak with the 34-day component. Going further, a correction - one which is followed by higher highs - should give us our first downside 'reversal point' for the 34-day wave. This number will be key, as what follows should be another short-term correction into later this month, one which should also end up as countertrend - due to the position of the larger-degree waves.
Gold's Bigger Picture
In looking again at the longer-term view for Gold, as mentioned in a prior article, there was a confirmed upside target from the four-year cycle to the 2212.00 - 2340.56 region for gold. With that, any and all near-term corrections will have to be expected to end up as countertrend, in the anticipation of a move into this target range in the coming months: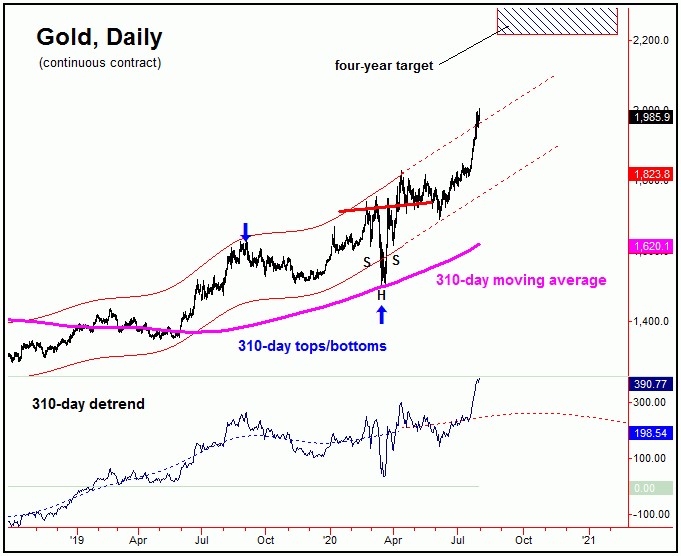 The above chart shows the smaller 310-day wave, with the four-year target overlaid. In terms of time, as mentioned above this target has the best odds of being met in the coming months, with the upper-end of this range (2340, plus or minus) also acting as a major resistance level for gold, and is the early odds-on favorite to top the move for what is expected to be a larger-degree decline into the Spring of next year.
U.S. Stock Market
As mentioned in recent articles, the next correction of significance in U.S. stocks has been expected to come from the 45-day cycle, which is shown again on the chart below:
In terms of time, the next low for this 45-day component is projected for mid-to-late August, with the ideal path looking for a drop back to the 35-day moving average or lower. In terms of price, until a higher level materializes, we have a certain price figure that we are watching in order to confirm its downward phase to be back in force - which is the 3200.04 SPX CASH figure. Basically, above that number will keep the short-term uptrend intact, while below it would confirm a 45-day peak in place - and would call for additional correction into later this month.
In terms of patterns, however, the next downward phase of the 45-day cycle - if and when seen - is expected to end up as a countertrend affair, due again to the position of the larger 180 and 360-day cycles, with the smaller 180-day component shown below: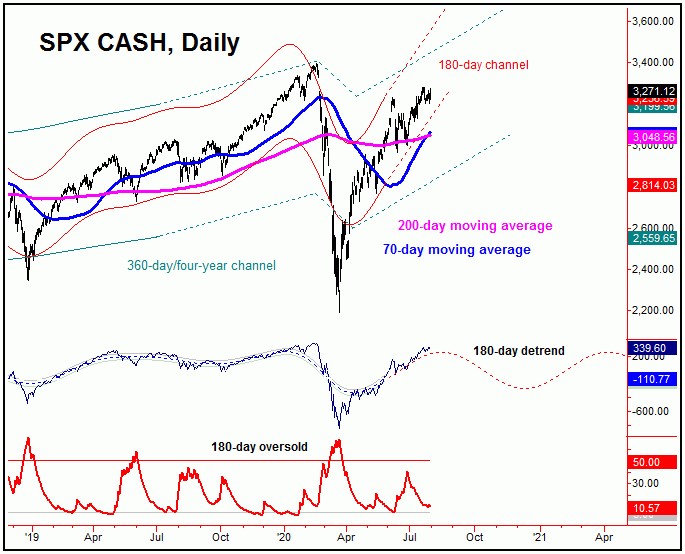 The chart above shows the 180-day cycle, which is deemed to be heading higher into early-Autumn of this year or beyond. With that, as noted, any correction with the smaller 45-day wave should end up as countertrend - to be followed by a continued push to higher highs into that early-Autumn timeframe.
For the bigger picture, above the 180-day cycle there is a larger 360-day component. In terms of price, as mentioned recently, there is an upside target with this wave to the 3812.56 - 3960.44 SPX CASH region - which has 85% (or better) odds of being met at some point in the coming months. How soon this target might be hit is speculation, though the late-end expectation seems to be the Summer of next year. The upper-end of this target zone also looks to be a major resistance level, and may be the highest-odds range of topping this wave for its next larger-degree decline phase into late-2021. More on all as we continue to move forward.
Jim Curry
The Gold Wave Trader
http://goldwavetrader.com/
http://cyclewave.homestead.com/