Gold Price Heading For Its Best Close Since July
Strengths
The best performing metal this week was palladium, up 3.88 percent on very tight physical markets. Dutch bank ABN Amro noted that palladium has overshot and may slide back 20 percent to $1,000. Gold traders and analysts are the most bullish they've been in at least three years on the yellow metal this week, according to Bloomberg's weekly survey. Walter Pehowich, executive vice president of metal investments at Dillon Gage Precious Metals, says he expects "the price of gold to rally off a slowing economy and with the Fed being handcuffed from raising rates." After selling its gold for much of the year, Turkey's central bank gold holdings actually increased this week by $284 million from the previous week, according to the bank's official figures. The Perth Mint released November sales data that showed 64,308 ounces of gold coin and bar sales, compared with 36,840 ounces in October.

Gold is heading for its best close since July as investors are betting on whether the Federal Reserve will continue its rate hike cycle, and as the Treasury market flashed a warning sign early this week, writes Bloomberg. Kunal Shah, head of commodities research at Nirmal Bang Securities, says that "as global GDP growth slows down, and the U.S. Fed slows down the pace of rate hikes, the dollar index will weaken," and investors will diversify into gold.

Bloomberg reports that U.S. jobs and wages rose by less than forecast in November, while the unemployment rate stayed at the lowest level in almost 50 years. The price of palladium has exploded in the second half of this year, rising nearly 50 percent in less than four months. The metal briefly exceeded the price of gold this week for the first time in 16 years, but then tumbled as much as 3.1 percent on Thursday.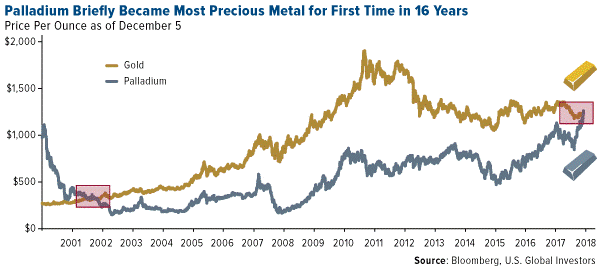 Weaknesses
·         The worst performing metal this week was platinum, down 0.68 percent. It appears to be in surplus as some hedge funds have shorted it and used the proceeds to go long palladium. Although the Perth Mint saw strong sales in November, the U.S. Mint saw declines. It reported sales of 8,000 ounces of American Eagle gold coins, down 67.3 percent from the previous month. London-based BullionVault reported that its gold index measuring the balance of buyers against sellers fell to 53.4 last month as prices rose, down slightly from the previous month's reading of 53.8. However, a reading of 50 or above indicates more buyers than sellers among BullionVault's clients. Adrian Ash, director of research at the company, said that "2019's worsening political outlook is likely to support gold prices by deterring sales from existing bullion investors."
·         Venezuelan President Nicolas Maduro and Turkish President Recep Tayyip Erdogan met this week in Caracas where Maduro welcomed Turkey to mine gold in Venezuela and partner in mining development. The troubled South American country has been a big seller of gold in recent years and sent representatives to meet with the Bank of England staff to try and repatriate 16.5 tons of gold reserves currently held in London.
·         Meng Wanzhou, chief financial officer of Huawei Technologies – one of China's "foremost corporate champions" – was arrested in Canada over potential violations of U.S. sanctions against Iran, reports Bloomberg. Her arrest sparked outrage from China and comes at a critical week in trade negations between the U.S. and China.
Opportunities
·         Goldman Sachs predicts that 2019 will be another poor year for risk-adjusted investment returns due to slowing economic growth, shrinking central bank balance sheets and continued bouts of volatility. UBS Group wealth managers wrote in a report that gold may rise to $1,300 an ounce in 2019 as volatility grows. They write that "inflation will likely rise, EM investors will face currency volatility and real interest rates will peak," which has historically lifted the value of gold. Credit Agricole recommends buying gold at $1,240 with a target of hitting $1,420 an ounce, due to currency fluctuations increasingly driving the yellow metal in the short term, reports Bloomberg.
·         Thursday was a record-breaking day in terms of trading volume for fed futures contracts, including a record volume in December 2019 Eurodollars contracts, amid falling confidence in the Fed's ability to achieve its projection of three rate hikes next year. Traders of interest-rate futures are also uncertain that the Fed will raise rates next year, reports Bloomberg. The Fed has raised rates eight times since December 2015 and is expected to continue raising in 2019. However, many investors are unwary of this projection due to this week's slide in global equities and the U.S.-China trade war tension.
·         President Donald Trump's top economic advisor Larry Kudlow said in an interview this week that he expects the Fed to pause its interest rate increases for "quite some time" after the hike this month. As the Fed reconsiders its hiking cycle, gold could be set to rise next year on a falling dollar. Trey Reik, senior money manager at Sprott, sad that "once you get to the consensus view that the Fed may be done, the dollar may come under severe pressure. Gold will erupt."
Threats
·         According to Bank of America, a "major blowout" in securitized product spreads is likely next year. The bank's economists expect five rate hikes between now and the end of 2019, which would bring the Fed funds rate to 3.5 percent. The bank writes that the Fed looks to tighten up financial conditions, which could lead to a liquidity shock, as liquidity risk is at levels seen in late 2007 when the Fed was cutting rates, reports Bloomberg.
·         During an event on Thursday for new lawmakers from both parties, Gary Cohn, former top economic adviser and an ex-Goldman Sachs executive, got into a testy exchange with newly elected House freshman Rashida Tlaib of Michigan. The congresswoman tweeted that Cohn, in the meeting, told lawmakers that "You guys are way over your head, you don't know how the game is played," to which Tlaib responded "No Gary, YOU don't know what's coming – a revolutionary Congress that puts people over profits."
·         The relationship between U.S. President Trump and Russian President Vladimir Putin may be souring after another round of cancelled talks between the two leaders. President Trump cited the cancelled talks at the G20 Summit in Argentina to be due to the naval clash between Russia and Ukraine near Crimea. However, Russian lawmakers are not as understanding. Bloomberg reports that senior members of the ruling United Russia party have regretted Trump's victory in U.S. elections over Hillary Clinton. Frants Klintsevich, a Russian senator, said the current relations are "far worse than it would have been under Clinton" and that "she's an experienced politician and any of her actions would have been based on logic and some kind of discussion. Here we're seeing huge swings in one direction and another."