Gold Price Making The Turn
Not much action from markets as most heavy hitting stocks have reported already. Having seen the most heavily weighted stocks report already takes away the earnings surprise strength, which has helped keep markets looking great, especially the Nasdaq.
We haven't seen the S&P500 able to breakout of its cup and handle…and the handle portion is long in the tooth now and looking to roll lower as I suspected.
The metals are holding support levels…and are starting to hook higher. Consequently, let's take a look.
Gold gained just 0.07% this past week…but does look to be taking the turn now.
The major $1,220 pivot area seems to be working as gold is hooking higher and looks set to break above the descending trend-line.
Silver slid higher just 0.79% but held the $16.25 support area as well as breaking the downtrend line. This small U bottoms should breakout above $16.50 anytime now…and the we see how silver handles the $16.80 resistance area. Looks good for a buy the dip type of play.
I'm not sure how much gold and silver can move…however, a bounce is definitely due,..and does look to be here.
Surprisingly, the miners have held up pretty well. Moreover, a few have actually done well in recent days, although those moves have been more news driven.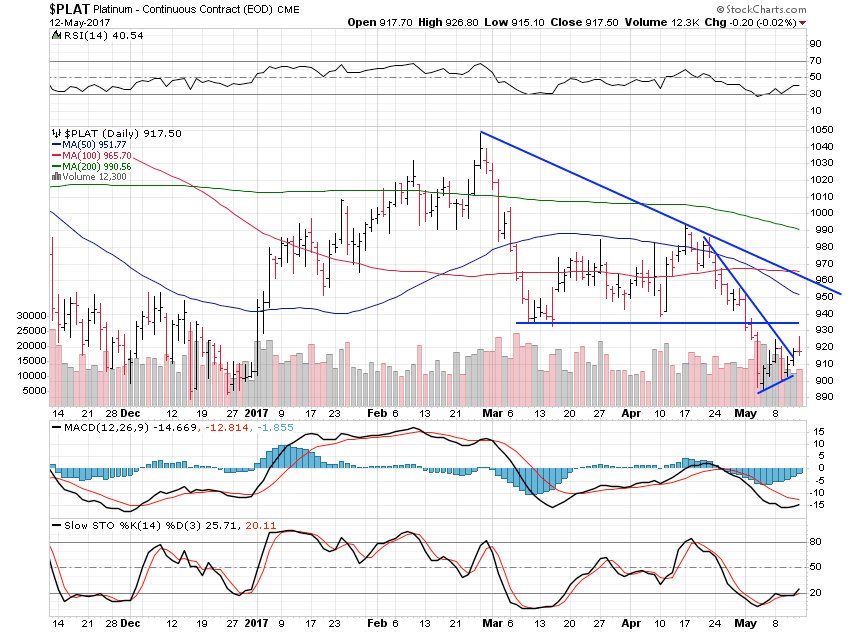 Platinum gained 0.80% and has broken the downtrend line. Let's see if we can move back above the $935 resistance area over the next few days. A move above said level should be the spark to move back to the $980 area.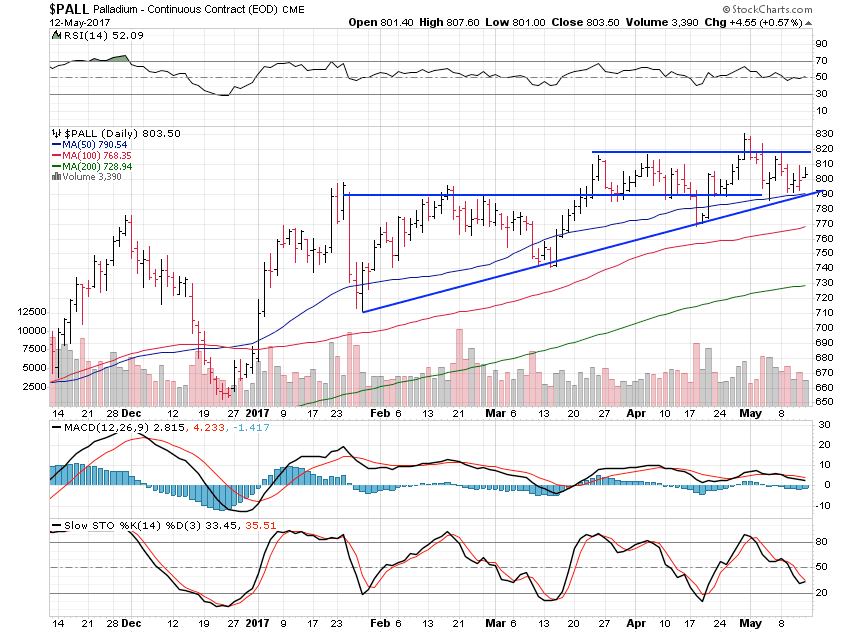 Palladium continued to rest and notched a 1.17% loss over the last trading week. Palladium is still basing out here and looks good for a breakout anytime, above $825.
It appears stocks seem to need some rest…while metals look to be making a turn higher…but how much higher only time will tell.
********
In my free, nearly weekly newsletter I include many links and charts which cannot always be viewed through sites which publish my work.  If you are having difficulties viewing them please sign up in the right margin for free at www.wizzentrading.com or send an email to warren@wizzentrading.com with "subscribe" as the subject and receive the newsletter directly in your inbox, links and all.  If you would like to subscribe and see what my portfolio consists of please see here.
If you found this information useful, or informative please pass it on to your friends or family. 
Free Service
The free weekly newsletter "Wizzen Trading" does not purport to be a financial recommendation service, nor do we profess to be a professional advisement service.  Any action taken as a result of reading "Wizzen Trading" is solely the responsibility of the reader.  We recommend seeking professional financial advice and performing your own due diligence before acting on any information received through "Wizzen Trading".