Gold: Summer Doldrum Tactics
(Double-Click On Charts To Enlarge)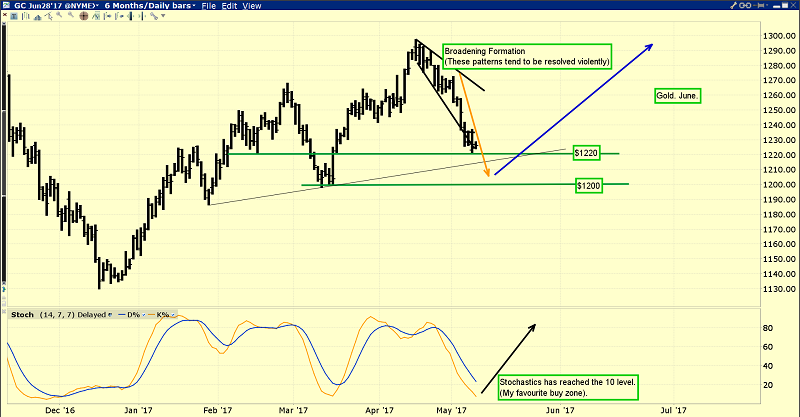 Gold has arrived at the $1220 support zone. 
Note the position of the Stochastics oscillator at the bottom of the chart.  Significant rallies tend to begin from the current position.
Since Indian dealer stocking for the Akha Teej festival peaked a few weeks ago, gold has been declining (as I suggested it likely would).
Top analysts at Goldman Sachs had a target of $1220 and that's roughly where the price has fallen to.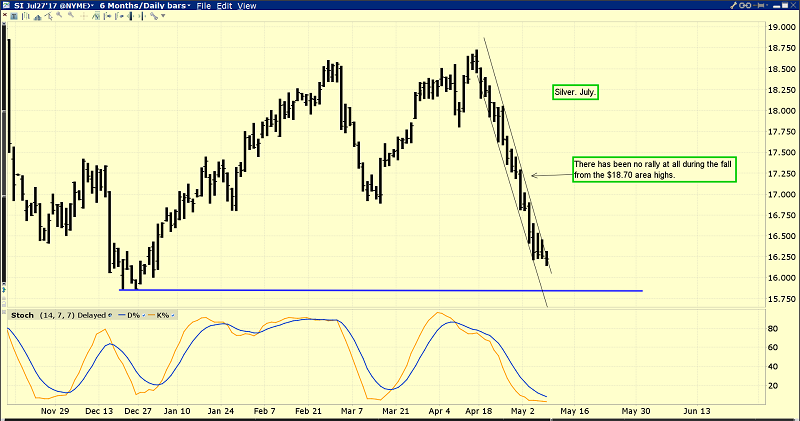 The downtrend from the April highs has been relentless for silver.  To deal with this type of market, investors need to regularly stock up on put options.
Another strategy is to carry some short positions (as banks do).  When there is no rally in a market, there is no possibility to book any profit on anything other than bets that the market will fall.
I hold a lot of dividend paying investments in the precious metal sector as well as some short positions.  The bottom line is that I believe in a coming bull era, but if I'm going to wait for it to happen, I want to get paid handsomely for the time I spend in the waiting room!
On a relative basis, gold is much stronger than silver.  Gold is only flirting with its March lows, while silver has tumbled through them.  Silver is now approaching its December lows!
While this is a key buying area, gold bugs and silver bugs need to avoid strategies like "averaging down". 
There's nothing wrong with having drawdowns with precious metals.  If an investor gets a drawdown in their account (or bullion holdings), they sometimes try to bring the investments back "into the black" by buying much more of the asset than they are emotionally comfortable handling.
This is a dangerous endeavour, because it can create significant emotional stress for the investor if the price of their investments keeps declining.  A more professional and clean approach to gold and silver investing is to identify key buying areas rather than try to buy at "market bottoms". 
It's only in the West that there is a significant focus on investment drawdowns.  Part of that drawdowns concern may come from the use of large amounts of investment leverage, which is best left in the hands of professional money managers. 
The bottom line is that almost nobody in India is concerned about gold market drawdowns, and Indians have been investing in gold for thousands of years.  If there is ever any real reason for investors to be concerned about precious metals investments, Indians will function as the canary in that coal mine. 
Right now, all my lights are green for investors around the world to be modest buyers of gold, silver, and related stocks.
Blockchain technology and gold seem almost destined to become "permanent partners" in the not-too-distant future.
Dubai entities have announced the creation of digital gold currency.  It combines blockchain technology and physical gold.
I've predicted that the seemingly endless government abuse of citizens will never completely cease, but blockchain technology combined with physical gold will reduce it.
There are also tremendous similarities between gold bullion and crypto currency like bitcoin.   
Bitcoin and other crypto currency are not a replacement for gold bullion, but they are beginning to act synergistically with gold to increase demand for both gold bullion and blockchain technology!
This is the fabulous bitcoin chart.  I own bitcoin, litecoin, and ethereum crypto currencies. 
I don't see any more risk in buying them than with junior gold mining stocks and I'm extremely happy with my investments.
I'm also extremely happy with my current GDX buy program, which is occurring in the $23 - $18 price range. 
The post Akha Teej period ahead of Diwali dealer stocking is the main cause of gold market "summer doldrums".  This is probably the most important period in the calendar year for professional gold stock accumulators. 
So, I think it's time for the entire Western gold community to focus less on price predictions for now, and simply join me and other professional accumulators in pushing firmly on a myriad of gold stock buy buttons!
********
Special Offer For Gold-Eagle Readers:  Please send me an Email to [email protected] and I'll send you my free "Gold & Uranium Stock Champions!" report.  I highlight 5 gold stocks and 5 uranium stocks that are poised for immediate upside action, with key tactics for each stock!
Stewart Thomson 
Graceland Updates
Note: We are privacy oriented.  We accept cheques, credit card, and if needed, PayPal.
https://www.gracelandupdates.com  
Email:
Rate Sheet (us funds):
Lifetime: $999
2yr:  $299     (over 500 issues)
1yr:  $199     (over 250 issues)
6 mths: $129 (over 125 issues)
To pay by credit card/paypal, please click this link:
https://gracelandupdates.com/subscribe-pp/
To pay by cheque, make cheque payable to "Stewart Thomson"
Mail to:
Stewart Thomson / 1276 Lakeview Drive / Oakville, Ontario L6H 2M8 Canada
Stewart Thomson is a retired Merrill Lynch broker. Stewart writes the Graceland Updates daily between 4am-7am. They are sent out around 8am-9am. The newsletter is attractively priced and the format is a unique numbered point form.  Giving clarity of each point and saving valuable reading time.
Risks, Disclaimers, Legal
Stewart Thomson is no longer an investment advisor. The information provided by Stewart and Graceland Updates is for general information purposes only. Before taking any action on any investment, it is imperative that you consult with multiple properly licensed, experienced and qualified investment advisors and get numerous opinions before taking any action. Your minimum risk on any investment in the world is: 100% loss of all your money. You may be taking or preparing to take leveraged positions in investments and not know it, exposing yourself to unlimited risks. This is highly concerning if you are an investor in any derivatives products. There is an approx $700 trillion OTC Derivatives Iceberg with a tiny portion written off officially. The bottom line:  
Are You Prepared?