Gold: Til Death Do Us Part
It's a big week for gold bugs of the world, with the next FED announcement on Wednesday, the BOE on Thursday, and the BOJ on Friday.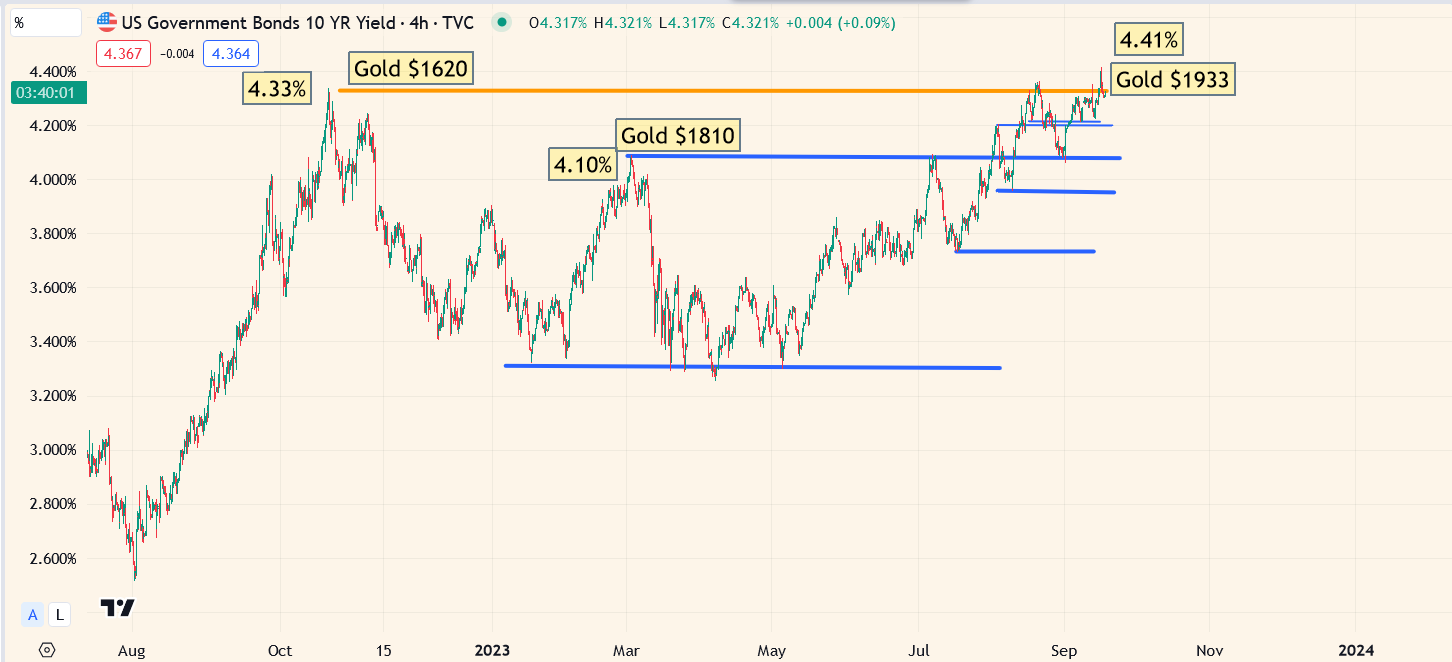 Gold was at $1620 when rates were 4.33% a year ago. Now, rates just hit 4.41%... and gold is at $1933!
While it's highly unlikely, gold could fall to $1620 again, and the big question is: Where would rates be if that were to happen?
Well, the likely answer is not simply 5% or 6%, but 8%, 10%, or even 12%, with thousands of enraged American citizens staging riots over the stagflationary inferno.
That anger would be accompanied by a gold buying frenzy and stock market incineration, pushing gold to $3000 and higher.
The more likely scenario though, is that rates pause now… and they may be set to crash!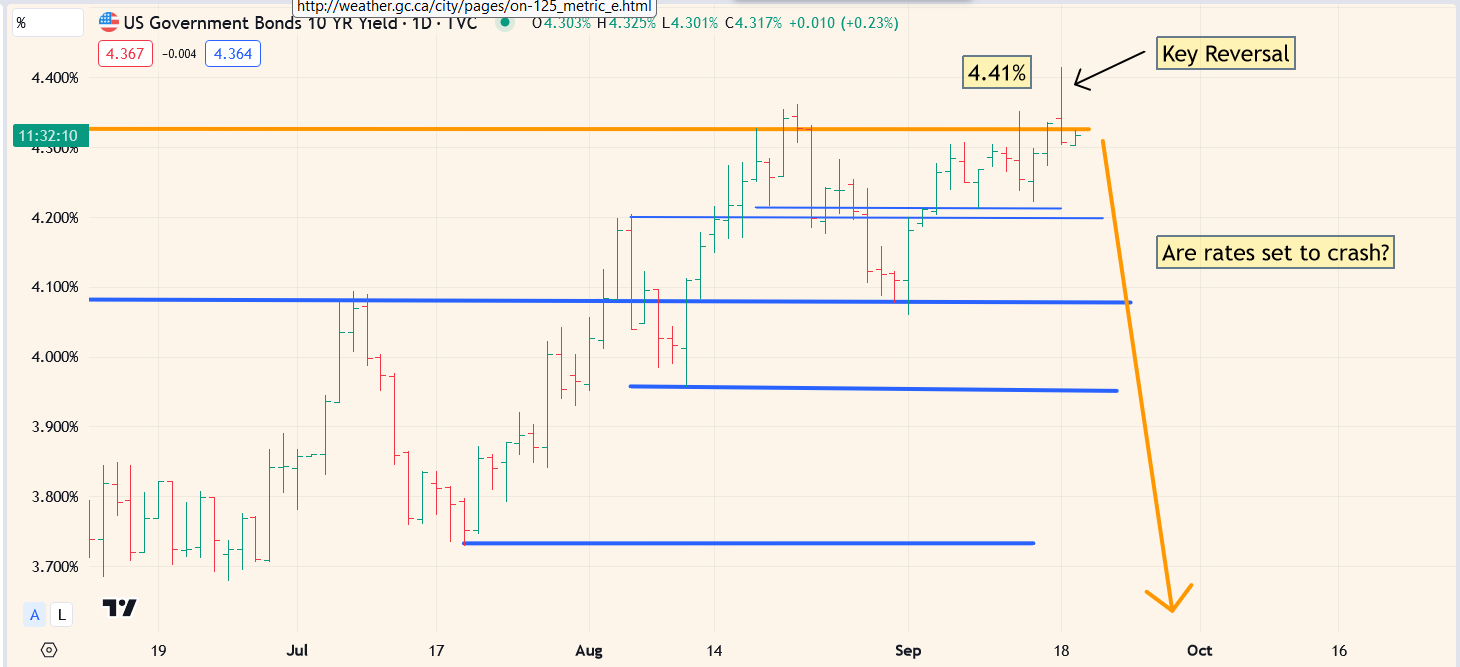 Double-click to enlarge this daily chart for 10year rates. A key reversal occurred yesterday. The bottom line: A medium-term top for rates may be in play and…
That suggests a massive rally for gold is imminent.  
Also, a huge premium (about $125/oz at the peak) for the Chinese gold price occurred over the past few weeks. It was due to import restrictions that are being lifted now. 
What's particularly interesting is that the lift is occurring as gold approaches the seasonally strong month of October and as COMEX commercial traders are unloading shorts and buying longs.
The smart money commercial traders appear to be posturing themselves for some dovish action and statements from Jay. 
On a tactical note, leveraged gamblers often talk about the importance of not marrying a trade. That's good advice when it comes to margined positions and the miners, but gold itself is a currency… and it's the ultimate currency.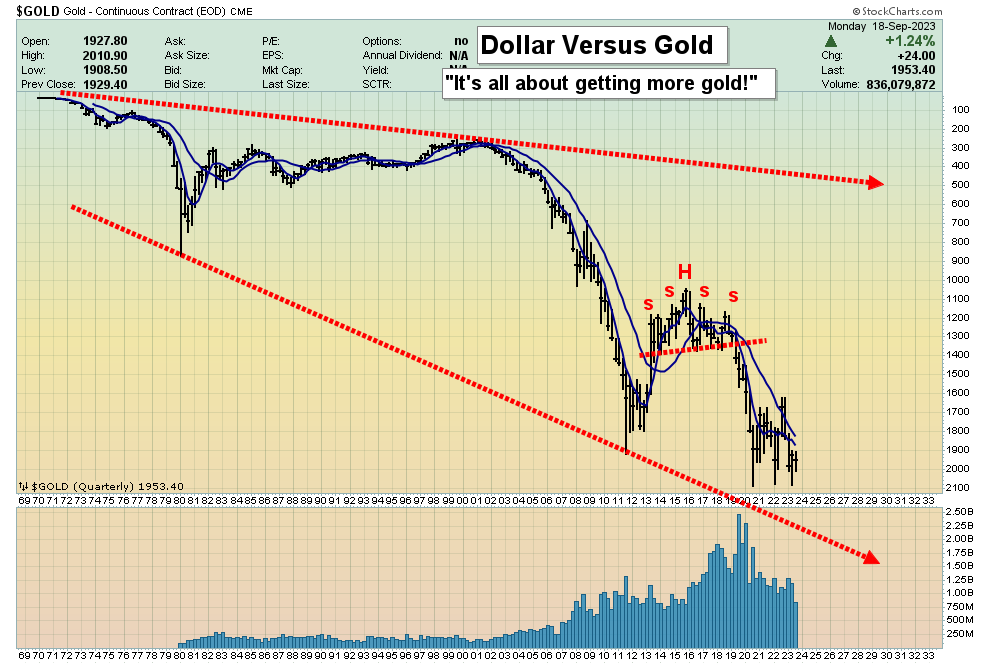 Double-click to enlarge this long-term chart of the dollar's abysmal performance against gold. Shakespeare likely wouldn't take long to report that the US government and its ridiculous fiat is the ultimate comedy of errors.
Clearly, it must be "death do us part"… when it comes to the magnificent marriage of gold bugs and their gold!
A consistent focus on rates and other key big picture items is critical for investors. I cover the big picture 5-6 times a week in updates just like this one, in my flagship Galactic Updates newsletter. At $199/year, investors feel the price is too low, and I'm doing a $179/15mths special offer that investors can use to get in on the winning action. Click this link to get the offer or send me an email and I'll get you a payment link. Thanks!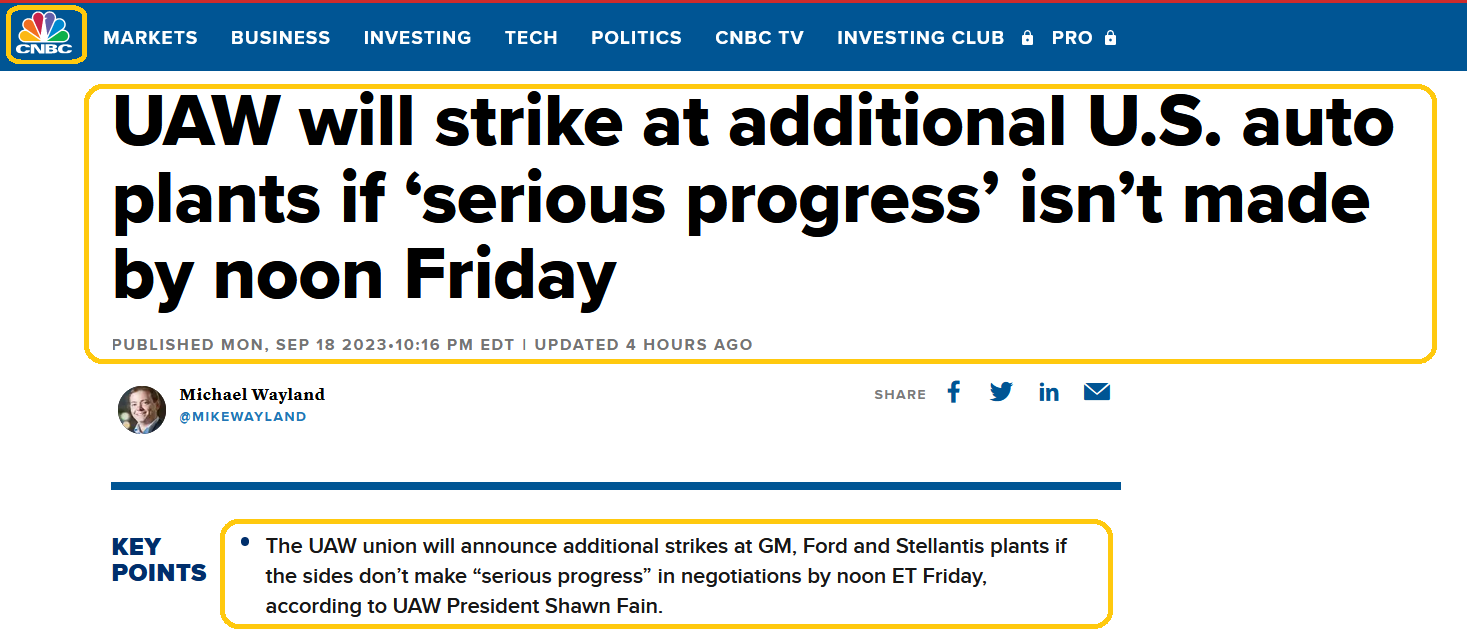 Looking ahead, stagflation is clearly the biggest theme.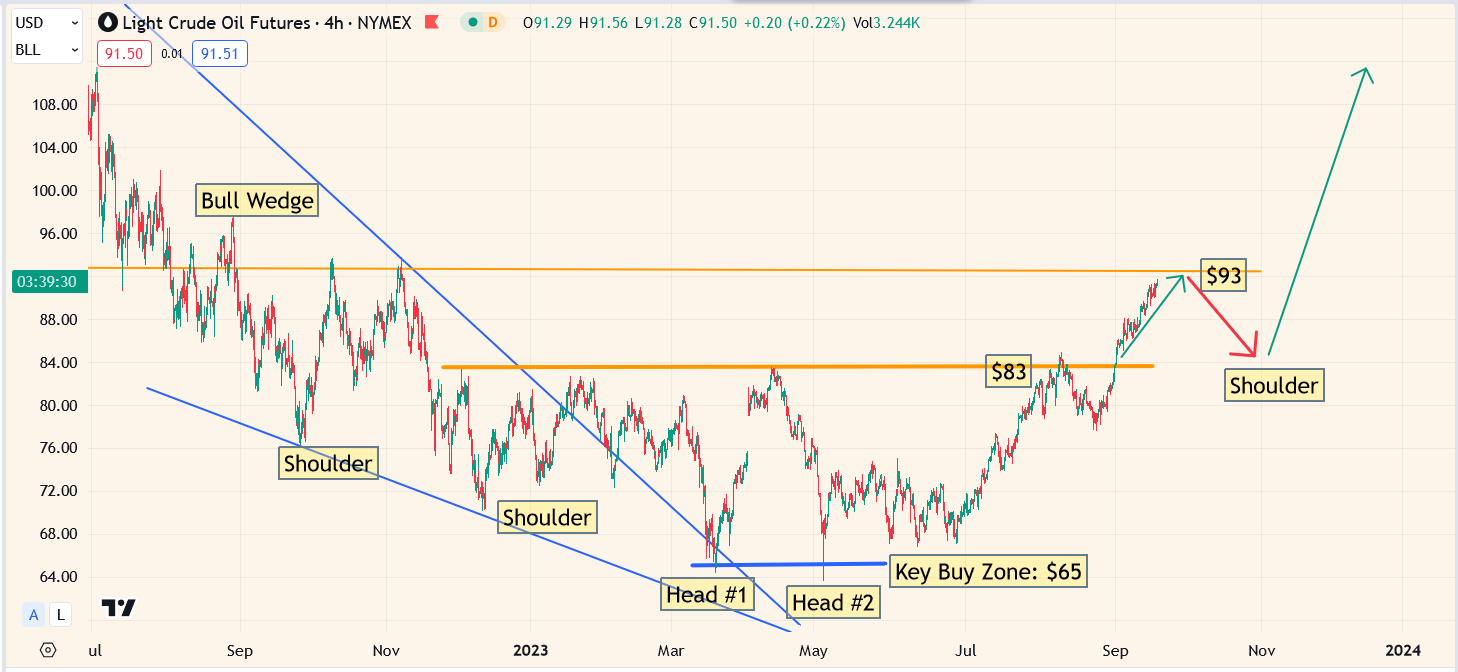 Double-click to enlarge this fabulous oil price chart. A massive inverse H&S pattern with high right shouldering is the technical scenario in play. Oil market investors who took my $62 buy recommendation are sporting big smiles. Some profits can be booked as oil approaches $93 but...  
While electric cars will eventually overwhelm oil, a stagflation era is upon America, and $200 oil is becoming increasingly probable.
Importantly, if oil keeps surging, Fed chief Jay may have to announce a revised floor for inflation and move it from 2% to 3% or even 4%.
The Fed will have to raise rates much higher than where they are now, but real rates (nominal rates minus the government's inflation number) could end up more negative than they were in the Great Depression!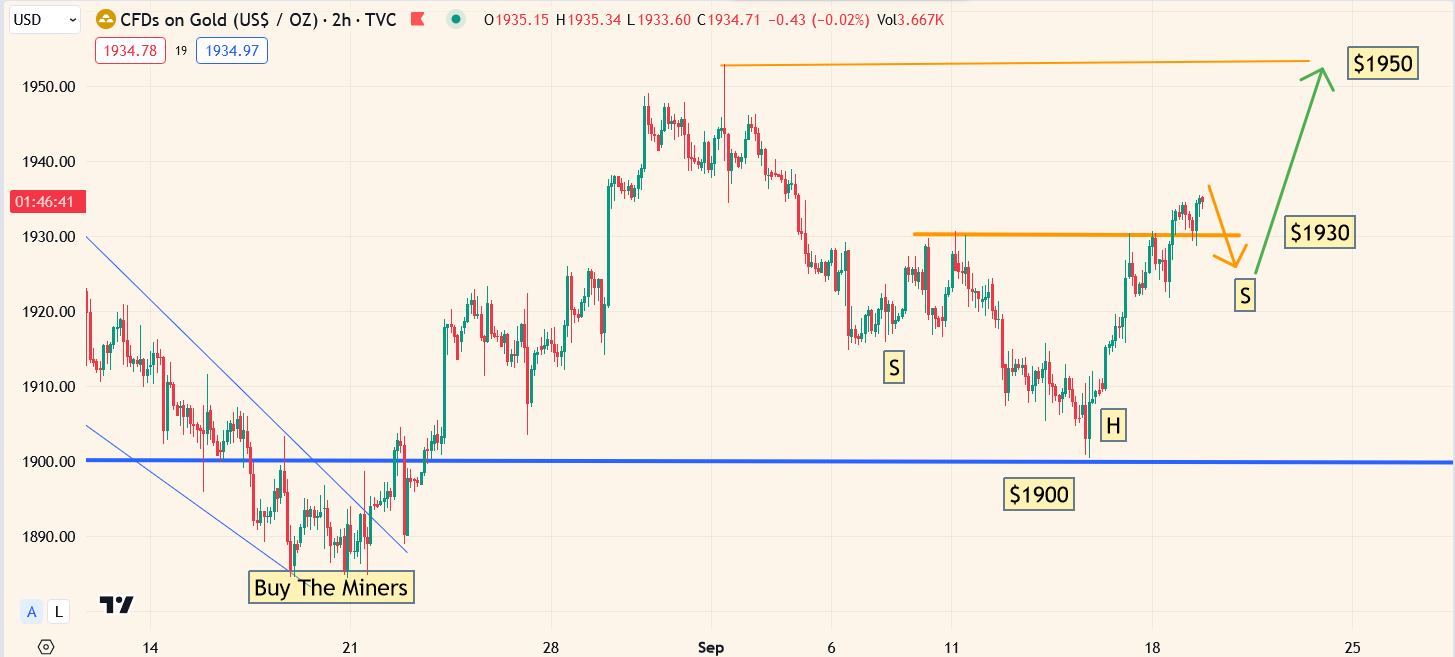 Double-click to enlarge this enticing gold chart. In the short-term, gold sports a condensed version of the oil chart, with a small inverse H&S pattern in play. Any pullback now would form a high right shoulder. The short-term targets are $1950 and then $1980.
Gold stock bugs who haven't experienced the 1970s joy of higher miners amid a US stock market wasteland, should.
 Double-click to enlarge this GDX vs QQQ divergence chart. On Friday, the stock market tumbled, and GDX surged higher. This is normal action when stagflation rules the roost, and it's beginning to rule it now in most of the Western world.  
I've urged gold bugs of the West to jettison fears about a US stock market crash hurting their miners. A stock market crash is going to happen, but not likely until early 2024, and it could be linked to a new wave of inflation accompanied by feeble action from Jay.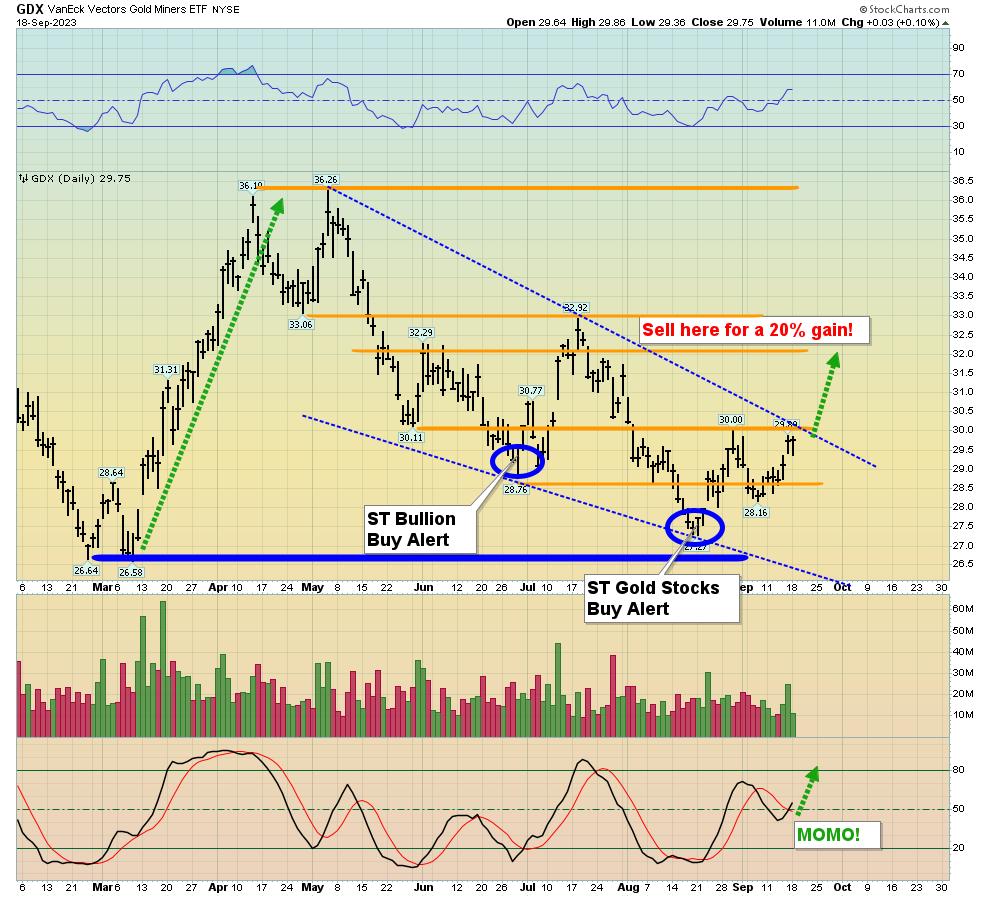 Double-click to enlarge this exciting GDX chart. The "MOMO" zone at 50 for Stochastics is shorthand for momentum and crossover buy signals that occur here are bullish.
A collapse in rates would coincide with a surge to $1980 for gold (for starters). GDX would shoot above $30 and out of its bull wedge pattern… looking like an acrobat leaping for the sky on a golden trampoline!
Thanks!
Cheers
St
Special Offer For Gold-Eagle Readers: Please send me an Email to [email protected] and I'll send you my free "Get Jacked With J!" report. I highlight key GDXJ stocks that could surge after Fed man Jay's speech this week! Both core and trading position tactics are included in the report.
Stewart Thomson
Galactic Updates
Note: We are privacy oriented. We accept cheques, credit card, and if needed, PayPal.
Written between 4am-7am. 5-6 issues per week. Emailed at aprox 9am dailyhttps://www.gracelandupdates.com/
Email:
Rate Sheet (us funds):
Lifetime: $1299
2yr: $299 (over 500 issues)
1yr: $199 (over 250 issues)
6 mths: $129 (over 125 issues)
To pay by credit card/paypal, please click this link:
https://gracelandupdates.com/subscribe-pp/
To pay by cheque, make cheque payable to "Stewart Thomson"
Mail to:
Stewart Thomson / 1276 Lakeview Drive / Oakville, Ontario L6H 2M8 Canada
Stewart Thomson is a retired Merrill Lynch broker. Stewart writes the Graceland Updates daily between 4am-7am. They are sent out around 8am-9am. The newsletter is attractively priced and the format is a unique numbered point form. Giving clarity of each point and saving valuable reading time.
Risks, Disclaimers, Legal
Stewart Thomson is no longer an investment advisor. The information provided by Stewart and Graceland Updates is for general information purposes only. Before taking any action on any investment, it is imperative that you consult with multiple properly licensed, experienced and qualified investment advisors and get numerous opinions before taking any action. Your minimum risk on any investment in the world is: 100% loss of all your money. You may be taking or preparing to take leveraged positions in investments and not know it, exposing yourself to unlimited risks. This is highly concerning if you are an investor in any derivatives products. There is an approx $700 trillion OTC Derivatives Iceberg with a tiny portion written off officially. The bottom line:
Are You Prepared?
********