'Hidden' Breakout Levels For Gold Traders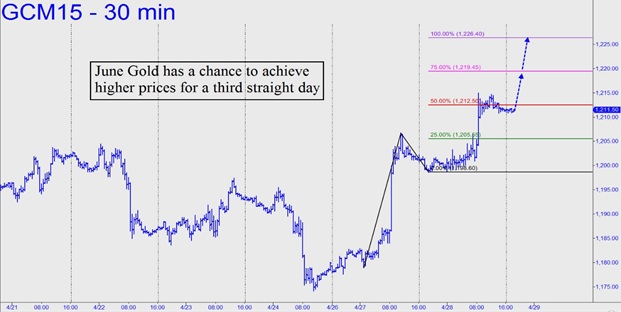 A $20 rally here, a $10 rally there, and pretty soon we're talking about the dawning of a bull market!  It's too early to tell, of course, but we should guard against the tendency to be dismissive of every positive event in the bullion asset world. In this case, it's a two-day rally with so-far shallow corrections and a shot at a third straight day of upwardliness. My minimum objective for the very near-term is p2=1219.50 (see inset), but anything above it would imply more strength to at least 1226.40. Most bullish of all would be an easy move past that last number and a close above it. Were that to occur, the next impediment on the way higher would be 1235.70, and thence 1256.20.  Traders should prepare to jump on this vehicle when these 'mini-breakouts' occur. 
********
Take a free trial subscription that will allow you to access not only the touts, bulletins, updates and impromptu trading webinars during market hours, but a 24/7 chat room that draws veteran traders from around the world.