The 'Mini-Crash' We Called Last Week Is Here, Now What?
This was a very interesting week, if you were paying attention. On Tuesday, the market declined and then saw a sizeable rally begin later in the day. Then on Wednesday, the market continued its decline. And, these were the headlines we saw:
Tuesday Morning's Headline => 'Market down on investor fears of a Fed Rate Hike'

Wednesday's Headline => 'Market down as the Fed announces No Rate Hike'
I would love for someone to explain these headlines to me in a consistent manner that does not cause us to accept any mental gymnastics. And, to be honest, I am not holding my breath.
To anyone that is being honest, there were no surprises by the Fed this past week. In fact, CNN noted the same.
Washington, DC - CNN: The Federal Reserve said Wednesday it will pause its rate hikes, keeping its benchmark lending rate at a 22-year high, while signaling fewer rate cuts next year.

The move was widely expected, after the central bank signaled in recent weeks that it intended to wait for more data to understand how previous rate hikes are affecting the US economy.
Now, if you were trying to make sense out of the action this past week based upon the news or economics, you were likely struggling (again, assuming a lack of mental gymnastics). Personally, I cannot say that the downside action this past week surprised me, as I told you to expect it last week.
While the size of the rally that we saw into Wednesday morning did surprise me a bit, I noted to members on Wednesday morning that as long as the market remained below 4465SPX, I was still looking down to the 4230-4274SPX region. The high of the day was 4461SPX.
And, as per the chart I posted several weeks ago, we have been tracking a set-up for the market to take us down to the 4230-4274SPX region.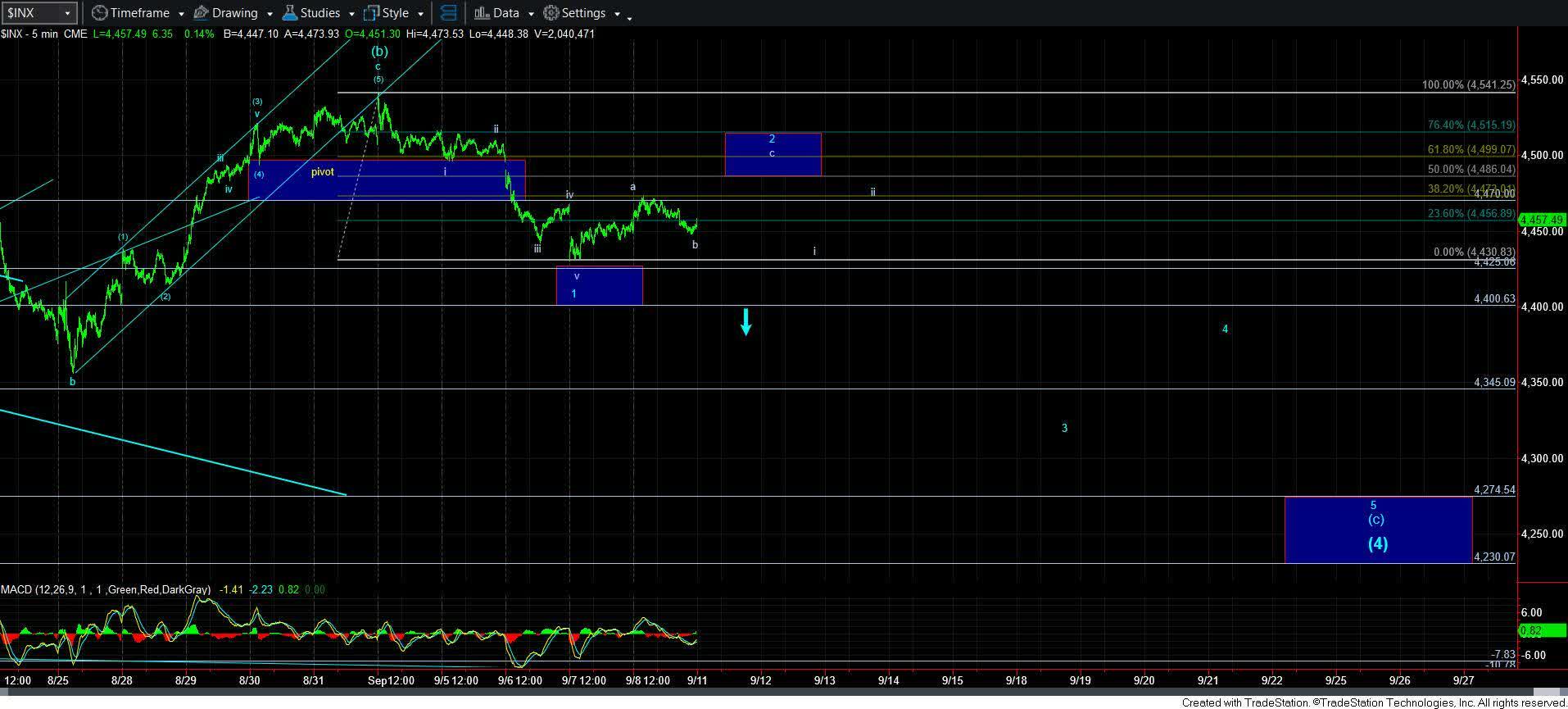 Elliottwavetrader.net
Take note that this analysis was not based upon what the Fed was going to do or not going to do. In fact, the chart was created the week before the Fed announcement. And, the fact that the Fed basically did nothing unexpected, yet the market dropped pursuant to our expectations only reinforces our view as to how the market operates.
In fact, I even warned you last week that the decline we were expecting would likely be blamed upon the Fed, no matter what they said:
"should we see that downside follow through in the set up I am outlining, then it will likely be blamed upon a reaction to the Fed this coming week. But, please read that quote from Robert Prechter again, and hopefully you will not come back here and tell me that the Fed "caused" that drop. They will simply be a catalyst for a market move that is being set up."
Yet, despite what CNN reported above, I am quite sure that many of you will don your blinders, and claim with certainty that it was the Fed that caused the decline. As for me, I am content to recognize that the Fed announcement was the catalyst for the move we expected (for which I even warned you before it happened), whereas the substance of the announcement was not really important. And, based upon the fact that there was no real news from the announcement, and the market declined as expected, it would seem to support our contention.
I present similar empirical evidence to you week after week, outlining that news or reports can act as a catalyst for a market move, but the substance of that news or report will not necessarily be instructive as to the direction of the move. Rather, it is market sentiment which will provide indications regarding the direction of the move.
Of course, when the market reacts as you expect it to react to the substance of the news, you are more than willing to resign yourself to acceptance. Yet, you have no answer when the market does something outside of the commonly held expectations developed based upon the substance of the news or report. Does that ever trouble you?
If you are simply dismissing my market views without delving into the substance of our analysis methodology because of some preconceived notion you maintain, then maybe you are more willing to accept that I possess the stock market almanac from the future, similar to the sports almanac that Biff Tannen had in Back To The Future. Admittedly, I have no such almanac. But, if that makes it more comfortable for you to explain away our accuracy in the markets, without challenging yourself to seek out the truth, then feel free to adopt any reason you wish.
For those of you that are more willing to open your minds to something that could more consistently explain market movements, feel free to start with this six-part series I penned on Seeking Alpha and EWT that outlines our market analysis methodology.
Moving back to the market action, I would be remiss in my obligations as a market analyst in noting that there is also potential that the high struck in July was a longer-term top. That is why I advised our members/clients to raise cash as we were heading into that topping structure I was outlining for them over the summer. But, for now, I am viewing this pullback as a corrective structure which should set us up for our next rally to attack the 4800SPX region.
Yet, I have outlined to our members the objective parameters that will assist us in determining if we are going to redeploy the cash we raised several months ago, or if the market has indeed provided us with a long-term top. I just posted that 3-page analysis this weekend.
To give you a very simple understanding of how I am seeing this, our next support below is the 4230-4274SPX region. As long as that support is respected, and we complete the downside structure I am tracking, then I will view this as a buying opportunity for the rally I would then expect to 4800SPX. A lower support region below is in the 4165-4185SPX region. Should we see a breakdown below that support, then that opens the door to a major top being struck, setting us up to break down below the October 2022 low over the coming year. This paragraph should provide you with rather objective downside parameters for the coming weeks.
Moreover, our resistance is the 4360-4401SPX region. Should we see the market break back out through that resistance, then that is a strong signal that the low is in place, and a rally to 4800SPX has likely begun.
*********