Pendulum Swings To Gold Over Oil
LAST JANUARY: SIGNAL TO BUY ENERGY STOCKS
Back in Jan2005 a chart screamed out "move to energy stocks from gold miner stocks!!!" which turned out to be very sage advice. Here is the chart which was laid out in "Oil to Prevail over Gold" back at the time eight months ago. Technicals rarely are cited for ratio charts with any degree of assuredness that markets will respond in a timely fashion. The right side breakout on the shoulder had not occurred at the time. A classic bullish inverted "Head & Shoulders" pattern was clearly evident within the weekly chart, whose time stamp was 30-Dec-2004. This analyst pounded the table to buy energy stocks. They ran up for the next three months.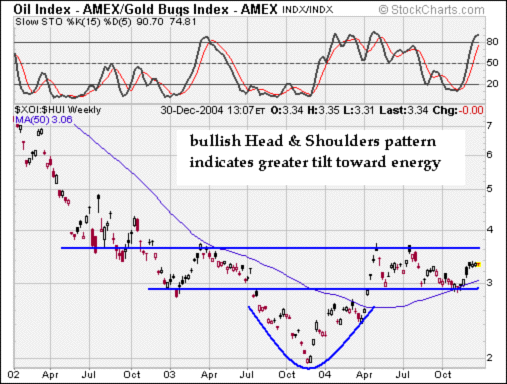 ENERGY STOCKS KICKED BUTT & TOOK NAMES
The XOI index for energy producers & explorers has risen from 720 to 1070 since January, a 50% move. The OSX index for energy services has risen from 125 to 170 since January, a 35% move, not without a spring selloff. The signal was true to form, profitable for those who heeded it. Gold and its miners struggled during the entire spring, as the Hat Trick Letter forecasted.

ENERGY/ MINER RATIO HAS REACHED ITS TARGET
A most remarkable completed chart can be presented, the rest of the first chart after time has passed, and the markets played out. The Jan2005 chart has reached its conclusion, with target reached. The XOI/HUI ratio of energy stocks to mining stocks hit a low back in Nov2003 with a 2.0 ratio. That is the head. The neckline was clearly at the 3.5 level, which previewed a rise on the breakout to 5.0 eventually. The actual breakout occurred shortly after the original article was published. Notice the rebuff at the target 5.0 ratio, which failed at retest, and now sits at the 4.77 level as of this Tuesday close. Energy stocks are pulling back in recent days. It is early, but Valero has come off highs, Exxon Mobil has come down, as have many other energy stocks and their indexes themselves. The same classic bullish inverted "Head & Shoulders" pattern has clearly reached its target within the weekly chart, whose time stamp was 9-Sept-2005.
NEXT, MINERS WILL TAKE LEADERSHIP
The goldbug precious metal miner stock index is poised for a very hefty move up. It is early, but the chart in 2005 months appears to exhibit a similarly bullish "Cup & Handle" pattern. A base at 170, a top at 220, and a target of 270 are in store. Note that the gold price (over 450) is near multi-year highs, but the HUI index is nowhere yet near its 240-250 highs registered in late 2003 and late 2004. Just as energy stocks caught up to the higher energy physical prices, the mining stocks are certain to catch up to the higher gold price.
The Hat Trick Letter has benefited handsomely from the energy stock runup. Next it will benefit from the mining stock runup this autumn. My forecast is for the gold price to hit 495 before the sun sets on the month Jan2006, and perhaps flirt with the 500 mark.Proprietary readers can read all about how and why, with the economic, bond, monetary, and international justifications fully analyzed and discussed.
From Hat Trick Letter subscribers:
"You are on my fairly short list of economic writers who actually 'have a clue' which pretty much guarantees that I will be a subscriber as long as you a writer."
   (Bob T at USArmy base in Germany)
"Your free commentaries are of a higher quality than several of the fee-based newsletters that I have subscribed to. For a statistician, you have an incredibly high quality of writing. In fact, it may be the best that I have ever read."
   (David F in North Dakota)
"I love Jim's writing. His subject matter is well researched. His combination of geopolitics and economics makes sense in a dangerous world, a world that Jim understands and clarifies to his readers."
   (Ian Gordon, editor of The Long Wave Analyst, a recent subscriber in British Columbia)
---
Jim Willie CB is a statistical analyst in marketing research and retail forecasting. He holds a PhD in Statistics. His career has stretched over 23 years. He aspires to thrive in the financial editor world, unencumbered by the limitations of economic credentials. Visit his free website to find articles from topflight authors at www.GoldenJackass.com.