Platinum at Pivotal Point
January Platinum futures have been under considerable pressure lately and are at a pivotal point along its 4-month uptrend line. A pocket of supply evident in the daily chart and taking the form of a "diamond" pattern underscores the immediate-term pressure the market is under. The underlying intermediate-term outlook, on the other hand, remains healthily intact. The dominant theme in platinum's daily chart is the large parabolic dome that has bounded platinum's rally starting in late July and peaking in October. The theoretical mid-point (or "vertex") of this parabola has been passed and platinum futures are now trading on the right-hand side of this dome, i.e., the bearish side. Platinum has run up against the downward-curving rim of this dome twice already and is presently encountering more pressure from it. A closing penetration above $590 would break this dome, but at its current price near $580, platinum is more likely to test the immediately underlying trendline in its daily chart at approximately $575 (see chart).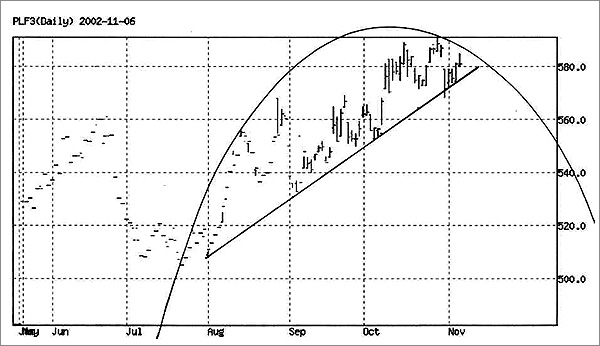 A downside penetration of this trendline would most likely lead to a test of the important $555-$560 benchmark. This area is made all the more important by the fact that it is where the 1-year interim uptrend line intersects. Note the trend channel in the 2-year chart below. A test of the channel bottom at $555-$560 would seem natural, especially as platinum futures appear to have completed a classic Elliott Wave 5-wave advance from the lows of last autumn. A pullback to at least the channel line would be considered a "normal" correction.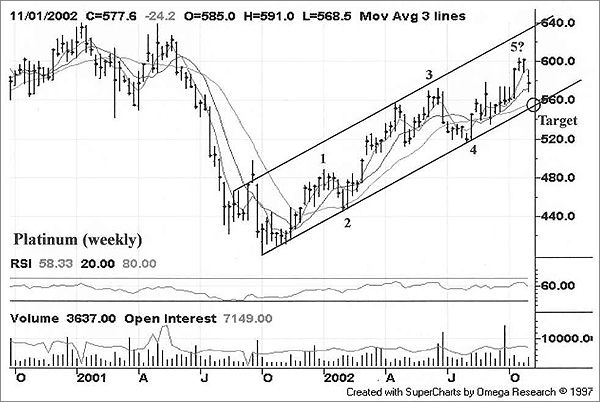 Despite the immediate pressure brought to bear on the platinum market, the broader outlook remains positive as long as the uptrend channel shown in the above chart remains intact.
Platinum News & Notes
The Royal Canadian Mint has released the newest installment in its Canadian Endangered Species series. The set comprises four .995 platinum coins, each featuring on its reverse a different view of the great blue heron. A portrait of Queen Elizabeth II appears on each coin's obverse. The $30, tenth-ounce coin reverse depicts a heron standing in the cattails with a fish in its mouth. The $75, quarter-ounce reverse features a close study of a heron's head and neck, with a heron flying out of the rushes in the background. A heron takes flight on the $150, half-ounce coin's reverse. Two herons build a nest on the reverse of the $300, 1-ounce coin. Mintage is limited to 700 sets. Visit the mint's Web site at www.mint.ca for more information. [Source: Coin World, Nov. 11]