Rally Targets in Gold & Gold Stocks
Two weeks ago, I wrote about the potential for a rally in gold stocks. They were extremely oversold, trading at support, and the selling was abating. 
Precious Metals bottomed before the Fed decision last week and jumped higher following the decision. This week they have retreated a bit thanks to Fed jawboning. 
Nevertheless, the path of least resistance in August should be higher. 
Below we start with GDX and GDXJ.
Merely rallying back to previous resistance could take GDX to $29-$30 and GDXJ to $37. Additional upside could entail a test of the 200-day moving averages at $32 and $41.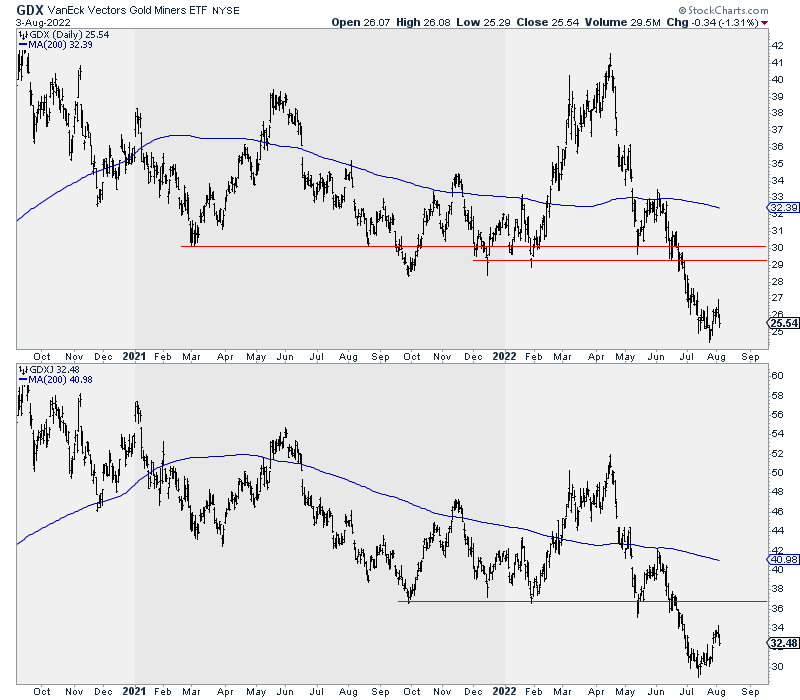 Turning to the metals, note that Gold has already rallied by over $100/oz. It has pulled back but remains some $100/oz off the low. There is a confluence of resistance at $1830 and $1841, the 200-day moving average.
Silver already rebounded from $18 to $20. It closed Wednesday at $19.89. The next strong resistance target is $22.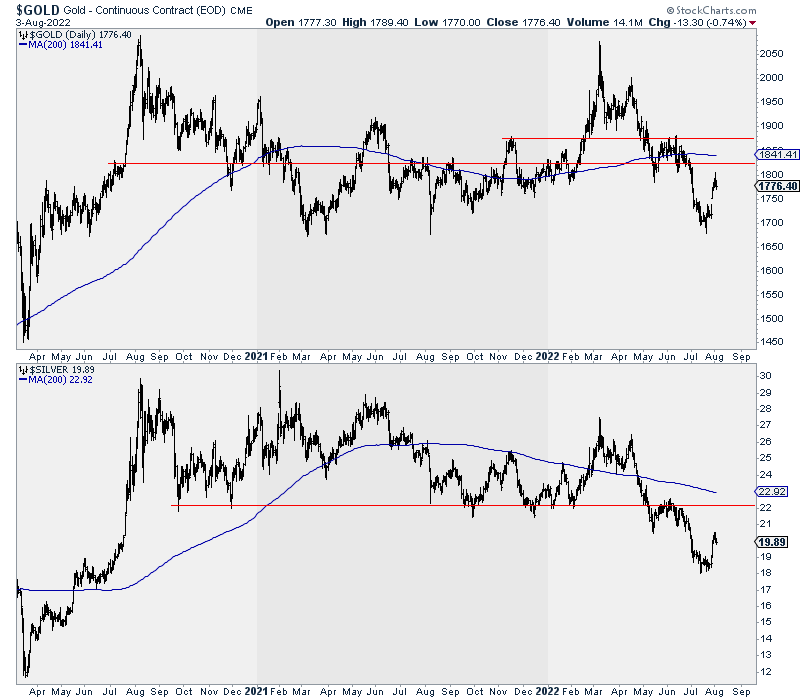 Whether precious metals have hit bottom or the bottom is ahead depends on economic data, market movements, and Fed policy.
We are approaching a turning point and an important shift in Fed policy, but it is too early to pinpoint the timing. 
If the economic data does not deteriorate and bond yields don't plunge over the coming weeks, the market could continue to discount the Fed hiking in September and November. That scenario is negative for precious metals.
However, if the economic data worsens and the 10-year yield and Oil plunge lower (because both have started to crack), the Fed could be forced to pivot in September. As a result, the current fledgling rally would have legs. 
Regardless of the outcome over the next six weeks, precious metals remain in a very strong position for the next six to 12 months. A Fed policy shift and rate cuts are inevitable, and that will spur, at worst, an incredible rebound for several quarters. 
I continue to focus on finding high-quality juniors with at least 5 to 7 bagger potential over the next few years. To learn the stocks we own and intend to buy, with at least 5x upside potential after this correction, consider learning more about our premium service. 
*******