Russia's 2019 Gold Rush Continues: Buys 600,000 Ounces Of Gold In March
– Russia buys 18.7 tonnes of gold bullion in March 2019
– Russia's official gold holdings are now 2,150.5 tonnes which as a percent of foreign exchange reserves in gold is 19.1% (see table)
– Russia liquidated 85% of its US Treasury holdings in just two months in April and May 2018
– Russia dumped over $90 billion of Treasuries in April and May as holdings collapsed from near $100 billion to just $9 billion
– Russia sees gold's role as independent currency and safe haven as is a "100% guarantee from legal and political risks"
– Russia and China's gold buying is set to continue and may accelerate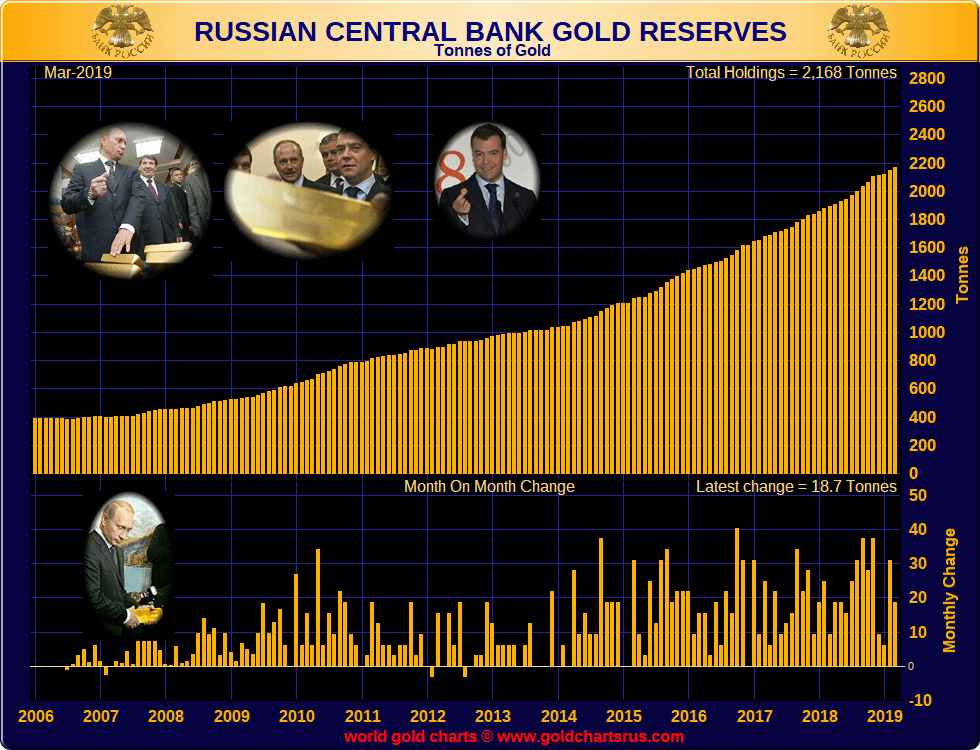 Source: Goldchartsrus.com
Russia and it's central bank added another 600,000 troy ounces or 18.7 tonnes of gold to its reserves in March according to the latest figures released in a press release by the Russian central bank on Good Friday.
Yesterday, the International Monetary Fund (IMF) published and released its Russian gold data which was different to the amount of gold announced by the Russian central bank. The IMF said that Russia raised its gold holdings by 19.4 tonnes in March as reported by Reuters. There was no clarification as to the discrepancy and we await an explanation for it.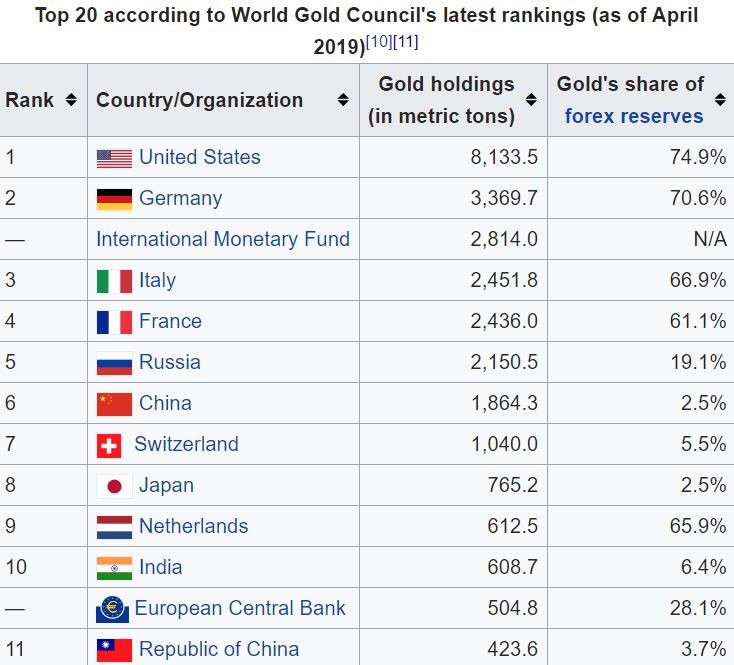 Source: Wikipedia
Russia's total foreign exchange reserves are $491 billion and their gold allocation has risen to 19% of their total reserves – even at these depressed gold prices.

Russia dumped some $90 billion of US Treasuries in April and May of 2018 – which is close to the current value of the entire Russian gold reserves, now worth c. $90 billion.
The Russian central bank, President Putin and senior politicians and policy makers have spoken about the importance of gold as a form of financial and monetary insurance. They believe gold provides valuable insurance against monetary and geopolitical risks. Manager of monetary policy at the central bank, Dmitry Tulin, recently said of gold:
"The price of it swings, but on the other hand it is a "100% guarantee from legal and political risks".
Russia and China's gold buying is set to continue and may even accelerate given the heightened financial and geopolitical risks and due to both increasingly powerful nations confidence in gold as a hedge and safe haven.
*********