Technical Analysis Of The Markets
Banking on a Reversal - A healthy banking sector is a requirement for a healthily functioning economy. We saw back in 2008 what can happen when banks gorge on debt and lend recklessly to highly geared market participants. It never ends well. Banking stocks also have a tendency to lead the broader stock market, both higher and lower. Bank shares tend to discount future economic prospects faster than almost any other sector of the market.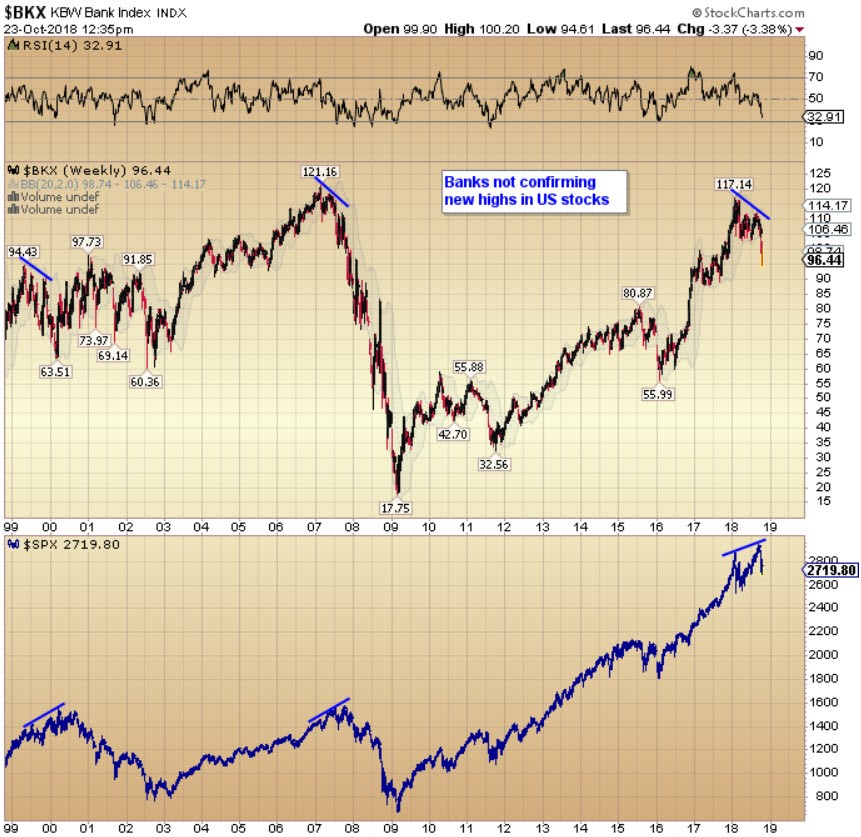 Chips Ahoy - Semiconductor manufacturers are one of the more volatile sectors of the technology industry given the capital intensive, high fixed cost nature of their business. Semiconductor stocks are also very cyclical given that chips can be found in every industry and every country around the world. So, the chip stocks are a great barometer of the overall health of the economy and tend to lead the market up and down, similar to the banking stocks.
Gold Cycles - The gold cycles have been a little trickier to navigate in recent months, not helped by a series of quite abnormal left-translated daily cycles and a longer than normal 8-month medium-term, investor cycle, which finally ended in August at $1,167. (I will go into more detail in the 'Gold Trader' section of the website once the current gold trade closes). Since the new investor cycle started in mid-August, gold has traded sideways, similar to the bottom in late 2015.
Breaking - The recent sharp break lower in stock markets has done a significant amount of technical damage on the charts. Just 26% of the 3,000+ stocks that trade on the New York Stock Exchange are now trending above their long-term 200DMA, while a full 74% of NYSE stocks are in a bear market. News from the tech sector is not much better, where just 31% of NASDAQ 100 stocks are trending higher above their long-term moving averages.
Trouble Brewing in Europe - I have been following the performance of the STOXX Europe 600 Index with interest, waiting to see if it could muster the strength to break out of the triangle consolidation that has formed since European stocks peaked in 2015. I was unsure whether the market would break out higher or lower, so I have been patiently waiting for the market to show its hand. A break higher and I planned to take a position in EU stocks in the Active Asset Allocator.
FORWARDED THIS MESSAGE? SIGN UP
Join a growing list of savvy readers and get exclusive content for free. No spam, ever. Just great stuff.

Brian Delaney, CFA
Director, Secure Investments
Tel: +353 86 821 5911
Website: www.secureinvestments.ie
Email: [email protected]
LinkedIn: Brian Delaney, CFA
Twitter: @briandelaney_
Delaney Investment Services Limited trading as Secure Investments is regulated by the Central Bank of Ireland. Delaney Investment Services Limited is registered in Ireland and is a limited liability company. Registration Number: 516058. Registered Office: 76B Northumberland Road, Ballsbridge, Dublin 4, Ireland.