Bloom Gloom
What I see in the following chart is a double top and falling tops and bottoms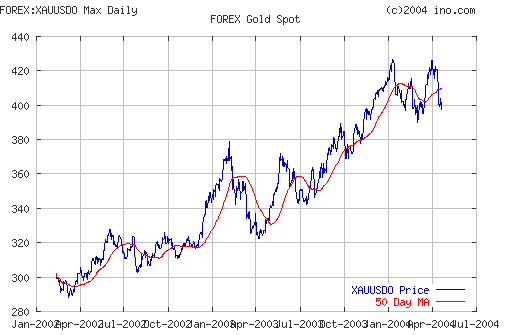 The Point & Figure Chart (Log scale) is resting on a rising trendline which implies that the gold price MUST break up from here or it will deteriorate structurally. However, the chart below (Arithmetic scale) looks like $380 is the ultimate support before a structural change might evolve.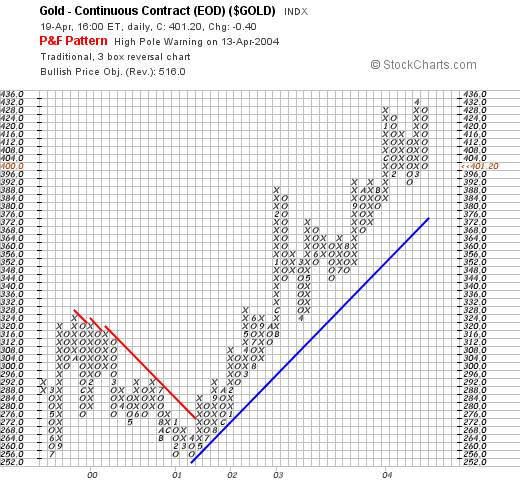 Monthly chart below shows $340 - $360 as a strong support area (consistent with above P&F Chart)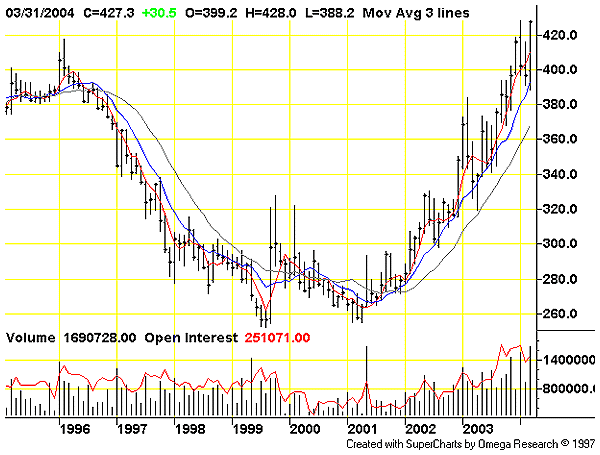 Weekly $HUI has clearly broken down from the Head and Shoulders neckline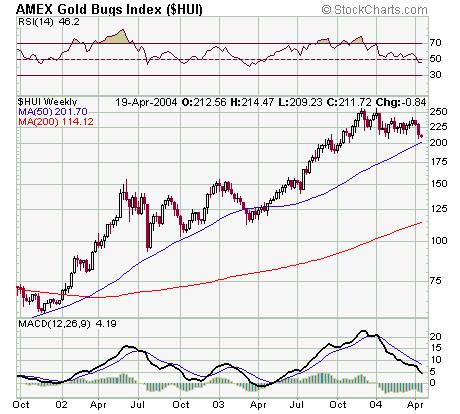 One "bright spot" is that volume on NEM does not confirm H&S breakdown. Volume should have risen on break down but it did not. On the other hand it is debatable if the NEM price has actually broken through the neckline.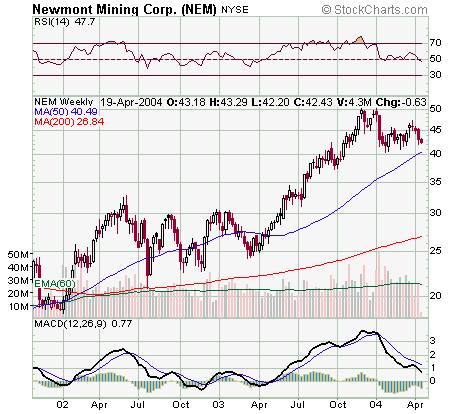 Unfortunately, AU has certainly broken down through the neckline, and on rising volume, and there is no complex Right Hand Shoulder to confuse the chartists. This is a textbook H&S formation and breakdown. Note the shrinking volume leading to the Head.
What I find particularly interesting is that the cheerleader squad is getting more vociferous. Yes, oscillators are "oversold". Yes, trading techniques indicate that the price "should" turn up from current oversold levels. Yes, Elliott protagonists are getting mathematically defensible readings that a turning is near. Problem is that it's too "neat". Money cannot be made this easily. It defies the odds.
My view is that the cheerleaders are underestimating the resolve (and power) of the Establishment. We still have an election to get through.
Finally, I cannot get comfortable with the level of "open interest" on the futures markets. I am still focussing on the fact that there may be too many stale bulls. This needs to unwind before we can have another run at the highs. I'm comfortable to sit on cash for the moment, and I would expect to see a lot of hand wringing before the gold market finally turns up again in a few months. The neophytes need to be burned at the stake first.