Buckle Up For A Golden Ride
Is gold bullion, the "Queen of Assets", breaking out to the upside from a beautiful pennant formation?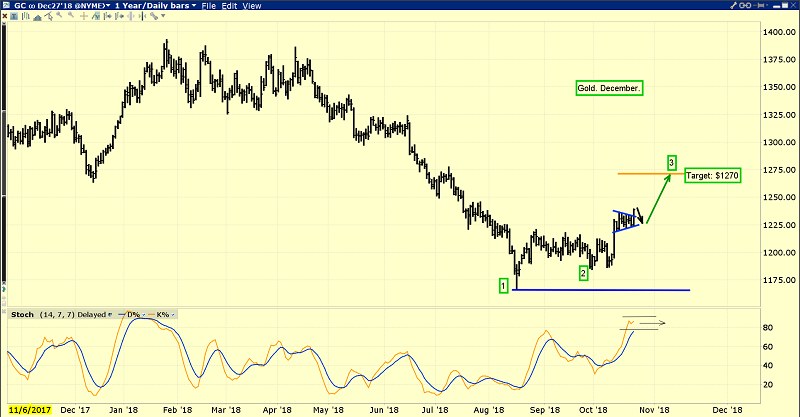 This is the daily gold chart.
Gold has formed an important double bottom pattern.  After an initial breakout to the upside, there was a brief consolidation and that took the form of a pennant.
Early this morning, gold blasted out of the pennant formation to the upside, and it did so as the US stock market is again taking its price chasing investors to the woodshed.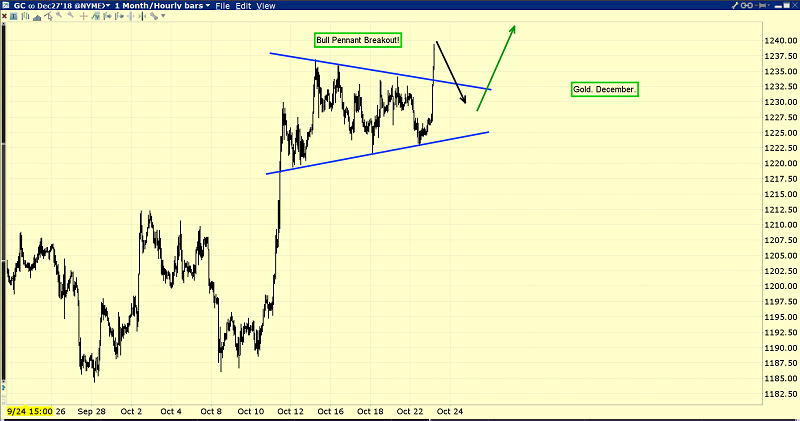 This is the short-term chart.
At my key swing trade service (www.guswinger.com), subscribers are long the leveraged NUGT ETF and short the Nasdaq via SQQQ.
We currently hold NUGT as 10% of the portfolio.  NUGT is essentially a triple leveraged version of GDX.  That 10% position is very aggressive, but given the short-term nature of our trades, the risk is well-managed and the potential reward is spectacular!
I always urge US stock market investors to take a "market holiday" or buy put option insurance in early August.  That's when crash season for the market begins, and it's when investors face tremendous danger in the US stock market.
US stock market crash season should be treated with the utmost respect.  This is because crashes that happen in September and October can wipe out not just the gains of an entire bull market, but an entire lifetime of investor gains. 
As a bull market matures, which is the case now, I become much more adamant about the dangers of crash season.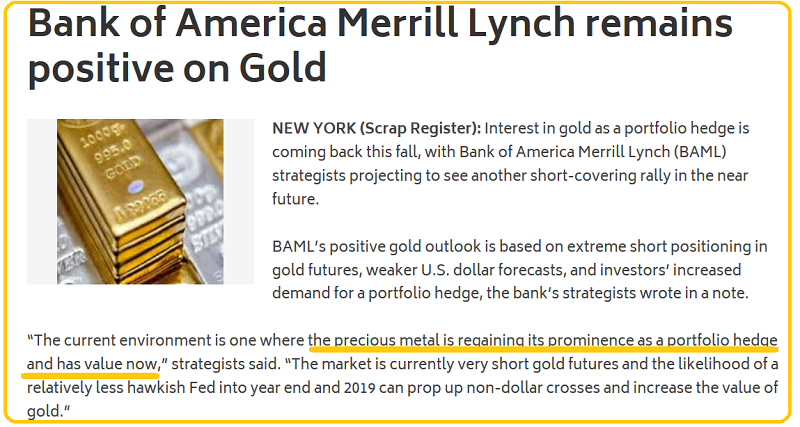 Merrill Lynch analysts have been targeting the same general $1270-$1300 area for gold that I have focused on, and they are also beginning to view gold as a hedge against the stock market meltdown.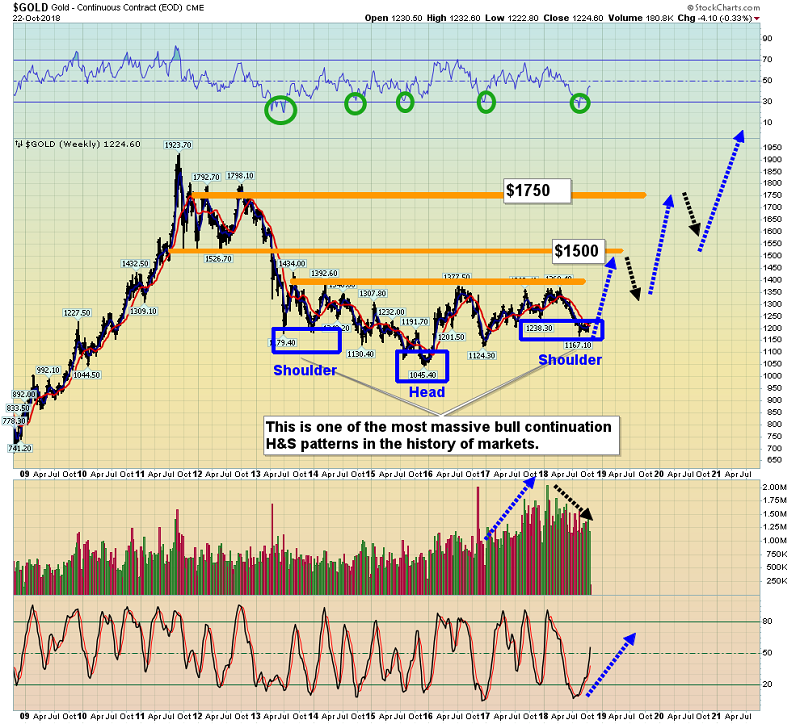 Some of Merrill's most savvy analysts feel gold could reach $1400 by the end of this year.  I've referred to this chart, as the greatest chart in the history of markets.
Gold is beginning what I believe will be an ascent to not just $1400, but to $1500, $1700, and higher levels.   
US stock markets appear headed for a stagflationary quagmire while China and India are headed for the glory of what I call the "gold bull era".  Many recent US stock market investors "chased price" based on the election of Donald Trump.  They are now faced with an army of institutional money managers who are trimming positions. 
I think the US stock market will be 30% - 50% lower before it is 20% higher, and those lower prices will likely be here within 12-18 months.  I've urged investors to use Trump's incredible business building skills and personal work ethic as an inspiration to "Make their professional market actions great".  Those who listened are now positioned extremely well in all the major markets. 
I've also coined the term, "Safehavenization of gold stocks".  As inflation becomes a powerful force in Western markets, institutional money managers replace hedge funds as the main buyers in the gold market's investment sector.  They also begin to focus on the value offered by gold stocks.  That process is underway now, and it is poised to dramatically accelerate. There's more good news:
The gold purchases made by unleveraged institutional money managers tend to be for the medium term or long term.  These powerful investors are not easily shaken out of their positions by short term gold price volatility.
This horrifying table (courtesy of Market Watch News & MKM) shows just how bad the price damage has been in 2018 for the average US-listed stock. 
It's a blood bath, and much more blood may be poised to flow. Morgan Stanley's top US equity analyst, Mike Wilson, calls the current stock market action a dead cat bounce, and top Elliott Wave analyst Gary Kalynchuk believes this is the beginning of a horrific bear market that could mimic the meltdown of 1929. 
Clearly, red lights for the US stock market are flashing everywhere.  Amateur investors who greedily "chased price" to get in on the late cycle action are becoming extremely nervous, and rightly so!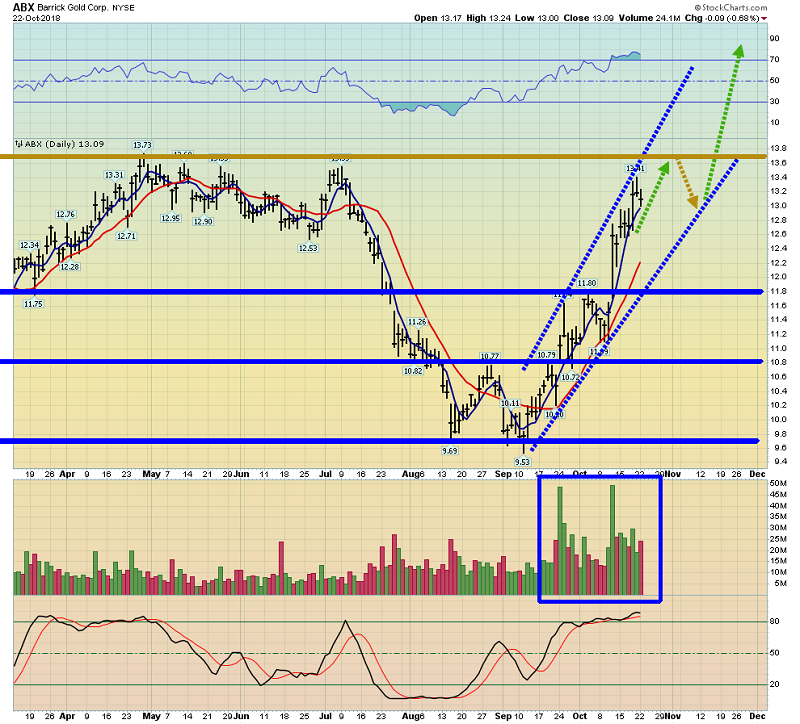 As stock market investors experience pain that could soon morph into a grotesque state of financial incineration, gold mining leaders like Barrick are staging near-vertical price action to the upside!
My swing traders have booked huge profits on ABX call options last week and again this week.  I'm now looking for a "sweet spot" re-entry point… and a massive acceleration of the uptrend.  If Barrick can trade above the $13.73 area highs, it would be a massive price surge signal for most of the world's gold and silver miners.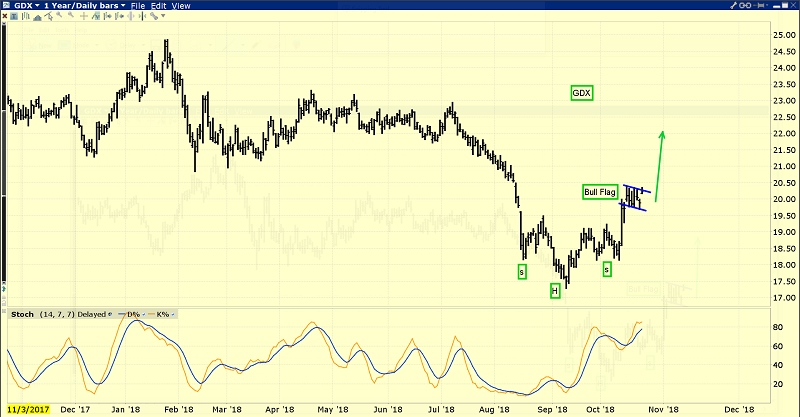 This is the awesome GDX chart.  I've noted a beautiful bull flag pattern in play.  Simply put, this market is turning into every gold stock investor's biggest dream come true. 
There's only one thing to say when a bull flag like this shows up on a gold stocks ETF chart, which is, "Put your space helmets on, and buckle up for a golden ride!"
********
Special Offer For Gold-Eagle Readers:  Please send me an Email to [email protected] and I'll send you my free "Gold Market Champions" report today.  I highlight seven key gold stocks and 3 interesting silver stocks that are beginning "championship" uptrends that could ultimately rival the performance shown by top US growth stocks in recent years.  I include razor-sharp buy and sell points for each stock!
Note: We are privacy oriented.  We accept cheques, credit card, and if needed, PayPal.
Written between 4am-7am.  5-6 issues per week.  Emailed at aprox 9am daily.
Email:
[email protected]andupdates.com  
Rate Sheet (us funds):
Lifetime: $999
2yr:  $299     (over 500 issues)
1yr:  $199     (over 250 issues)
6 mths: $129 (over 125 issues)
To pay by credit card/paypal, please click this link:
https://gracelandupdates.com/subscribe-pp/
To pay by cheque, make cheque payable to "Stewart Thomson"
Mail to:
Stewart Thomson / 1276 Lakeview Drive / Oakville, Ontario L6H 2M8 Canada
Stewart Thomson is a retired Merrill Lynch broker. Stewart writes the
Graceland Updates daily between 4am-7am. They are sent out around 8am-9am. The newsletter is attractively priced and the format is a unique numbered point form.  Giving clarity of each point and saving valuable reading time.
Risks, Disclaimers, Legal
Stewart Thomson is no longer an investment advisor. The information provided by Stewart and Graceland Updates is for general information purposes only. Before taking any action on any investment, it is imperative that you consult with multiple properly licensed, experienced and qualified investment advisors and get numerous opinions before taking any action. Your minimum risk on any investment in the world is: 100% loss of all your money. You may be taking or preparing to take leveraged positions in investments and not know it, exposing yourself to unlimited risks. This is highly concerning if you are an investor in any derivatives products. There is an approx $700 trillion OTC Derivatives Iceberg with a tiny portion written off officially. The bottom line:  
Are You Prepared?