Bullish Gold Trade Off To A Perfect Start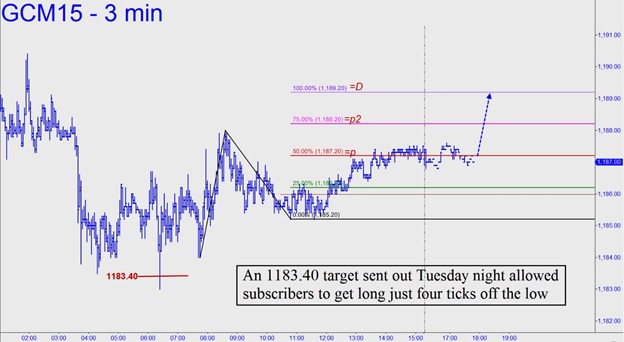 The 1183.40 downside target given here yesterday allowed subscribers to get long four ticks off the intraday low. Since I received reports of actual fills in the chat room, I'm establishing a tracking position: long two contracts with a cost basis of 1180.90. That's based on an initial purchase of four contracts, with half exited at 1186.00, the approximate midpoint of the 5-point rally that ensued. For now, we'll look to exit a third contract three ticks below the 1189.20 target shown, at 1188.90.  For now, make the order o-c-o with a stop-loss on the entire position at 1184.80.  If you hold just a single contract, an 'impulsive stop-loss' would imply exiting at the same price, 1184.80. At or above the pink line (p2=1188.20), you should switch to a 'dynamic' trailing stop that shrinks as 1189.20 is approached so that risk/reward ratio is held constant at 1:3.  If the futures surge higher, exceeding 1190.40, consider sticking with the position.
********
Take a free trial subscription that will allow you to access not only the touts, bulletins, updates and impromptu trading webinars during market hours, but a 24/7 chat room that draws veteran traders from around the world.