Can Gold Rally As The Nasdaq Falls?
Fiat and government are perhaps best described as failed financial relics of a monetary stone age.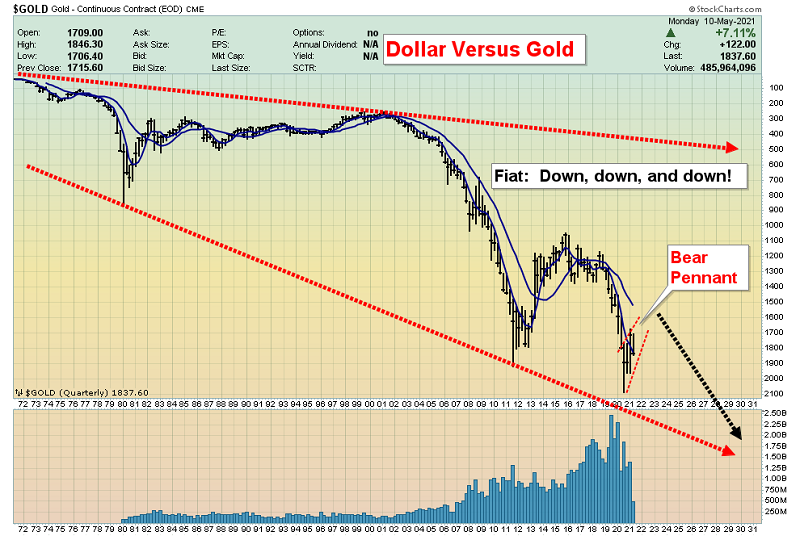 Gold is of course the world's ultimate money.  The more ounces a person has, the more money they have.  It's really that simple and… it's really that awesome!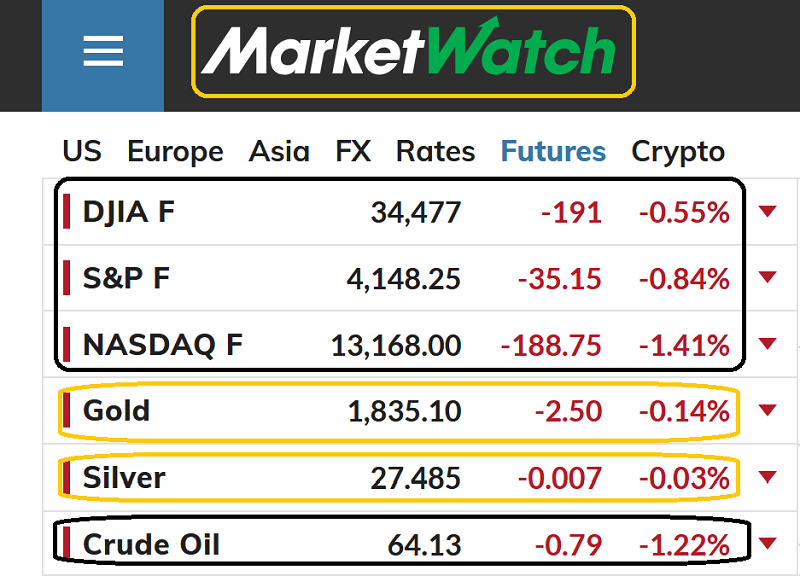 Here is this morning's "scoreboard".   The bottom line:
The world is at the dawn of an era where inflation of concern may become the dominant theme.
The BDRY is essentially a shipping price ETF.
While the Nasdaq crashed again yesterday, the BDRY pushed to a fresh short-term high.
Is this a sign that global "growflation" is already transitioning to stagflation?   The dismal US jobs report on Friday adds weight to this scenario, but more time is needed to prove it as fact.
My suggestion to all gold bugs in the West:  When it comes to the BDRY, watch the price action with a golden eagle eye!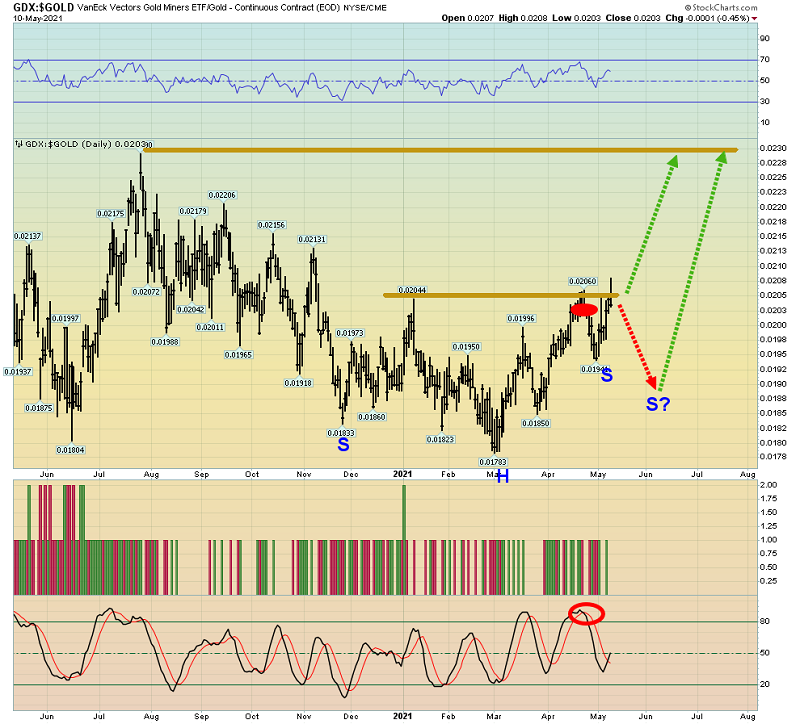 The important GDX versus gold ratio chart.  A beautiful inverse H&S bottom is in play.  A pullback would only add to the aesthetics of the pattern… and to the potential upside target price!
The fundamentals?  Well, the QE programs operated by global central banks are really a ghoulish scheme that is best described as "welfare for government, banks, and rich stock market investors".
It was President Trump who began pushing for some of the ludicrous amounts of printed and borrowed money to flow to regular American citizens.  
I am not a fan of any welfare payments for any reason, but if they are going to happen, the money should not go to rich stock market investors who are too lazy to sell rallies and buy price sales.
President Biden has continued this policy of what I call "QE for the people".  Unfortunately, the welfare money arrived too late for most Corona victims, due to government infighting and callousness. 
Both presidents refer to the universal basic welfare program as "stimulus".  That is quite a misnomer, but all governments tend to engage in misnomers regularly. 
Regardless, what matters to gold, silver, and mining stock investors is that printed/borrowed money inflates what it is aimed at.
Since 2008, most of that money was aimed at government, OTC derivatives on real estate, and the stock market.  Suddenly… it's going to Main Street!
For the past several weeks I've hinted that Elon Musk could be involved with the Dogelon currency coin.
Just the rumour of the "electric car superstar" being involved in a junior crypto is enough to create a tidal wave of buying pressure.  Here's the bottom line:
My crypto newsletter subscribers who eagerly followed me into the buy zone have scored a ten bagger of fiat profits… in about a week. 
Clearly, gold is the ultimate currency and crypto is the hottest.  I have an ironclad rule that most gold stock and crypto market profits should be allocated into the ultimate money that is gold.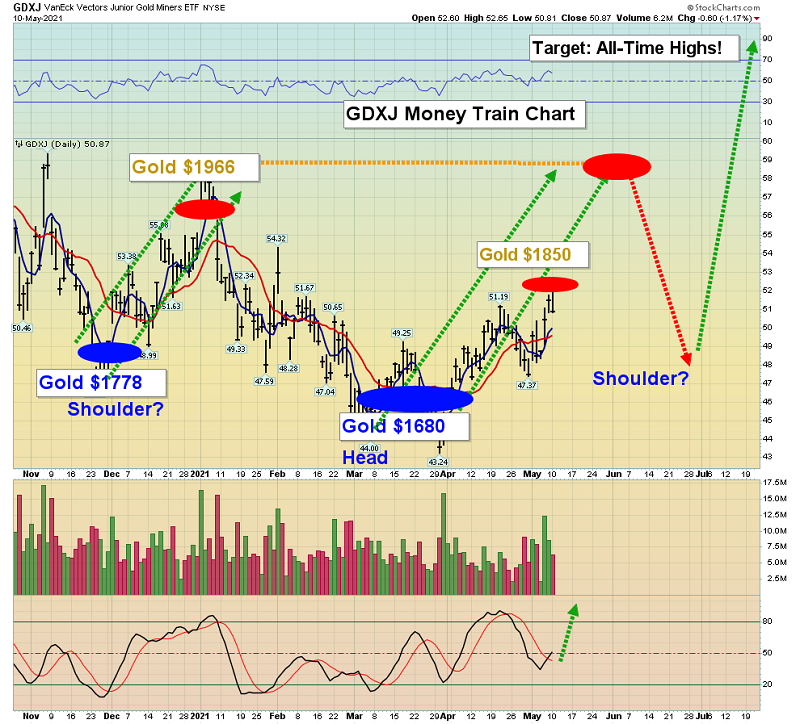 Can the GDXJ rally continue if the Nasdaq keeps tumbling?  I think it can and $58 is my medium-term target price. 
Momentum investors following the inflation theme can still buy now, but a stoploss is recommended to help manage the risk!
Special Offer For Gold-Eagle Readers: Please send me an Email to freereports4@gracelandupdates.com and I'll send you my free "Gold Stock Tactics And A Stock Market Crash!" report.  I highlight key miners that could rally as the Nasdaq crashes, with tactics to manage the risk and maximize reward!   
Note: We are privacy oriented.  We accept cheques, credit card, and if needed, PayPal.
Written between 4am-7am.  5-6 issues per week.  Emailed at aprox 9am daily    
Email:
Rate Sheet (us funds):
Lifetime: $1299
2yr:  $299     (over 500 issues)
1yr:  $199     (over 250 issues)
6 mths: $129 (over 125 issues)
To pay by credit card/paypal, please click this link:
https://gracelandupdates.com/subscribe-pp/
To pay by cheque, make cheque payable to "Stewart Thomson"
Mail to:
Stewart Thomson / 1276 Lakeview Drive / Oakville, Ontario L6H 2M8 Canada
Stewart Thomson is a retired Merrill Lynch broker. Stewart writes the Graceland Updates daily between 4am-7am. They are sent out around 8am-9am. The newsletter is attractively priced and the format is a unique numbered point form.  Giving clarity of each point and saving valuable reading time.
Risks, Disclaimers, Legal
Stewart Thomson is no longer an investment advisor. The information provided by Stewart and Graceland Updates is for general information purposes only. Before taking any action on any investment, it is imperative that you consult with multiple properly licensed, experienced and qualified investment advisors and get numerous opinions before taking any action. Your minimum risk on any investment in the world is: 100% loss of all your money. You may be taking or preparing to take leveraged positions in investments and not know it, exposing yourself to unlimited risks. This is highly concerning if you are an investor in any derivatives products. There is an approx $700 trillion OTC Derivatives Iceberg with a tiny portion written off officially. The bottom line: Are You Prepared?
********