Central Banks Scooping Up Gold This Christmas
Strengths
The best performing metal this week was gold, up 1.39 percent. Gold traders continue to be bullish on the yellow metal amid concerns about economic growth, as measured by the weekly Bloomberg survey. ETFs backed by gold saw holdings increase for 10 days straight, bringing this year's net purchases to 1.47 million ounces, according to data compiled by Bloomberg. Gold stocks did well this week as the spot price of gold broke above its 200-day moving average for the first time since this summer. Not only is bullion set for a third straight month of gains, it's also set for the best quarter since 2017, as equities become shaky and the dollar heads for its worst week since March. Hedge funds raised their net long position in the gold futures market to a six-month high.

Demand for gold in India has been falling, due in part to government measures and higher local prices, which has forced jewelers to adapt online purchases to be more appealing to young buyers. Retailers are offering gold for just one rupee, then buyers will receive physical delivery of their gold once they have paid enough for one gram of gold, which stands around 3,200 rupees, reports Bloomberg. This low barrier of entry, it is hoped, will spark greater demand, and since its launch last year, about 3 million people have already transacted on the online platform.

Several central banks are buying up gold just in time for Christmas. Turkey has continued to increase its holdings week after week. They've risen by $257 million from last week, bringing total reserves to $19.6 worth of bullion. Russia's reserves of the yellow metal climbed to 66.43 million ounces in October, up from 65.47 in September. Bloomberg data shows that India has also been steadily adding to its holdings this year and that Mongolia added ounces in October. Swiss gold exports rose 57 percent in November to 126.8 tones; however, imports fell 30 percent to 144.5 tons, according to data on the Swiss Federal Customs Administration website.
Weaknesses
·         The worst performing metal this week was palladium, down 1.03 percent despite hedge funds raising their net long position over the week. Gold fell on Wednesday by 0.2 percent after the Federal Reserve announced another interest rate hike and signaled two additional hikes in 2019. Tai Wong from BMO Capital Markets told Bloomberg in a phone interview that the Fed is "not as dovish as the market expected – it's a little bit of a disappointment." Big name investors such as Stan Druckenmiller and Jeffrey Gundlach both said the Fed should pause its interest rate hiking due to the economy slowing and markets falling. President Donald Trump also urged the Fed, via Twitter, to cease the rate hikes to avoid making "yet another mistake."
·         Investors are becoming increasingly bearish on stocks and are pouring their cash into bonds. According to the Bank of America Merrill Lynch's global fund manager survey published on Tuesday, money managers have increased their allocation to bonds by 23 percentage points, which is the biggest ever one-month rotation. The survey also showed that over half of respondents said they reckon global expansion will slow over the next two months, reports Bloomberg. Additionally, U.S. homebuilder sentiment fell this month to the lowest level since 2015, signaling that the industry's struggles are growing amid higher prices and higher borrowing costs.
·         Chinese President Xi Jinping said in a speech to party officials this week that China will stick to its policy agenda, despite pressure from other nations to allow more competition in its economic system, reports Bloomberg News. Xi said that "no one is in the position to dictate to the Chinese people what should and should not be done."
Opportunities
·         Credit Suisse analyst Fahad Tariq wrote in a note this week that gold mining equities are at an attractive entry point heading into 2019 and expects the yellow metal to gain more with an average price of $1,275 for the year. BMO Capital Markets also recommends increased exposure to gold due to concerns of the slowing global industrial economy. The group forecasts gold prices to average $1,260 per ounce in the first quarter of next year and that it will reach $1,300 in the second quarter.
·         Saxo Bank says that silver could be set up for a move soon due to the bounce in gold, reports Bloomberg. Ole Hansen, head of commodity strategy at the bank, says the gold-to-silver ratio is currently in favor of higher silver prices, showing that silver is the cheapest relative to gold in 25 years. Hansen says "silver needs three things to run higher: higher gold, weaker dollar and stronger industrial metals" and that "so far only the gold box can be ticked."
·         A Bloomberg survey of 20 analysts and traders projected an increase in gold prices with a median estimate of $1,325 an ounce for the end of 2019. Almost all respondents said they were bullish on gold, even as the precious metal heads for its first yearly loss in three years. Mike McGlone, Bloomberg Intelligence commodity strategist, writes that it is unlikely that the U.S. dollar will remain atop the list of best-performing assets in 2019. The amount of offshore cash repatriated fell almost 50 percent in the third quarter of this year compared with the second quarter, to just $92.7 billion. The corporate tax cuts signed into law one year ago were expected to bring back more than $4 trillion to the U.S., according to President Trump.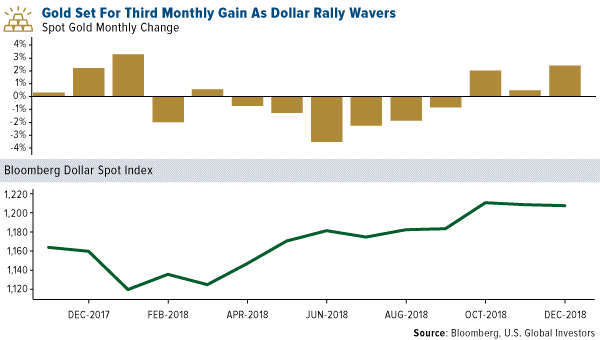 Threats
·         Goldman Sachs is warning clients to get defense amid the high uncertainty around the stock market for next year. The bank cited recent meetings with clients in saying that many investors believe the U.S. economy will fall into a recession in 2020 and are concerned because the S&P 500 has fallen by more than 10 percent a quarter of the time in the year before a recession in years going back to 1928, writes Bloomberg's Joanna Ossinger.
·         Fed policymakers' new economic projections show that interest rate increases will start to hit the U.S. economy in 2020, which could lead to rising unemployment. This is bad news, especially as it comes during a presidential election year.
·         Akira Takei, global fixed income manager in Tokyo at Asset Management One, told Bloomberg this week that he "expect[s] the global economy to be substantially worse in 2019 than this year," citing recent drops in bond yields and equities. Globally, bonds with negative yields total $7.9 trillion, up from the 2017 low of $5.7 trillion reached in October, reports Bloomberg.