China's Golden Week Weighs On Gold
China's "Golden Week" holiday is underway and gold markets there are closed for the week.
The demand vacuum created by this holiday often contributes to a gold price swoon, and that's happening now.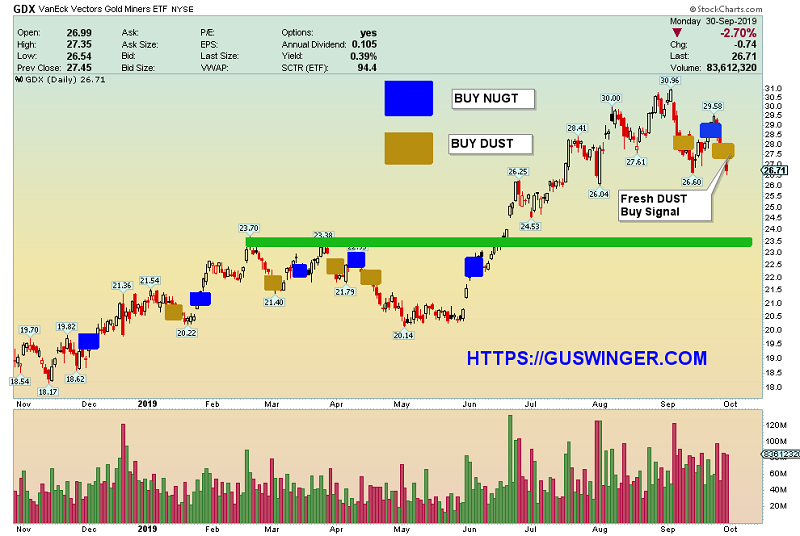 The GDX swing trade chart.
My www.guswinger.com subscribers are enjoying the price swoon because they took my key signals to buy DUST and JDST.
Swing trading is a great way to make money in a gold market correction. 
The booked trading profits also give investors confidence to add to core positions when overall investor sentiment and news is negative.
Note the big green support line on that GDX chart. If GDX trades down to the $24 area, long-term investors should place buy orders for GDX, GOAU, SIL and individual miners.
"An environment of negative and lower-for-longer real rates, slowing growth with downside risks, and elevated uncertainty strengthens the case for holding strategic gold allocations." – UBS bank analysts, Sep 30, 2019.
The UBS team also notes that the current steady action in gold on rallies and declines is typical in a trending market. 
They just raised their 2020 target price to above $1700!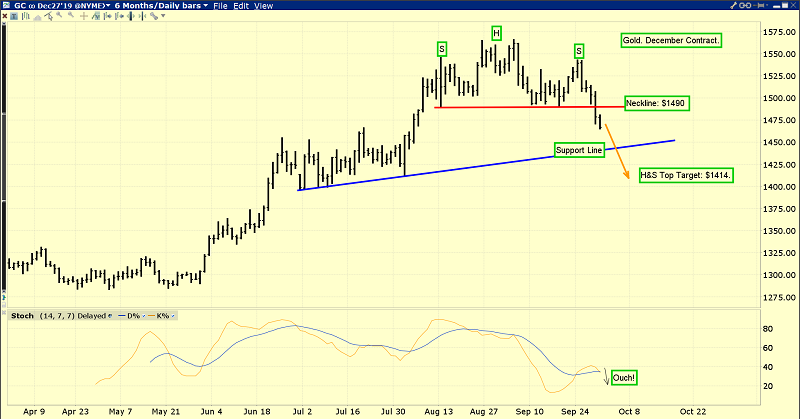 The daily gold chart.  As a former stock broker, I have a lot of experience dealing with investor emotion at key buy and sell zones in the market. 
Bank traders and Chindian gold dealers tend to be price makers more than takers, and that gives them the confidence to buy a falling knife and sell a parabolic move.
In my professional opinion, most amateur investors should not try to buy a falling knife, even at a major support zone. 
It's simply too emotionally difficult to manage the investment professionally.
After a big decline in the gold market brings the price to a major
support zone, amateur investors should wait for "signs of bullish life" before they buy.  
That could be an upturn in sentiment, a fresh rally with big volume, an important candlestick, or an oscillator buy signal.
These technical signs of life allow the average investor to make their purchases in a positive state of mind but still get their gold stock or bullion at a greatly discounted price.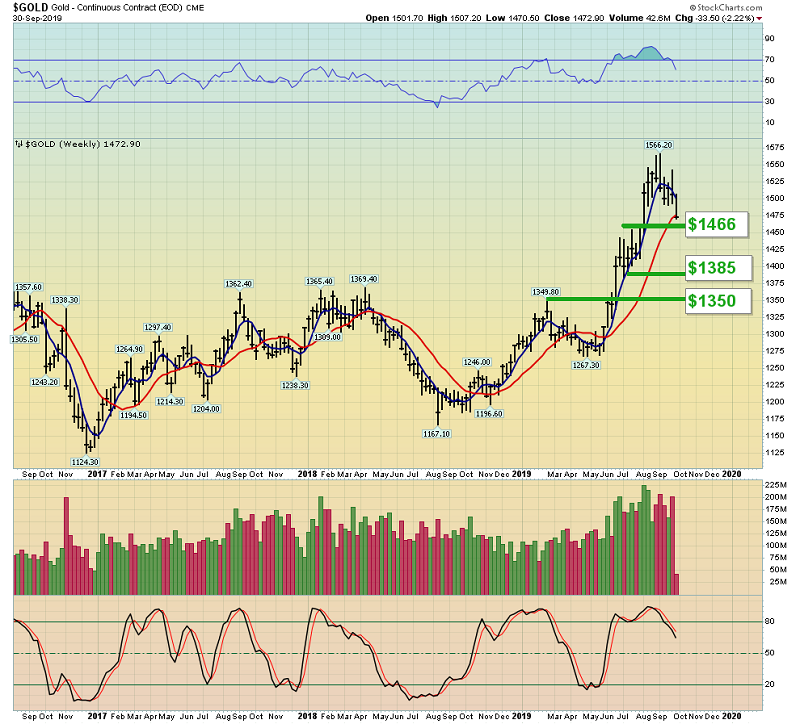 The weekly gold chart.
The key support zones for investors are $1466, $1385, and $1350.  Gold is now near $1466.  That's a $100/ounce price sale from the $1566 area highs.
The next step is to watch for technical signs of life; gold investors don't want to miss out on a rally to $1700, and that could occur soon if big bank analysts like UBS are correct!
The dollar versus yen chart.
The dollar's feeble breakout from the inverse H&S bottom pattern isn't convincing, and a failure here would be a key sign of life that the gold price correction could be ending.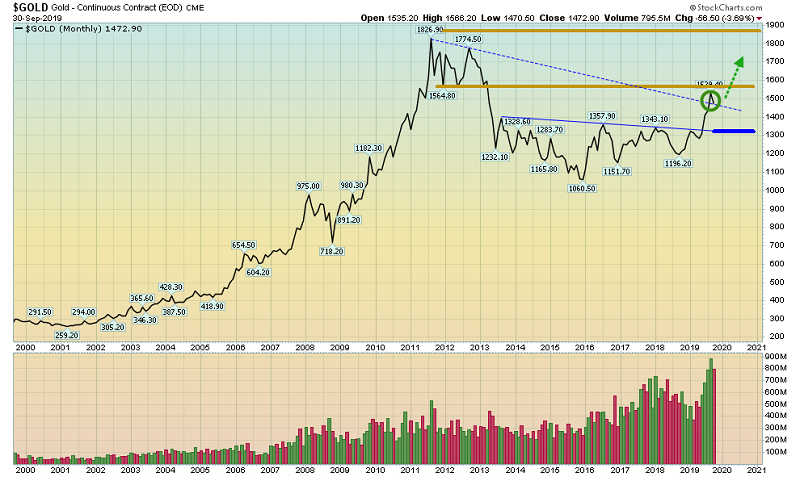 Another major sign of life could come from this important "monthly close" gold chart.
Note the pullback to a key support line.  If there's even a modest rally from here, it could mean a bull flag is in play, and the target of the flag is about $1710!
Special Offer For Gold-Eagle Readers: Please send me an Email to [email protected] and I'll send you my free "Signs Of Junior Gold Stock Life!" report.  I highlight important action taking place now in key junior miners that have jump starts on the rest of the market!
Note: We are privacy oriented.  We accept cheques, credit card, and if needed, PayPal.
Written between 4am-7am.  5-6 issues per week.  Emailed at aprox 9am daily.
Email:
Rate Sheet (us funds):
Lifetime: $999
2yr:  $299     (over 500 issues)
1yr:  $199     (over 250 issues)
6 mths: $129 (over 125 issues)
To pay by credit card/paypal, please click this link:
https://gracelandupdates.com/subscribe-pp/
To pay by cheque, make cheque payable to "Stewart Thomson"
Mail to:
Stewart Thomson / 1276 Lakeview Drive / Oakville, Ontario L6H 2M8 Canada
Stewart Thomson is a retired Merrill Lynch broker. Stewart writes the Graceland Updates daily between 4am-7am. They are sent out around 8am-9am. The newsletter is attractively priced and the format is a unique numbered point form.  Giving clarity of each point and saving valuable reading time.
Risks, Disclaimers, Legal
Stewart Thomson is no longer an investment advisor. The information provided by Stewart and Graceland Updates is for general information purposes only. Before taking any action on any investment, it is imperative that you consult with multiple properly licensed, experienced and qualified investment advisors and get numerous opinions before taking any action. Your minimum risk on any investment in the world is: 100% loss of all your money. You may be taking or preparing to take leveraged positions in investments and not know it, exposing yourself to unlimited risks. This is highly concerning if you are an investor in any derivatives products. There is an approx $700 trillion OTC Derivatives Iceberg with a tiny portion written off officially. The bottom line:  
Are You Prepared?
********