Corona And Gold: Stagflation On Steroids
I said yesterday morning that amidst all the Corona War mayhem, a move over $1550 for gold would be incredibly positive.
The spectacular gold chart.$1550 is now support!
In what is arguably the most horrific act in the history of the United States, and certainly one of them, the Fed just announced what some are calling, "QE to Eternity".
The Fed promises to print about $100billion a day this week, not for hospital beds, hazmat suits, medicine, or food deliveries for the sick and elderly… but to buy a candy jar full of assorted financial markets trinkets!
In days past (long past), Americans would have rioted on this outrageous news.They may have dragged members of congress and the Fed into the street and killed them.Today, they just stand there and do nothing, while they are decimated by the invading Corona army.This is the biggest sign yet (in a long line of such signs) that the American empire is doomed.
The money printing charade rubber has finally met the road; the Fed is no longer just the borrower of last resort.It's now the buyer of last resort too!
The Fed's actions are transitioning from producing tiny growth, lots of stock market purchases, and no inflation… to producing zero growth, minimal stock market purchases, and immense monetary inflation (destruction of the dollar against gold).
The stagflation of the 1970s, on steroids, now looks set to take centre stage alongside the grim Corona reaper.
US "Gmen" (top government officials) in America are trying to do what all of China knows can't be done:Send the people back outside, unprotected, and try to restart the economy.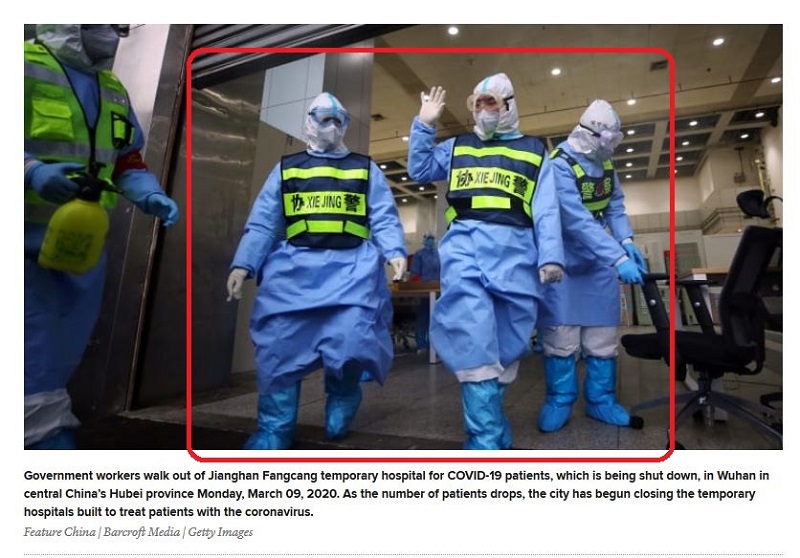 The bottom line: The people must be protected when interacting.  The government can't just wait for a lull in the Corona numbers, and then send everybody back out there.
A day in the world of Mad Max would look tame to what could happen if there's a second and much bigger wave of Corona in America, caused by off-the-charts US government incompetence.
Gold stocks?Well, the good news for gold stock investors is that the Fed seems determined to print all the money needed to keep the markets open.
The GDX chart.There's a nice symmetrical triangle in play but the big story is my relentless urging to buy gold stocks… only when gold bullion trades at support.
Ratio charts and the action on individual gold stock charts isn't as important as what happens with gold bullion itself.I labelled gold $1450 cash and $1465 futures as the buy point of action, and the $17 area lows for GDX were "gift wrapped" for gold stock investors… right there!
What about the stock market?Well, I've been adamant that this stock market crash would be nothing like nothing like 2008, and it isn't.There's no system risk and the OTC derivatives are on clearing houses.
I suggested it would be a hybrid of 1929 and 1966, and that's exactly what it is.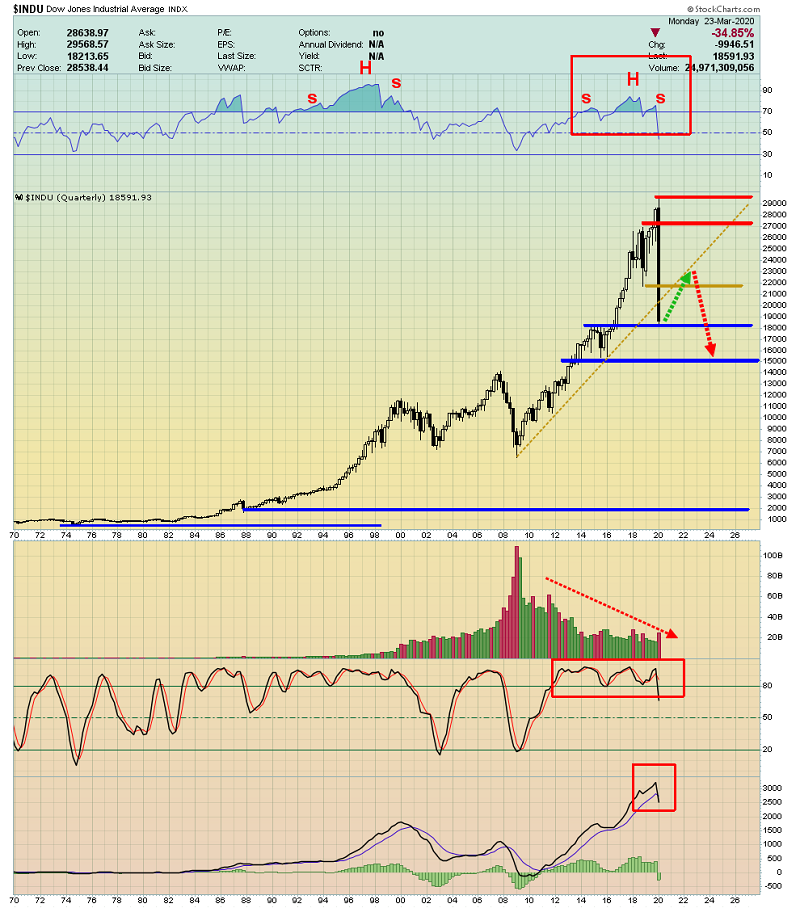 When the Dow was at 27,000-30,000, most stock market investors were chasing price and worshipping the government. I don't worship government and I don't chase price.Period.
I despise government and that's why I never blew up in the stock market like so many others did.  I warned investors to look at the 18,300 support zone, rather than listen to the outrageous and dangerous government propaganda.
Well, the price is there now, at 18,300, and I bought a little bit.This, while most stock market investors now look like baked potatoes that exploded.I focused my very modest buying on various country ETFs… and SPCE-NYSE (Virgin Galactic).
Virgin is a space tour company created by Richard Branson.The stock is up 50% this morning from last week's low, and it's my guess that the world's richest people are becoming interested in rockets that get them away from planet Earth in an emergency.
What about silver?Like gold stocks, it's important that investors buy silver when gold is at buy-side support.
The gold to silver ratio helps to determine how much silver to buy at a given support zone for gold, but it should not be used alone as a reason to buy.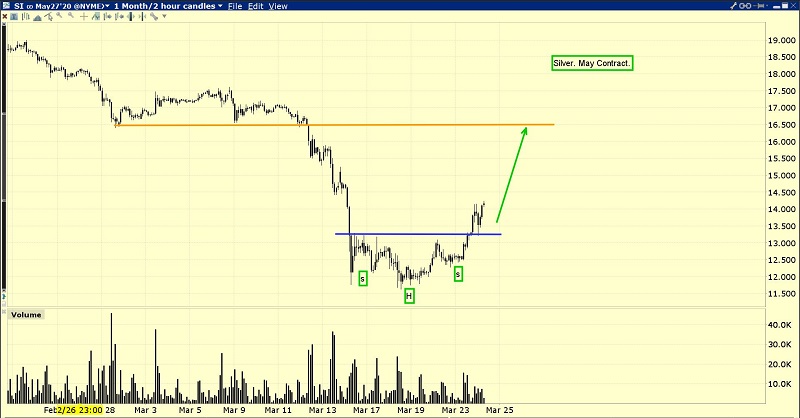 The silver "blast off" chart.The $12 lows occurred as gold arrived at $1450 support.
Buyers are being rewarded already, and with stagflation now becoming "the ultimate done deal", good times will become great.For right now though, my main mantra is… stay safe!
Special Offer For Gold-Eagle Readers:  Please send me an Email to free [email protected] and I'll send you my free "Gold & Silver Stock Champions Of The World" report.  As stagflation gets government and central bank money printing steroids, I highlight five GDX and five SIL component stocks set to go into barnburner mode, with key tactics for each stock.
Note: We are privacy oriented.  We accept cheques, credit card, and if needed, PayPal.
Written between 4am-7am.  5-6 issues per week.  Emailed at aprox 9am daily.    
Email:
Rate Sheet (us funds):
Lifetime: $999
2yr:  $299     (over 500 issues)
1yr:  $199     (over 250 issues)
6 mths: $129 (over 125 issues)
To pay by credit card/paypal, please click this link:
https://gracelandupdates.com/subscribe-pp/
To pay by cheque, make cheque payable to "Stewart Thomson"
Mail to:
Stewart Thomson / 1276 Lakeview Drive / Oakville, Ontario L6H 2M8 Canada
Stewart Thomson is a retired Merrill Lynch broker. Stewart writes the Graceland Updates daily between 4am-7am. They are sent out around 8am-9am. The newsletter is attractively priced and the format is a unique numbered point form.  Giving clarity of each point and saving valuable reading time.
Risks, Disclaimers, Legal
Stewart Thomson is no longer an investment advisor. The information provided by Stewart and Graceland Updates is for general information purposes only. Before taking any action on any investment, it is imperative that you consult with multiple properly licensed, experienced and qualified investment advisors and get numerous opinions before taking any action. Your minimum risk on any investment in the world is: 100% loss of all your money. You may be taking or preparing to take leveraged positions in investments and not know it, exposing yourself to unlimited risks. This is highly concerning if you are an investor in any derivatives products. There is an approx $700 trillion OTC Derivatives Iceberg with a tiny portion written off officially. The bottom line:  
Are You Prepared?
********