As Fed Chair Powell Signals Slower Rate Hikes, Gold Continued to Climb Last Week
Strengths
The best performing precious metal for the week was silver, up 8.15%. The global silver market is forecast to record a second consecutive deficit in 2022, with a multi-decade supply gap of 194 million ounces forecast, as demand is set to rise to a new high this year. Industrial demand is on course to grow to 539 million ounces, bolstered by developments such as ongoing vehicle electrification, growing adoption of 5G technologies and government commitments to green infrastructure.
The price of gold advanced after Federal Reserve Chair Jerome Powell signaled the pace of tightening would slow at the next meeting, writes Bloomberg, ahead of economic data that could bear on the central bank's future rate hikes.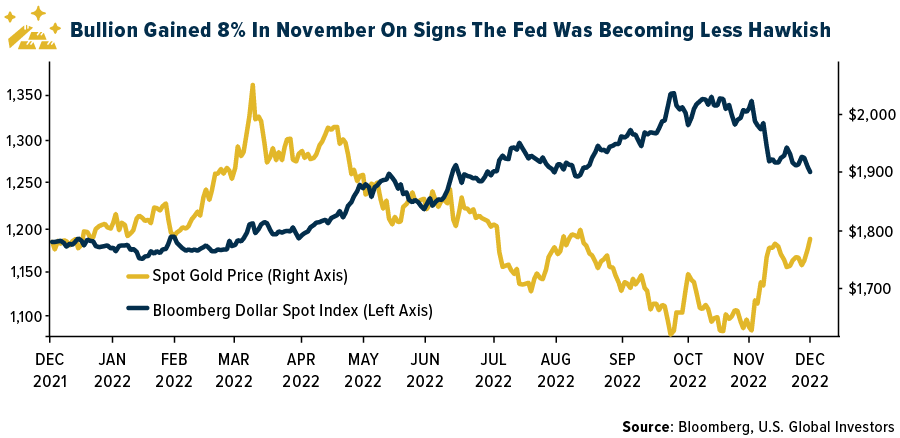 Endeavour Mining reported Tuesday a 17% increase in measured and indicated resources at its Ity gold mine in Cote d'Ivoire. Endeavour said it remains on track to achieving its goal of discovering 3.5 million to 4.5 million ounces of indicated resources over the 2021-2025 period, with nearly 2.0 million ounces already discovered.
Weaknesses
The worst performing precious metal for the week was gold, but still up 2.41%. Alamos Gold reported a fatality at their Young Davidson Mine killing an employee. No details were immediately released but the company is working with local authorities.
The Environmental Protection Agency (EPA) issued a ban on moving mined waste rock into Bristal Bay, citing potential harm to the salmon industry in the region. The Pebble Project is owned by Northern Dynasty Minerals and has been trying to permit the project for several decades. The ban effectively stops the Pebble Project from going forward but the company is not walking away. John Shively, CEO of Pebble Limited Partnership, wrote in a press release that "Congress did not give the EPA broad authority to act as it has in the Pebble case."
The Royal Bank of Canada (RBC) expects Osisko to face significantly higher upfront capex and operating costs versus 2021, in line with sector-wide cost inflation. The financials outline a costlier (but likely more realistic) project than anticipated, even excluding the power line. That said, the base case economics of the project remain solid at $1,600 per ounce gold, with first quartile margins at an all-in sustaining cost (AISC) of $800 per ounce.
Opportunities
The tone of the gold market is getting more positive as Jerome Powell signaled the pace of rate hikes would slow at the Fed's next meeting. In some ways, the market has taken the lead from the Fed. In November, gold gained 8% with talk of Covid loosening in China, but the dollar lost 5% in conjunction with a rise in gold and some anticipation that the Fed can't keep raising rates this fast. We had a major blow up with the crypto space, and now Blackstone's $69 billion real estate fund for wealthy individuals announced it is limiting redemption requests on the fund as total requests to liquidate exceed the threshold withdrawal limits. Blackstone became a massive player snapping up apartments, suburban homes and dorms with low interest rates and their property values have likely fallen with the rise in interest rates. Gold is beginning to get interesting as other investment returns look less certain.   
Alamos Gold reported new drill results from surface and underground at the Island Mine in Ontario. High-grade mineralization at Island West was extended 225 meters west of existing resources. Mineralization also extended down from the large high-grade Inferred Mineral Resource block in the lower part of Island East. At Island Main, high-grade mineralization extends 160 meters below Inferred Mineral Resources. John McCluskey, president and CEO of Alamos, noted the significant exploration potential the Island Gold deposit has demonstrated and continues to deliver impressive results.
MMC Norilsk Nickel PJSC, which controls 40% of global palladium output, said the global market will face a sharp deficit of the metal after the London Platinum and Palladium Market (LPPM) delisted Russian refineries from delivery lists earlier this year. The LPPM's "arbitrary decision" has "created a major shortfall of supply of good delivery branded sponge and ingots," the Russian miner known as Nornickel said in its metals outlook on Wednesday.
Threats
According to Macquarie, the Australian gold sector has experienced inflationary pressures with costs rising in key areas including labor, energy fuel and explosives. Global shipping cost escalation/delays and other supply chain constraints have also impacted the sector more broadly, which has impacted the ability to execute capital projects. Rising costs have led to a general erosion of margins of large-cap gold miners over the last three years. If rising real rates cause gold to fall, balance-sheet strength may become increasingly vital.
Newmont's 2022 targets were reviewed as challenging to achieve given NEM's December 2021 guidance occurred prior to the Ukraine crisis, Covid case surges in the first quarter, China-related uncertainties, and monetary policy changes that precipitated sizable U.S. dollar appreciation. In addition, details for NEM's non-managed operations (i.e. Nevada Gold Mines and PV) that represent ~25% of production are not fully available until the first quarter.
Newmont's capital spending guidance annually was a discussed $2.5 billion through the cycle, supported by $1.0-$1.2 billion in sustaining capital, $0.8-$1.0 billion in development capital, and $0.4 billion in exploration spending. In the near term, spending is guided to be above this target, given tailings-related investment in sustaining capital and spending at key projects. According to RBC, Newmont targets paying 40-60% of free cash flow out as its dividend, now reviewed to be "through the cycle," and payouts could be higher, near-term, given upcoming elevated spending.
********