Forecast: Gold Prices Are Set To Rally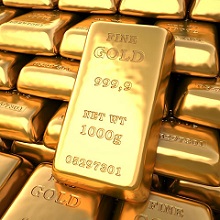 There is a cyclical nature to almost everything in life and gold is no different. During the good times (2001-2011), gold prices rallied year-after-year, and everyone was excited. In tough times (2011-2015) prices declined year-after-year and dreams were crushed.
Where are we now you ask? I believe we are transitioning into another run of "Good Times" and that 2018 will be recognized as the breakout year for gold.
Admittedly, gold's basing phase has taken much longer than I envisioned, but in a way that's good. Novice investors usually become interested in a sector when it's hot, and everyone is talking about it (think Bitcoin). Inevitably, they overleverage their accounts and lose money near the top. The time to buy an asset is when no one is interested. Gold meets that narrative.
Much time has passed, and just the disciplined and diehard investors remain. I can tell we are approaching a pivotal low when my subscriber base declines swiftly. I should find a way to turn this into an indicator; it alone would be an excellent buy/sell predictor.
It appears gold prices bottomed and oil topped within the proposed timeframes cited in our May 18th article "Gold Prices Are Close To A Bottom." We could see some erratic swings next week, but the net result should be higher gold prices. If our analysis is correct, gold should attack the $1370 level (once again) and conceivably breakout above $1400 in July.
US Dollar Weekly
Prices formed a swing high and bearish evening star pattern after back testing the 200-week MA. Prices should begin to work their way lower and resume the bear market.
Euro Weekly
The Euro formed a weekly swing low, and it looks like prices bottomed at 115.19. A rising Euro usually helps gold.
Rate Hikes And Gold
Not all Fed rate hikes produce bottoms in gold prices. The blue arrows represent rate hikes that failed to deliver a sustained bottom. Note, prices were far from oversold in each incident - i.e., the Stochastics was well above 20. To produce a lasting low (the green arrows), a rate hike needs to correspond with oversold conditions like now.
Gold Daily
Gold prices are struggling to retake the 200-day MA. Nevertheless, there have been several closes back above the $1300 level, and I think $1281.20 is our 6-Month low. If for some reason $1281 doesn't hold, any dip below $1281 should reverse quickly next week. To signal the next assault on $1370, gold needs to close above $1311.50.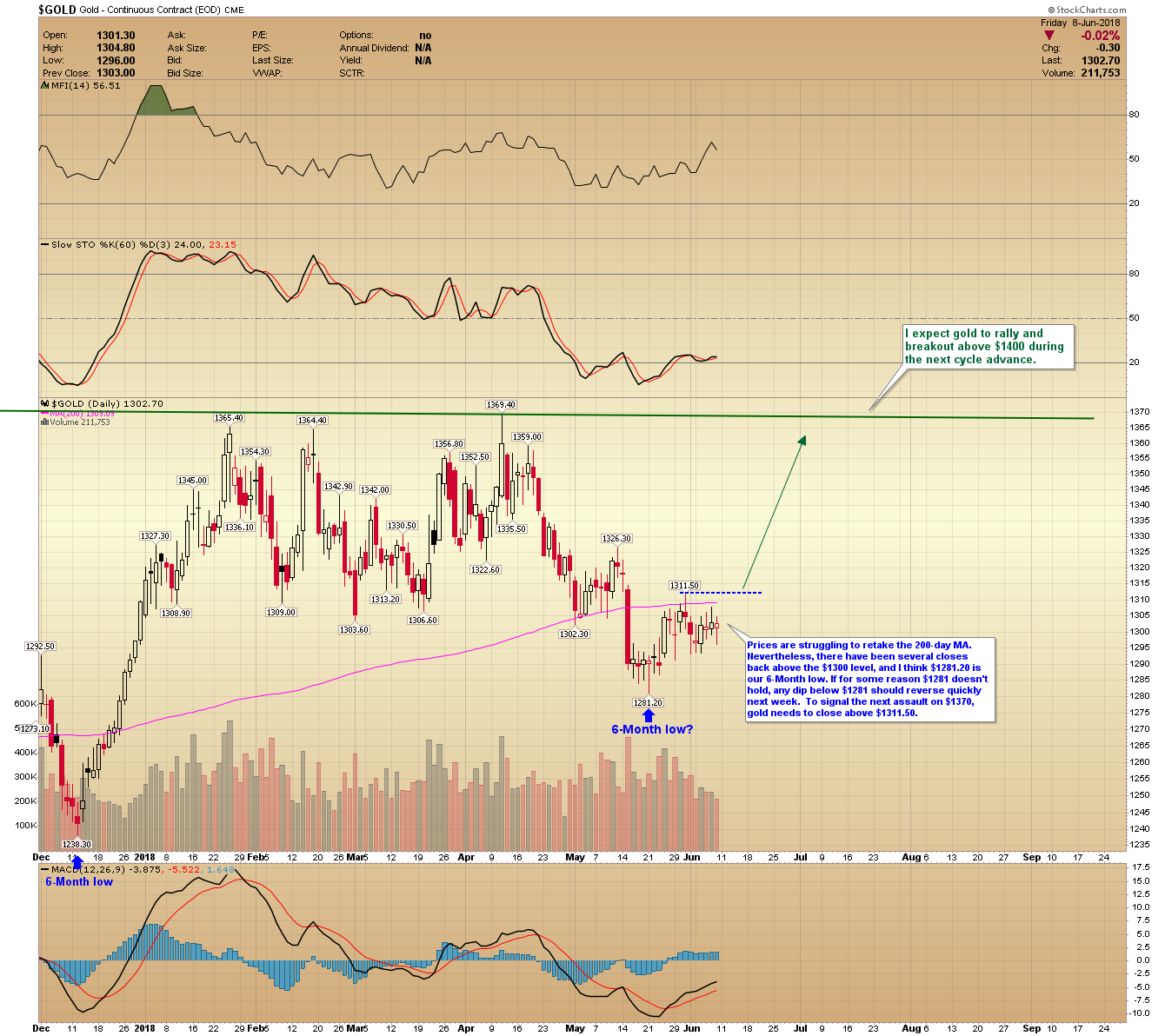 Silver Weekly
I'd like to look at the 2003 correlation chart again. The Bollinger Band width is now below 7. This is important because periods of low volatility typically precede large moves. The narrowing consolidation pattern in 2003 is like now. The structure is compressing just below the 200-week MA. I expect a compelling upward breakout soon.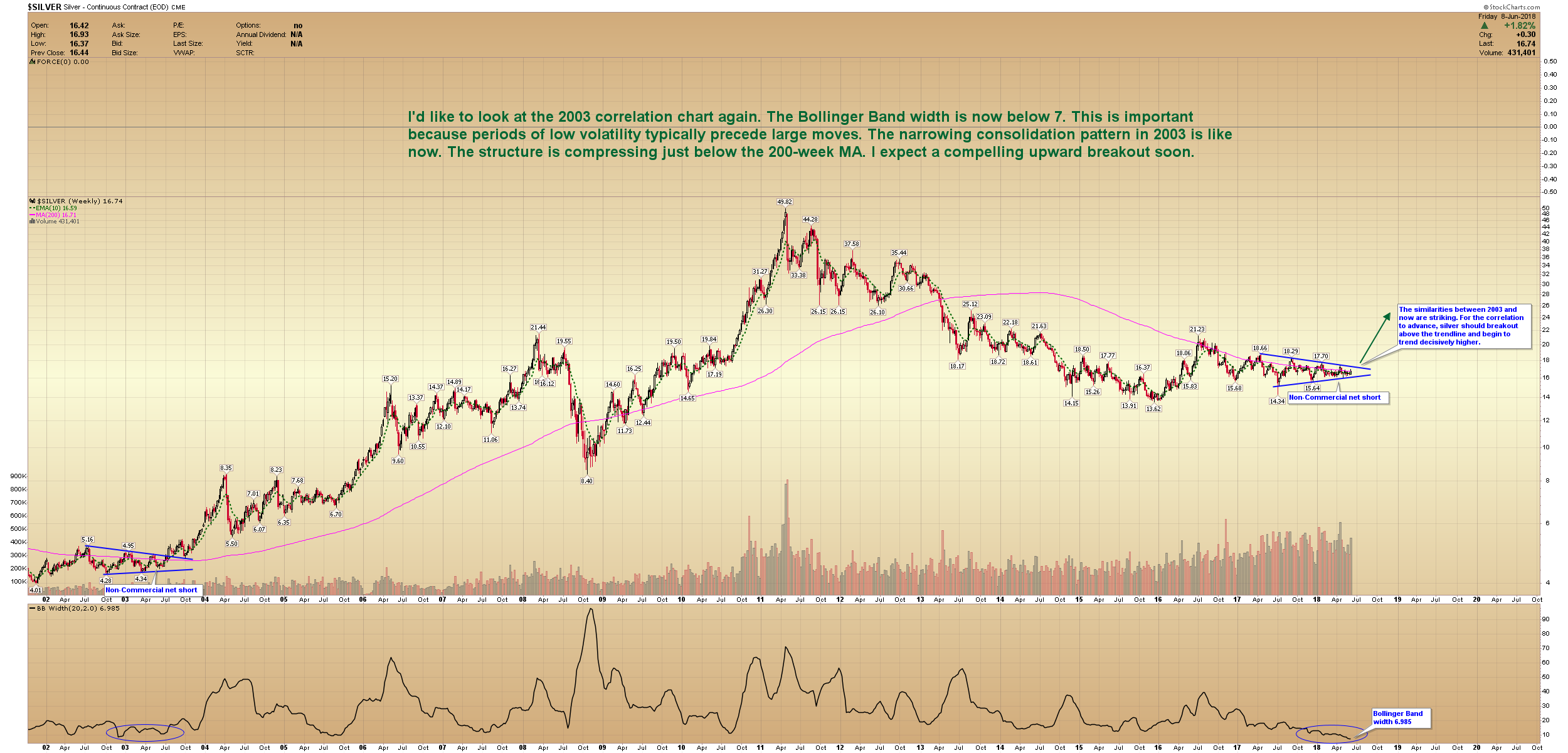 Silver Daily
Other than the false breakout in April, silver prices have bounced between $16.10 and $16.90 since February. The compression period has lasted longer than I expected. Nevertheless, investors should be rewarded for their patience when prices break firmly above the blue trendline.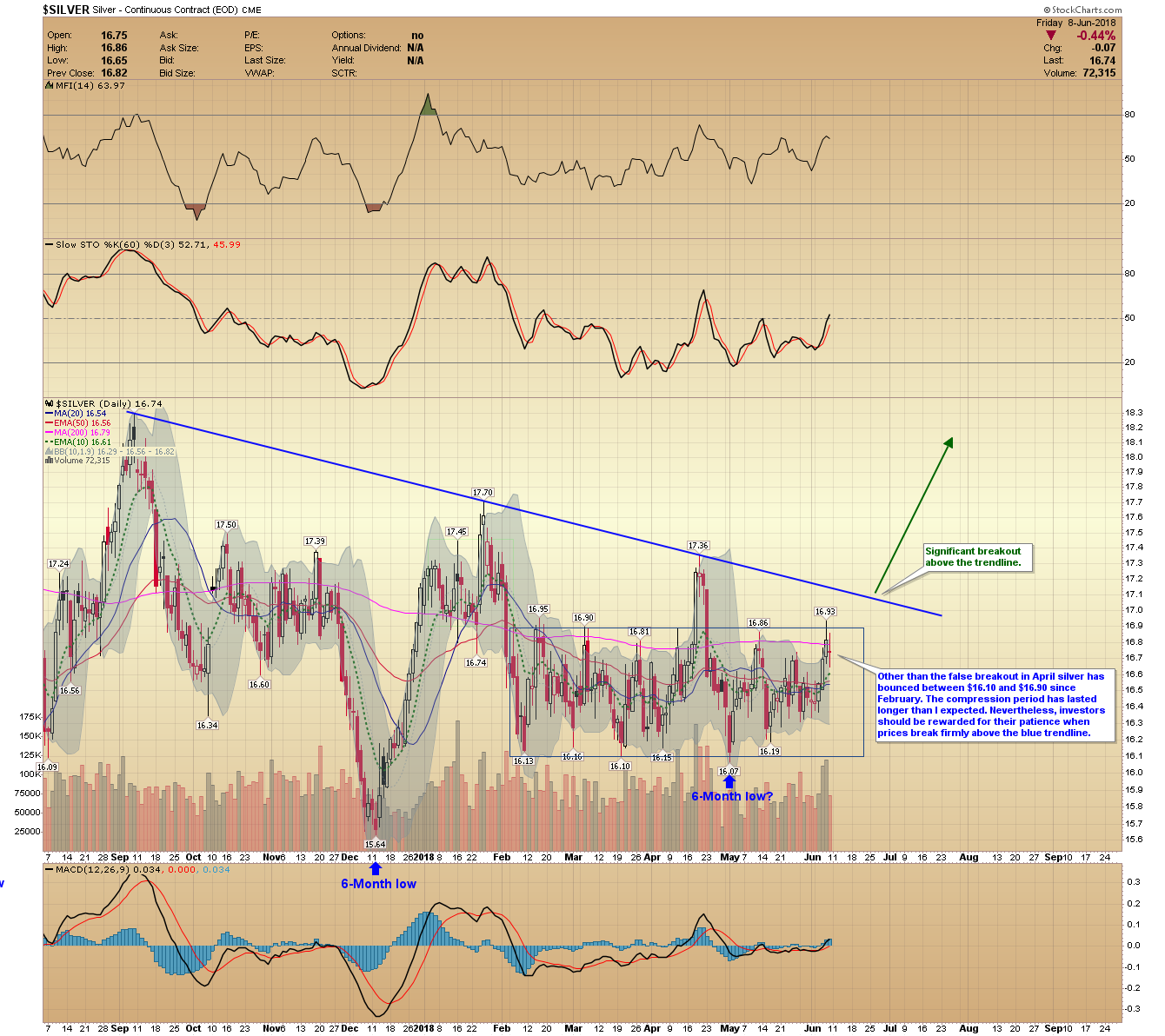 GDX
The consolidation should be almost over. I expect an upward breakout in June.
GDXJ
Juniors have traded sideways since May 15th. We should see money begin to flow into metals and miners sometime next week.
SPY
Prices closed at the highest level since February 1st. However, the McClellan oscillator is yet to assemble a new high. Until that occurs, I'm suspicious of this advance.
WTIC
Prices are growing oversold on a short-term basis. The MFI turned up after dropping below 30; that often signals a rebound. Oil would have to rally back above the $70.00 level to support a more significant bottom. Otherwise, a broader correction or prolonged consolidation is reasonable before the next meaningful advance.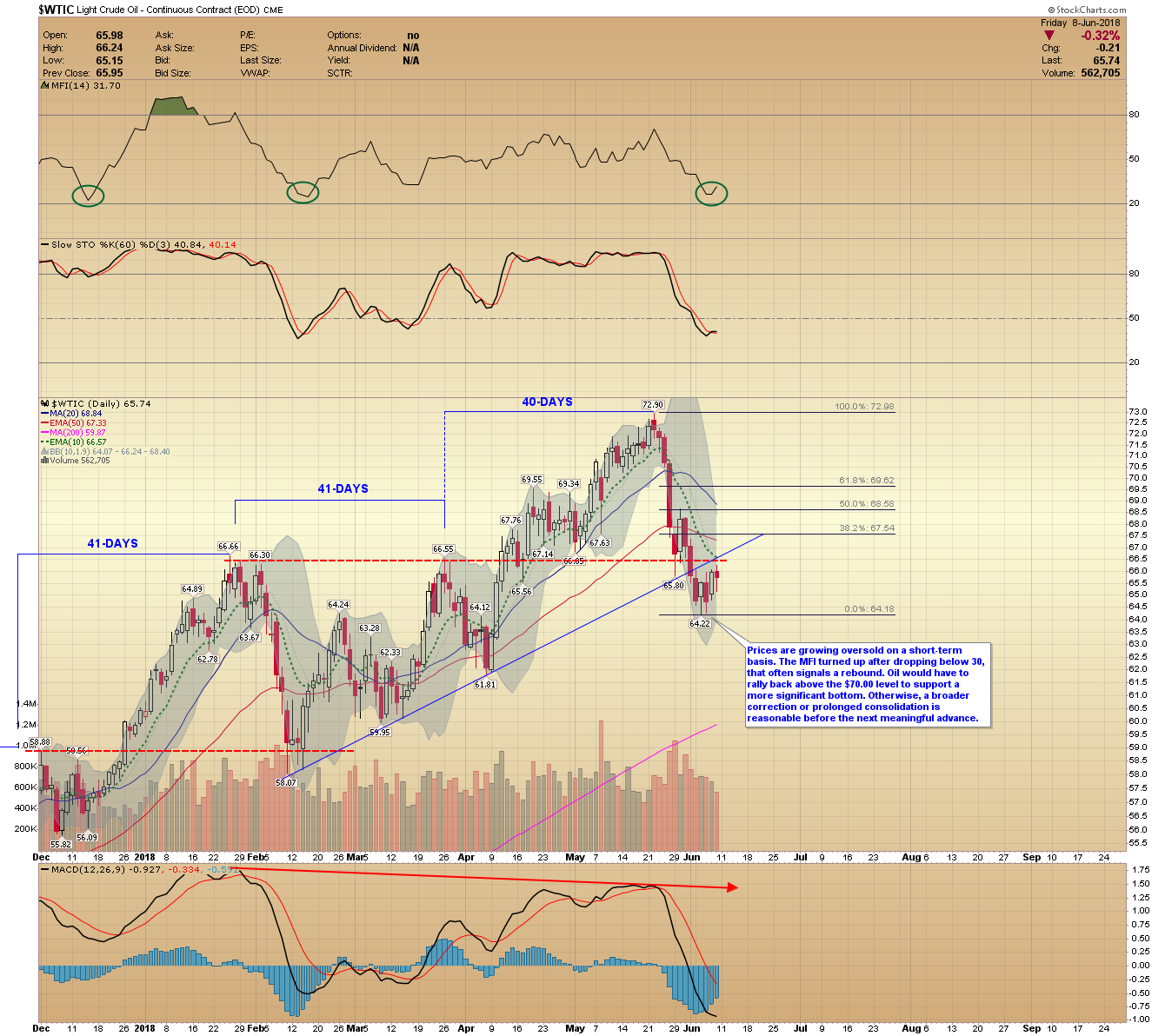 Both the Fed and the ECB meet next week, expect increased volatility. The ECB was talking about inflation targets north of 2% this week so they will likely discuss tapering. This may influence gold prices more than the Fed's rate hike. GoldPredict Members can expect multiple updates throughout the week.