Franco-Nevada Reports Record Financial Results For 2020
Strengths
The best performing precious metal for the week was platinum, up 6.45% as it continues to pick up momentum from electrification. Gold rose the most in two months on Tuesday, rebounding from a nine-month low on a weaker U.S. dollar before falling at the end of the week. Rory Townsend, head of gold research at Wood Mackenzie said that "we just don't think bond yields will rise indefinitely. We expect to see a resurgence in gold in the second half of the year as inflation picks up." President Joe Biden signed a $1.9 trillion COVID-19 stimulus bill this week.
Franco-Nevada Corp reported record financial results for 2020, selling 521,564 gold equivalent ounces and increasing revenue by 21% to $1.02 billion. The company boosted its quarterly dividend by 15.4% to $0.30 a share.
Wheaton Precious Metals reported over $1 billion in revenue for the year ended December 31, a 27% increase from the year prior due to a 28% increase in the average realized gold equivalent price. Kitco News reports the royalty and streaming company saw $208 million in operating cash flow in the fourth quarter and a net debt reduction of $275 million.
Weaknesses
The worst performing precious metal for the week was palladium, but still up 1.47% as precious metals got an across-the-board boost. Gold dipped on Friday, nearly erasing gains made earlier in the week as both bond yields and the U.S. dollar rose. Higher Treasury bond yields weaken demand for non-interest-bearing bullion.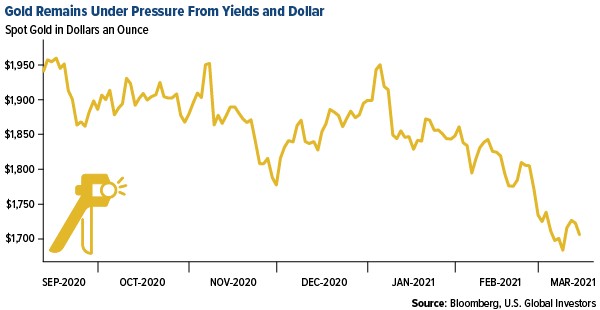 ETFs backed by gold saw 144,432 troy ounces of outflows on Wednesday, bringing net sales for 2021 to 4.84 million ounces. Bloomberg data shows it to be the 19th straight day of declines.
Silver is also facing headwinds from higher real rates. UBS Group AG's global wealth management unit said high real rates are unlikely to fade soon and lowered its silver price forecasts to $25 an ounce across all time periods.
Opportunities
Commodity strategists at RBC Capital Markets say the gold-versus-bitcoin comparison is overdone. Gold and bitcoin "may prove to be complementary assets that at times also compete on the margin." Bitcoin is more volatile than gold and the two markets have different sizes and depths. 
Senior silver producer First Majestic Silver announced a deal to acquire Jerritt Canyon Canada Ltd. from Sprott Mining for $470 million in shares plus five million warrants. The move brings First Majestic into Nevada. The company said this acquisition, plus its two operating mines in Mexico, will help the North American producer hit its annualized production of 30 to 33 million silver equivalent ounces. This marks another consolidation transaction in the mid-tier space following the taking of Premier Gold by Equinox Gold. With the pull back in gold prices some attractive valuations can be found, where a deal might get done now.
FireFox Gold shares rose nearly 30% after announcing it secured new gold concessions in the Central Lapland Greenstone Belt in Finland. The company is rapidly expanding its exploration reach in Finland, which is seeing somewhat of a gold rush.
Threats
Bloomberg's Eddie van der Walt writes that gold could decline further to $1,500 an ounce before finding a bottom as the "doomsday" reason to buy gold is over. Gold had a strong buy signal when the pandemic first broke out, but the vaccine rollout and economy recovery take away the safe-haven appeal. The investment case for gold is collapsing for many as yields remain high and outflows from gold-backed ETFs continue.
Gold is "failing as an equity hedge" according to BlackRock portfolio manager Russ Koesterich. In a blog post last week, Koesterich says gold faces a double whammy of being a less effective hedge against stocks and inflation, plus the headwind of the economic recovery.
Alamos Gold said it may take legal action against the government of Turkey for failing to renew its mining license, reports Bloomberg. Alamos has a 60-year mining permit for the Kirazli project that requires re-approval every 10 years, but operations have been halted since 2019 as the government has not renewed the permit. Alamos spent $6.6 million last year in Kirazli for holding costs and government, public and community-relations initiatives, according to its latest earnings release. In 2017, the company said 540,000 ounces of gold could be produced from the mine in five years.
**********