George Junior Gold Stocks Foreman
In 1973, as heavyweight boxing champion Joe Frazier was knocked to the canvass by George Foreman, Howard Cosell uttered the now-famous words, "Down goes Frazier!"  For those of you who are unfamiliar with that brutal event, please click here now.
Are current investors in the American stock market on the verge of taking a beating like Joe Frazier did?  That's the daily chart of the Dow. 
The first trading week of January is critical, because it's when large institutional money managers decide how to place sizable risk capital for the coming calendar year.
Clearly, the first two weeks of this key time frame have showcased a "wet noodle" performance by the Dow, and yesterday's horrific meltdown has opened the door to further declines. 
My stokeillator (14,7,7 Stochastics series) at the bottom of that Dow chart is flashing a sell signal.
After making solid money in 2013, institutional investors are probably very concerned about the possibility of a "taper to zero" Fed theme replacing "QE to infinity".
Friday's jobs report was also a disaster for stock market investors, and it could get much worse if the Fed tapers again at the next FOMC meeting on January 29.  
I predicted the December taper, and I have argued that the Fed is likely to taper QE all the way to zero, over the next 12 – 18 months. 
I've also shocked a lot of people, by suggesting that the taper is bullish for gold and bearish for the Dow, because it's likely to be based more on rising money supply velocity than rising economic growth.
In a rising GDP environment, a falling unemployment rate with a falling labour force participation rate is inflationary.  It indicates that a smaller labour force is increasing the money supply velocity.  That's more bad news for weak-handed investors who sold gold stocks in December's "tax loss" season, and bought the Dow.
If the Dow could be viewed as a financial version of Joe Frazier, what asset class should be viewed as George Foreman, the heavyweight brawler who pounded Frazier into the canvass?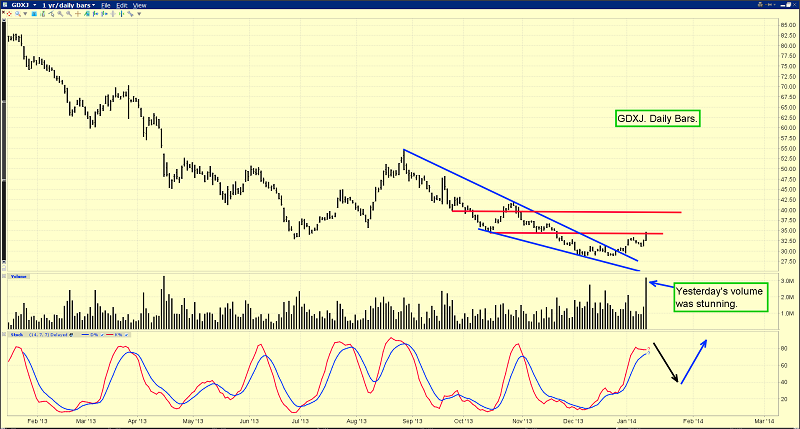 That's the daily GDXJ chart.  Look at the volume that occurred yesterday in junior gold stocks.  That's one of the largest daily volume bars in the history of GDXJ, and it's upside volume!
I've highlighted the solid breakout from a bullish wedge pattern, and some minor trend highs have been exceeded, which is also bullish.
The position of the stokeillator suggests a minor pause or pullback should occur soon.  After that, I think GDXJ could rise towards the red HSR (horizontal support and resistance) in the $40 area.
This weekly chart of GDXJ looks superb.  There's an even bigger wedge pattern in play, and a major stokeillator buy signal.
A rise towards HSR in the $55 area is easily possible, and the size of the wedge pattern suggests that an even bigger rally, towards $70, is a realistic target.
In the world of inelastic gold demand, the "big boys" are the citizens of India.  National elections are being held there in the spring.  Does the current bullish technical posture of many junior gold stock charts suggest that institutions are beginning to flow liquidity into gold stocks, anticipating a Narendra "pro gold" Modi win?  I think so.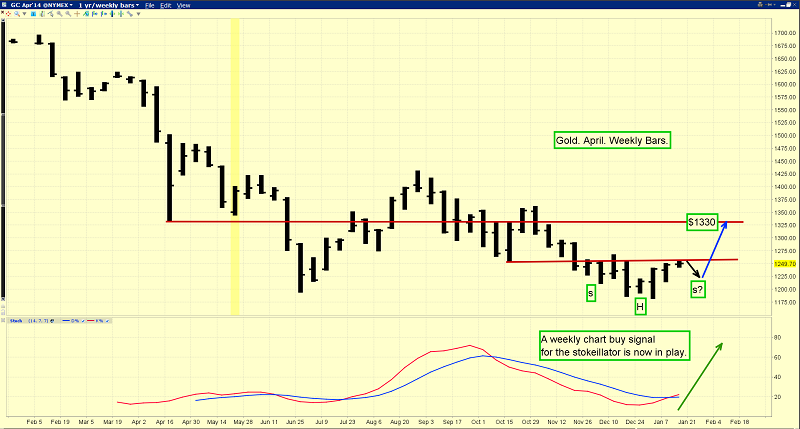 That's the weekly gold chart.  Note the substantial buy signal being flashed by the stokeillator.  There's also a potential inverse head and shoulders bottom pattern forming.  The target of that pattern, if it activates, is sell-side HSR in the $1330 area.
Many investors in the gold community seem to hold a view that, "one more decline is coming, and then we're on our way to new highs".  I think that type of thinking is more emotion than analysis, and it's precisely why the current rally can continue to as high as $1330, after a brief pullback. 
While 2014 is likely to be "so-so", for gold and silver bullion investors, it should be a superb year for gold and silver stock investors. 
While gold bullion ETFs may experience more selling, value-oriented funds are likely to buy the miners, as dropping oil prices, unprofitable asset sales, and management shake-ups make the companies vastly more efficient.  That's good news for mining stock shareholders. 
As an example, Caterpillar is now working with Shell Oil, to develop dual-fuel mining machinery, where LNG (liquefied natural gas) would replace diesel fuel most of the time.  "Many of our customers are asking for natural-gas powered equipment in order to reap the financial and environmental benefits…." - Chris Curfman, Caterpillar VP, MRO News, Dec 30, 2013. 
Over the next few years, I expect to see a lot more of this type of news coming.  Institutional investors like to invest in gold stocks because they are steady and profitable businesses.   Gold mining investors don't need America to burn like Rome did, to make a lot of money. 
Gold mining companies need rising demand for gold jewellery from a growing Chindian middle class, dropping fuel costs, and better management.  Yesterday's truly gargantuan volume in GDXJ shares suggests that key institutional investors believe all these bullish keys are essentially in place now.   Is George "junior gold stocks" Foreman ready to knock Joe "Dow" Frazier to the canvass?  Well, if the first two weeks of January are an indication of what is coming for the rest of the year, the answer is clearly, yes!
******** 
Special Offer For Gold-Eagle Readers:  Please send me an Email to [email protected] and I'll send you my free "Seniors Super Six" report.  I'll show you which key moving averages I use on the monthly charts of the biggest gold stocks, and how I tweak them.  Major buy signals are very close, and I'll highlight my key trigger points!                                                         
Note: We are privacy oriented.  We accept cheques.  And credit cards thru PayPal only on our website.  For your protection.  We don't see your credit card information.  Only PayPal does.  They pay us.  Minus their fee.  PayPal is a highly reputable company.  Owned by Ebay.  With about 160 million accounts worldwide.  
Email: [email protected]
Rate Sheet (us funds):
Lifetime: $799
2yr:  $269  (over 500 issues)
1yr:  $169  (over 250 issues)
6 mths: $99 (over 125 issues)
To pay by cheque, make cheque payable to "Stewart Thomson"  
Mail to:
Stewart Thomson / 1276 Lakeview Drive / Oakville, Ontario L6H 2M8 Canada
Stewart Thomson is a retired Merrill Lynch broker. Stewart writes the Graceland Updates daily between 4am-7am. They are sent out around 8am-9am. The newsletter is attractively priced and the format is a unique numbered point form.  Giving clarity of each point and saving valuable reading time.
Risks, Disclaimers, Legal
Stewart Thomson is no longer an investment advisor. The information provided by Stewart and Graceland Updates is for general information purposes only. Before taking any action on any investment, it is imperative that you consult with multiple properly licensed, experienced and qualifed investment advisors and get numerous opinions before taking any action. Your minimum risk on any investment in the world is: 100% loss of all your money. You may be taking or preparing to take leveraged positions in investments and not know it, exposing yourself to unlimited risks. This is highly concerning if you are an investor in any derivatives products. There is an approx $700 trillion OTC Derivatives Iceberg with a tiny portion written off officially. The bottom line:  
Are You Prepared?