Gold $3,000: The Ascent Begins
Is gold's long-awaited surge to $3000 an ounce finally underway?  Are all the traffic lights green?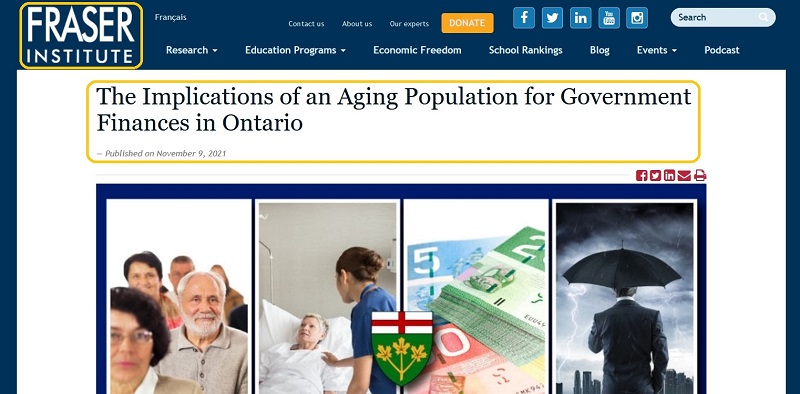 Throughout the Western world (and China too), aging populations need a lot of medical care, and the only government and central bank "solution" is...
More debt and more money printing.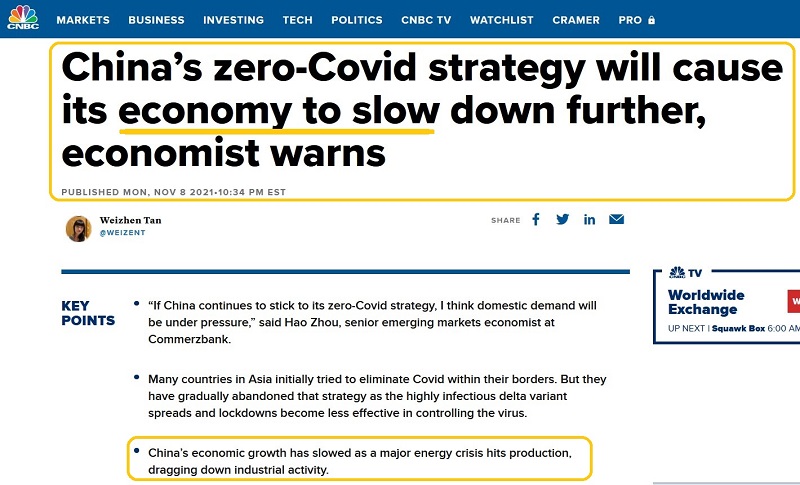 Supply chain horror and Coronavirus are creating stagflation in the world's growth engine; China.
A potential war cycle in 2021-2025, stagflation, destructive demographics, surging jewelry demand in India, money printing, and debt…
These key fundamental drivers are all becoming a perfect storm for a monstrous rally in gold.
What about the charts? Are there green lights for gold there too?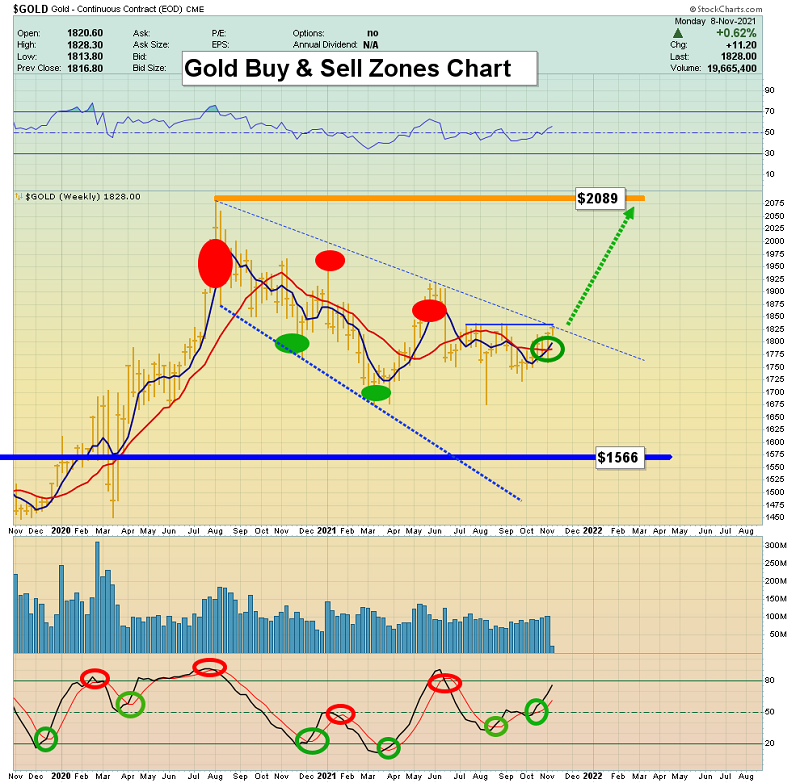 The weekly gold chart. 
Monday's trading created a key crossover buy signal on my powerful 5,15 moving average series.
The $1840 price zone is important, and a breakout above there could serve as the launchpad for a surge to $2089.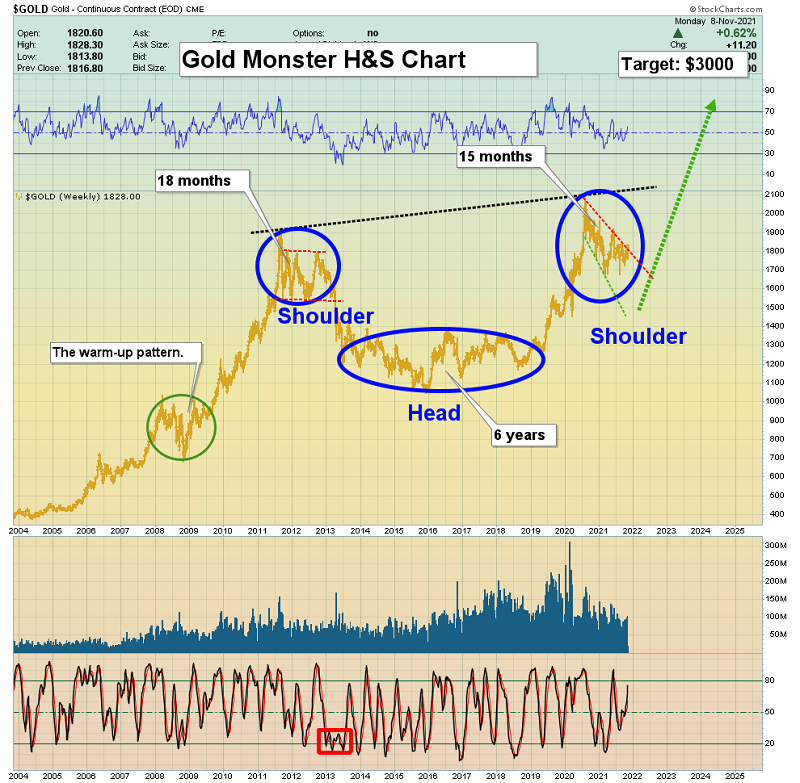 What I believe is the most important chart in the history of the gold market.
A massive inverse H&S bull continuation pattern is in play and gold appears to be beginning its rally from the right shoulder to its $3000 target zone.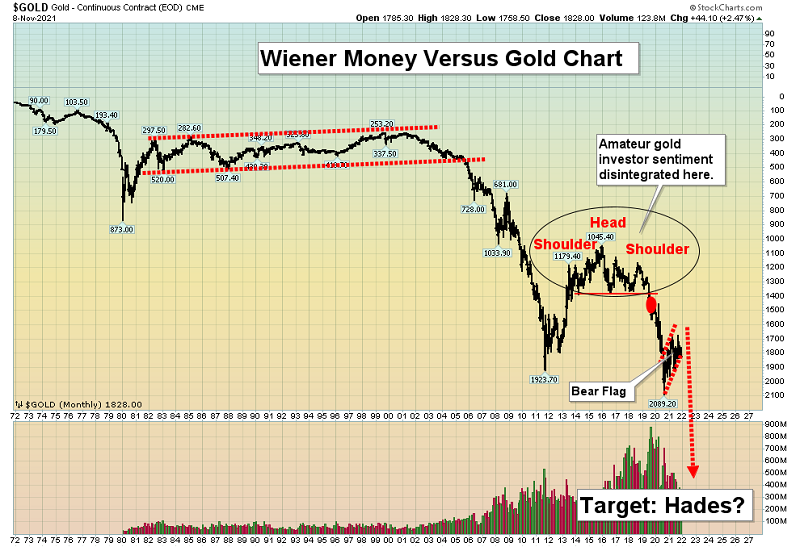 I call this the "wiener money" chart.  It covers 50 years of failed price action by the dollar against gold.
An ominous bear flag is in play now, and that's in sync with all the other green lights for gold and the blood-red lights for fiat.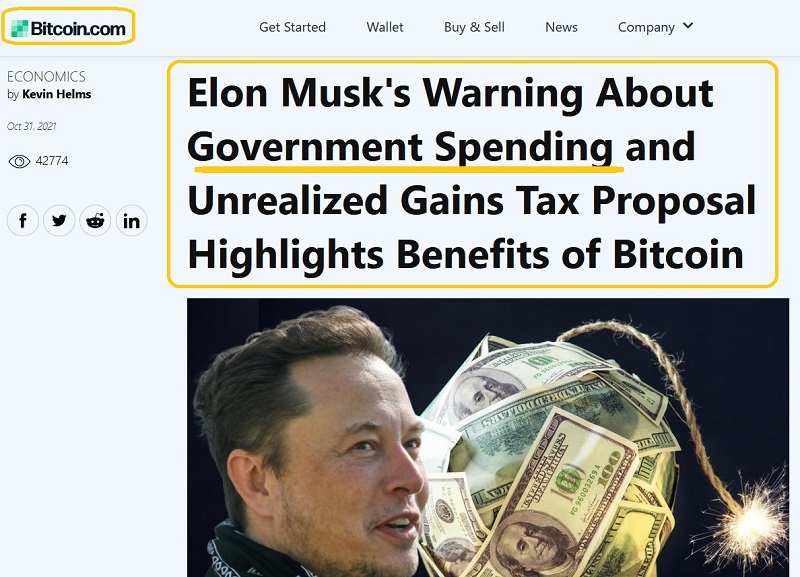 Horrifically, the world's richest man and electric car maestro was driven out of "Greenifornia" (California) by a state government that refuses to reign in its spending, taxation, and debt.
Unlike most US lawmakers, Musk is rumored to live very modestly in a $50,000 "pre-fab" home.  He's also a crypto enthusiast.
Some investors like gold.  Others may prefer crypto.  Both may have a solid role to play in hedging against the rising tide of stagflation.
I cover most of the cutting-edge crypto action in one of my newsletters.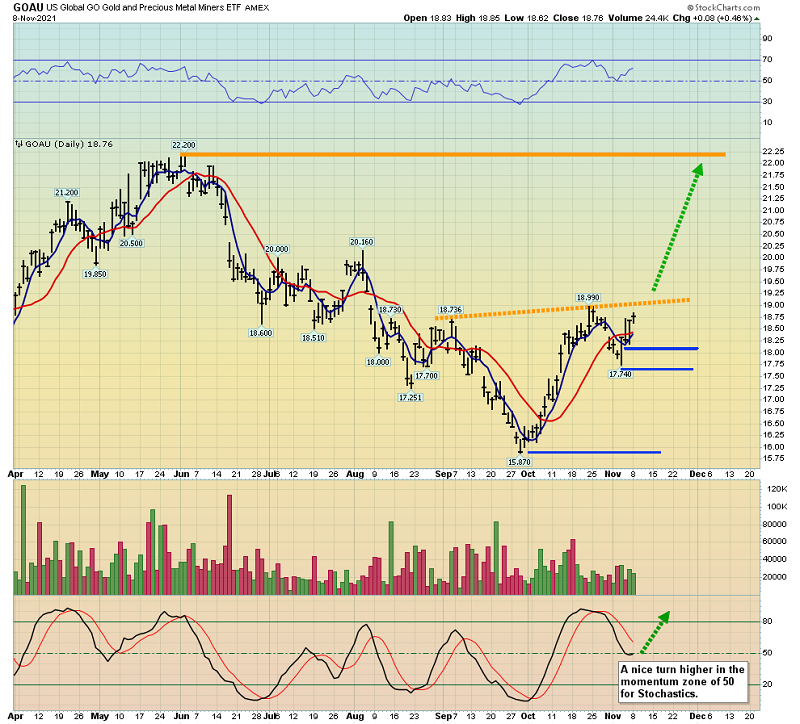 The exciting GOAU ETF chart.
Chart patterns can fail, but the better a pattern looks, and the more it's in sync with fundamentals, the more likely its price target is going to be hit.
I expect some wild action in the $1840 zone for gold over the next few days, with the bulls likely getting the victory.
The $22 area for GOAU is just the target of the daily chart inverse H&S pattern.  At gold $2089, GOAU could be north of $30.
A $3000 gold price would turn most of the world's miners into the biggest free cash flow cows in the history of markets.
Is a price of $100 for GOAU attainable with $3000 gold, an environment of rampant stagflation, and a slumping stock market?  I think so, and it may not be long until more money managers agree!
Special Offer For Gold-Eagle Readers: Please send me an email to [email protected] and I'll send you my free "Golden Cash Cows" report.  I highlight gold stocks priced under $10 with some of the best-looking charts in the market, with actionable buy and sell zones for eager investors!
Stewart Thomson 
Graceland Updates
Note: We are privacy oriented.  We accept cheques, credit card, and if needed, PayPal.
Written between 4am-7am.  5-6 issues per week.  Emailed at aprox 9am daily    
Email:
Rate Sheet (us funds):
Lifetime: $1299
2yr:  $299     (over 500 issues)
1yr:  $199     (over 250 issues)
6 mths: $129 (over 125 issues)
To pay by credit card/paypal, please click this link:
https://gracelandupdates.com/subscribe-pp/
To pay by cheque, make cheque payable to "Stewart Thomson"
Mail to:
Stewart Thomson / 1276 Lakeview Drive / Oakville, Ontario L6H 2M8 Canada
Stewart Thomson is a retired Merrill Lynch broker. Stewart writes the Graceland Updates daily between 4am-7am. They are sent out around 8am-9am. The newsletter is attractively priced and the format is a unique numbered point form.  Giving clarity of each point and saving valuable reading time.
Risks, Disclaimers, Legal
Stewart Thomson is no longer an investment advisor. The information provided by Stewart and Graceland Updates is for general information purposes only. Before taking any action on any investment, it is imperative that you consult with multiple properly licensed, experienced and qualified investment advisors and get numerous opinions before taking any action. Your minimum risk on any investment in the world is: 100% loss of all your money. You may be taking or preparing to take leveraged positions in investments and not know it, exposing yourself to unlimited risks. This is highly concerning if you are an investor in any derivatives products. There is an approx $700 trillion OTC Derivatives Iceberg with a tiny portion written off officially. The bottom line:  
Are You Prepared?
********