Gold And Silver Trading Alert #2
Just a quick update as things are moving quite fast in the PMs.
Gold moved higher and it moved to the upper border of my target area. Gold did reverse at its triangle-vertex-based reversal last week, but it turned out that it wasn't the final top. It seems that this final top is being formed right now. Why? Because the level that was just reached – the $1,770 level – is the level that provided strong resistance in mid-2020 (several times) and it provided strong support in late-2020 and early 2021.
Moreover, the current move higher to this level is symmetrical to what we saw in mid-2020. Consequently, even though today's rally might seem like a game-changer, it very likely isn't one.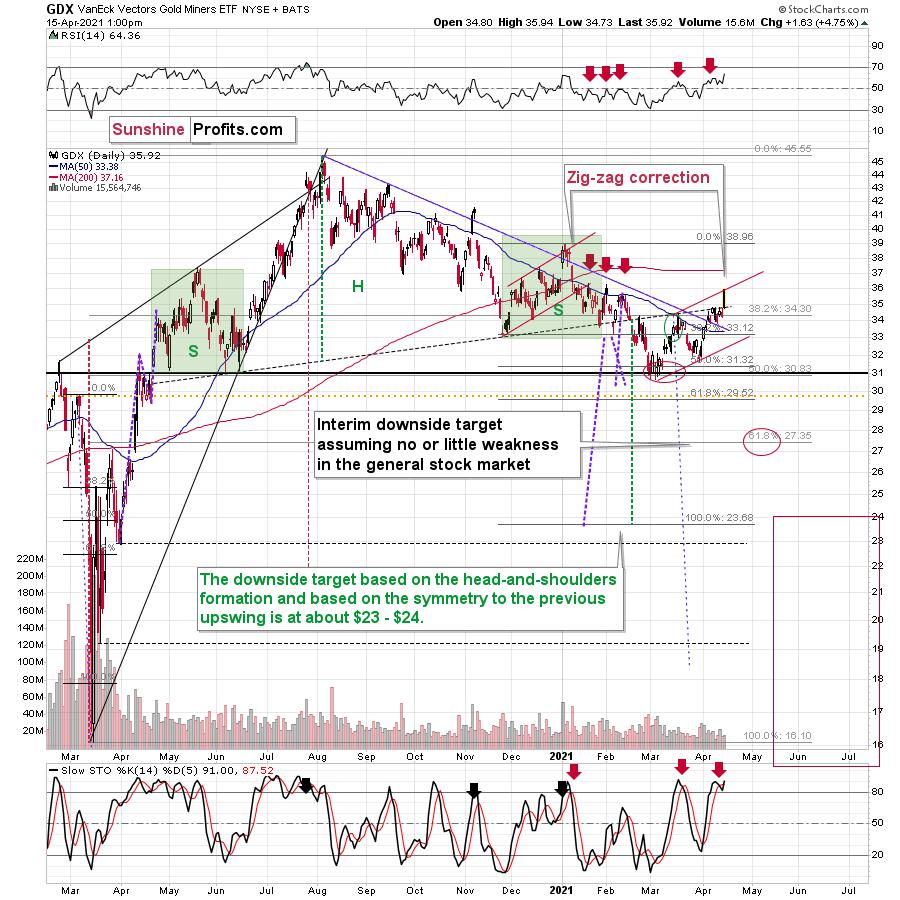 Mining stocks are rallying too, but please note that they only reached their upper border of the zig-zag pattern. Back in early January, this was exactly where the rally had ended. The top formed on huge volume and based on the volume that we already see today, it's almost certain that the volume for today's session will be huge – just like what we saw at the January top.
I realize that waiting for the next big slide is exhausting and discouraging, and it's not easy to hold on to the current trading position. However, the outlook didn't change, and the situation continues to fit the bearish narrative despite today's intraday upswing. Consequently, exiting positions now seems not only pre-mature, but actually opposite to what appears to be a good trading move from my point of view. After all one wants to sell or short at the tops and tops can only form after rallies.
All in all, the outlook for the precious metals sector remains bearish despite today's intraday strength.
Przemyslaw Radomski, CFA
Founder, Editor-in-chief
*********