Gold And The Winds Of War
When I predicted the virus crisis of 2020 before there was any Corona, I did it using long-term cycles.  I've since suggested that investors need to be prepared for a possible (and potentially more ominous) war cycle in 2021-2025.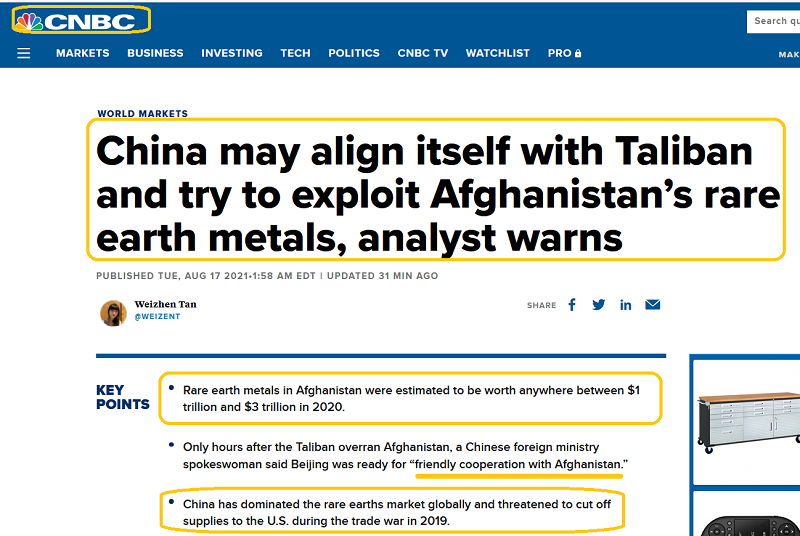 Will Afghanistan become a catalyst for a major American government war, like Japan in 1941?  Clearly, the winds of the war cycle continue to blow. 
For decades, the US government has failed with Mexico and Cuba in its own backyard, while meddling in almost every faraway land and expecting to succeed.
In any major crisis, governments dismantle citizen liberties.  They can do this because their fiat currency systems let them print, borrow, and spend vastly more money than they have. 
It costs money to run FATCA goon squads, lockdowns, deranged regime-change operations, and socialist welfare programs (QE) for stock, bond, and real estate market investors who are rich but too lazy to buy a price sale. 
The governments and central banks don't have the money for these disgusting programs, so they borrow and print it.
The horrifying US fiat versus gold chart. 
America's citizens have paid a heavy price for allowing their government to operate with a fiat money system, and the price is only going to get heavier.
This US fiat versus gold chart essentially charts the loss of freedom for the nation.  Until the fiat money system is put to death in America, citizen freedom will continue its relentless journey into the dumpster.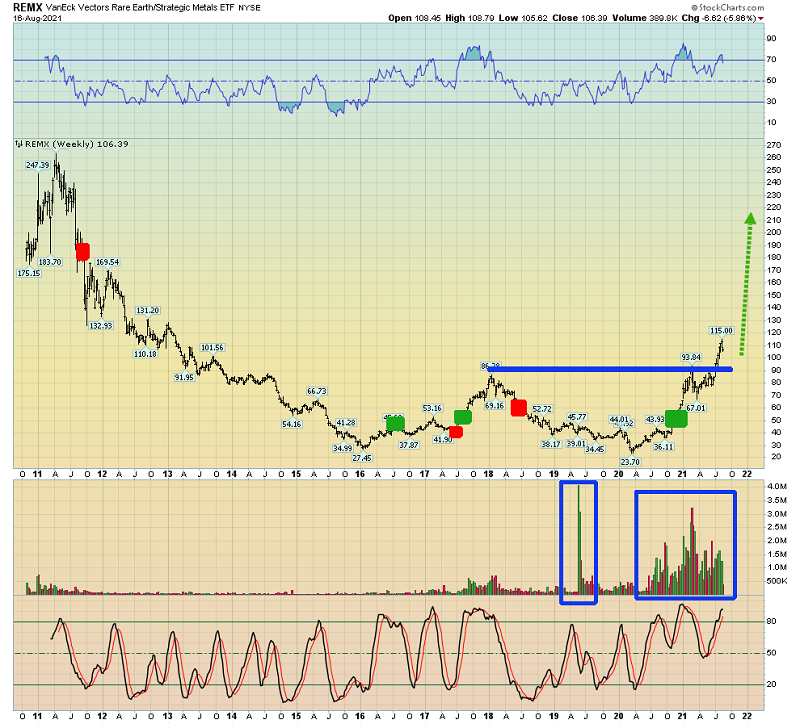 Tactics?  The spectacular buy and sell signals chart for the REMX rare earths ETF.
I cover the rare earths and lithium ETFs in my juniors newsletter, along with potential "ten baggers".  Both lithium and rare earths are solid long-term holds for all savvy investors.
The bottom line for Afghanistan is that it may transition into "Madmaxistan" and the US government then cancels more citizen freedoms in a new scheme to protect the people from possible terrorist attack…
Or Afghanistan becomes a rare earths mecca, and China's government and companies are the big winners.
It's another lose-lose situation for US citizens, in what's become an endless list of these fiascos.
Domestically, Jay Powell's first term is ending, and Biden may appoint a Fed chief more open to "QE for Main Street".
That's obviously good news for gold.  Any further stimulus or QE directed at Main Street is going to usher in more "growflation" (and eventually stagflation).
The important gold chart.  Back in mid-May, I laid out a scenario of a two-headed inverse H&S pattern, and that might be in play now.
A move above $1840 would be fabulous.  It would add weight to the H&S scenario.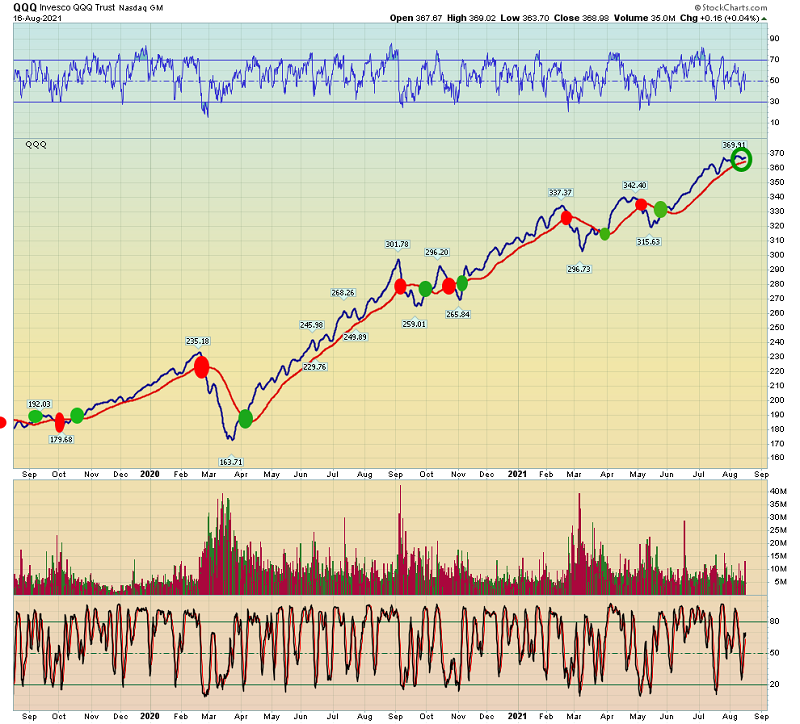 The key stock market signals chart.  Many gold investors are nervous about a possible US stock market meltdown and the ramifications for their mining stocks.
I don't share those concerns because I sold into the $1850 area for gold, and I'm prepared to buy the $1566-$1450 zone.  Also, any reaction in stocks now is likely to be a "meaty pullback" rather than a meltdown.
The odds of gold going to $2000 now are as good as a drop to $1500.  Handling the possible dip should be child's play for serious investors.  They can also short the stock market and buy put options on gold stocks to effectively manage risk…
I am short the stock market as of yesterday at my timing service newsletter, but until the QQQ moving averages flash a sell signal, there's no cause for alarm. 
The GDXJ buy and sell tactics chart.  My buy alerts in November and March were "Grade A".  The current reaction has put GDX, GDXJ, GOAU, SIL, and associated miners in a buy zone, but it's just a C-grade opportunity.
A two-day close above $43 for GDXJ would be positive, but not nearly as positive as a close above $1840 for gold.  As trading vehicles, gold stocks are awesome.  As currency, gold bullion is supreme!  
Special Offer For Gold-Eagle Readers: Please send me an Email to [email protected] and I'll send you my free "Charts For Champions!" report. I highlight seven super junior miners trading under $5.  A price of $1850 for gold could put these stocks into upside rocket mode!  Key investor tactics are included for each mighty stock.
Stewart Thomson 
Graceland Updates
Note: We are privacy oriented.  We accept cheques, credit card, and if needed, PayPal.
Written between 4am-7am.  5-6 issues per week.  Emailed at aprox 9am daily    
Email:
Rate Sheet (us funds):
Lifetime: $1299
2yr:  $299     (over 500 issues)
1yr:  $199     (over 250 issues)
6 mths: $129 (over 125 issues)
To pay by credit card/paypal, please click this link:
https://gracelandupdates.com/subscribe-pp/
To pay by cheque, make cheque payable to "Stewart Thomson"
Mail to:
Stewart Thomson / 1276 Lakeview Drive / Oakville, Ontario L6H 2M8 Canada
Stewart Thomson is a retired Merrill Lynch broker. Stewart writes the Graceland Updates daily between 4am-7am. They are sent out around 8am-9am. The newsletter is attractively priced and the format is a unique numbered point form.  Giving clarity of each point and saving valuable reading time.
Risks, Disclaimers, Legal
Stewart Thomson is no longer an investment advisor. The information provided by Stewart and Graceland Updates is for general information purposes only. Before taking any action on any investment, it is imperative that you consult with multiple properly licensed, experienced and qualified investment advisors and get numerous opinions before taking any action. Your minimum risk on any investment in the world is: 100% loss of all your money. You may be taking or preparing to take leveraged positions in investments and not know it, exposing yourself to unlimited risks. This is highly concerning if you are an investor in any derivatives products. There is an approx $700 trillion OTC Derivatives Iceberg with a tiny portion written off officially. The bottom line:   
Are You Prepared?
********