Gold Up-Date
Geopolitical Tension, Government Corruption and Central Bank Money Printing all have the same result – Currency Devaluation.
Even though continued tensions in Ukraine gave a boost to gold prices in yet another turbulent week for the yellow metal, the upward momentum in prices was thwarted by a better-than-expected non-farm payroll report released in the US on Friday.
The price of gold soared to a fresh four-month high near $1,355 last week as tensions flared in Ukraine on Monday. However, gold prices were unable to hold above the $1350 an ounce level, and subsequently dipped but prices looked set to break above this level  again early Thursday.
Last Thursday, government officials in Ukraine's Russian-occupied Crimea region said it should become part of Russia as EU leaders arrived for an emergency summit in Brussels.
In response to Russia's action in Ukraine, President Obama urged Russian counterpart Vladimir Putin to pursue a diplomatic solution to his military incursion into Crimea, including direct talks between Russia and Ukraine with outside observers.
Obama also proposed a pullback of troops to pre-existing Russian bases, international monitors to protect the rights of all populations in Ukraine, and support for new Ukrainian elections in May, the White House said in a statement about the conversation with Putin. He also said he opposes a referendum that would allow parts of Crimea to break away from Ukraine and join Russia, saying that would violate Ukraine's constitution and international law.
Obama spoke after placing visa restrictions and economic sanctions on Russians who are determined to have been involved in military action in Ukraine.
Describing the Russian activity in Crimea as "an unusual and extraordinary threat to the national security and foreign policy of the United States," an Obama executive order calls for denying visas and blocking financial transactions of designated Russians.
"The order does not target the country of Ukraine, but rather is aimed at persons — including persons who have asserted governmental authority in the Crimean region without the authorization of the government of Ukraine — who undermine democratic processes and institutions in Ukraine," Obama said in a message to Congress.
The sanctions could also apply to some Ukrainians if they are found to have been involved in efforts to destabilize the country.
The sanctions announced Thursday are limited. They affect only funds in the United States, or controlled by U.S. financial institutions abroad. Visa restrictions and cancellations affect only travel to the United States.
The U.S unilateral sanctions come less than a week after the administration called for a $1 billion package of economic and energy assistance to the new government in Kiev. The U.S. House signed off on that plan Thursday.
The U.S. has also suspended trade talks and military cooperation with Russia. It has discussed boycotting a G-8 summit to be hosted by Putin in June in Sochi.
The White House's Carney said the administration "is pursuing and reviewing a wide range of options in response to Russia's ongoing violation of Ukraine's sovereignty and territorial integrity."
The State Department will put visa restrictions in place against "those responsible for or complicit in threatening the sovereignty and territorial integrity of Ukraine," Carney said. "This new step stands in addition to the policy already implemented to deny visas to those involved in human rights abuses related to political oppression in Ukraine."
Economic sanctions will be aimed at "those who are most directly involved in destabilizing Ukraine, including the military intervention in Crimea, and does not preclude further steps should the situation deteriorate," Carney said.
U.S. options include freezing assets and prohibiting Russian firms from doing business in the United States.
Meanwhile, Germany's Angela Merkel said in Brussels on Thursday: "We will … talk about sanctions of different kind and form, whether they will enter into force or not we will decide based on how far diplomatic efforts proceed."
French President Francois Hollande said the EU must first and foremost lower tensions in Ukraine instead of tackling bigger questions on Russia's behaviour: "What are we trying to do? We don't want to escalate yet again I don't know what tension. On the contrary, we want to open the door to dialogue."
Britain's David Cameron, whose country is a signatory to a 1994 treaty guaranteeing Ukraine's territorial integrity, said he wants the bloc to adopt lower-level sanctions for now, such as freezing EU-Russia talks on visa-free travel or on a new bilateral treaty, while keeping the harsher measures in reserve.
"We've got to send a message to Russia that what's happened is unacceptable and should have consequences and were further action to be taken, that would be even more unacceptable and should have even more consequences," he said.
His position was echoed by the Belgian, Dutch, Finnish, and Greek leaders.
Russia's Foreign Minister Sergei Lavrov has warned the US not to take "hasty and reckless steps" in response to the crisis in Ukraine's Crimea region.
In a phone call with his US counterpart John Kerry, Mr Lavrov said imposing sanctions on Moscow would harm the US.
Meanwhile, Russia's state-owned energy company, Gazprom, warned Ukraine that its gas supply might be cut off unless its $1.89bn (£1.13bn) of debts were cleared.
Gazprom halted supplies to Ukraine for almost two weeks in 2009, a move that caused shortages in Europe.
Ukrainian officials have said the state has come close to bankruptcy since protesters ousted President Yanukovych at the end of February. Officials say $35bn (£21bn) is needed to get through this year and 2015.
In latest developments, tens of thousands of people in Ukraine have held rival pro-unity and pro-Russian rallies, as Moscow continues to strengthen its grip on Crimea.
Pro-Russia supporters beat up their opponents in Sevastopol, Crimea.
In the eastern city of Luhansk, pro-Russian activists seized regional offices forcing the governor to resign
In Yevpatoriya, western Crimea, pro-Russian forces threaten to storm the command point of a Ukrainian anti-aircraft missile unit if the personnel there do not surrender their weapons.
Regardless of the political stand-off in Ukraine, the country's finances are in a mess. In response to Ukraine's desperate pleas for financial assistance, the European Union says it will provide Ukraine at least $15 billion (€11 billion) in aid. The U.S. government has also stepped in to help, offering $1 billion in loan guarantees.
The money can't come soon enough. Ukrainian leaders said last month the country needs $35 billion in aid, funds that will go to pay creditors like Gazprom, the Russian energy firm that is owed more than $2 billion.
Recently, IMF officials were in Ukraine on a fact-finding mission, which they said was "progressing well."
If the Ukraine accepts the aid from the EU and the IMF, you can bet there will be strings attached. And, if the county defaults on its' on its debt there will be consequences for sure. Whatever the outcome, inflation is set to rise, the purchasing power of the Ukrainian Hryvnia will rapidly diminish, and the average hard working citizen will get toasted financially.   
While I very much doubt the situation in Ukraine will escalate into World War III, once again,   innocent individuals will suffer the most from such a crisis. Overnight, their hard earned wealth can become worthless. Yet, most people will not take the appropriate action. No matter where you live, it is essential to have some protection against such an event. Whether it comes by means of geopolitical tensions, government corruption and theft, or from central banks expansionary monetary policies, the outcome is the same. The purchasing power of your money rapidly declines and living expenses suddenly soars. And, time and time again, gold and silver have been one of the best ways of protecting yourself against this. You simply must have some of the physical metal.  
Meanwhile, the global currency market as well as the international gold market received some direction from the latest decisions of the European Central Bank (ECB) and to a lesser extent the Bank of England (BoE).
The ECB kept interest rates unchanged as stronger inflation and economic output reduced the need for officials to take action.
The Governing Council left the main refinancing rate at a record low of 0.25% at its meeting in Frankfurt. The deposit rate was kept at zero and the marginal lending rate at 0.75%.
After the bank kept its monetary policy unchanged, ECB President Mario Draghi made some fairly optimistic remarks about the Eurozone economy. 
Following his comments, the euro was up 0.8% on the day at $1.3844, its highest this year, and some analysts think it won't be longer before Europe's single currency heads even higher.
The euro has struck its highest level against the dollar for nearly two and a half years and has not breached the $1.40 level since October 2011.
At one point Friday, the currency, which is used by 18 European Union countries, rose to $1.3917, its highest rate since it touched $1.4170 in October 2011.
The BoE also kept its benchmark rate at a record-low 0.5% while its bond-purchase plan remained at 375 billion pounds ($627 billion).
The euro backed off and gold prices fell by around $20 an ounce after a slightly stronger than anticipated U.S. jobs report for February. The 175,000 increase in payrolls was ahead of the consensus forecast in markets for a rise of about 150,000. As a result, analysts said the U.S. Federal Reserve would likely continue reducing its monetary stimulus, providing a fillip to the dollar.
The unemployment rate in the US rose to 6.7% in February from 6.6% in January as the level of employment – the actual number of people working – barely changed in the month while the number of people out of work increased.
While it seems that the euro is on course to climb further over the coming days, I also think gold prices will quickly rebound and break above the current resistance level of $1350 an ounce.
While the major central banks continue to flood the global financial markets with their fiat currencies and as geopolitical tensions around the world look set to increase, the price of gold is likely to rise. 
TECHNICAL ANALYSIS.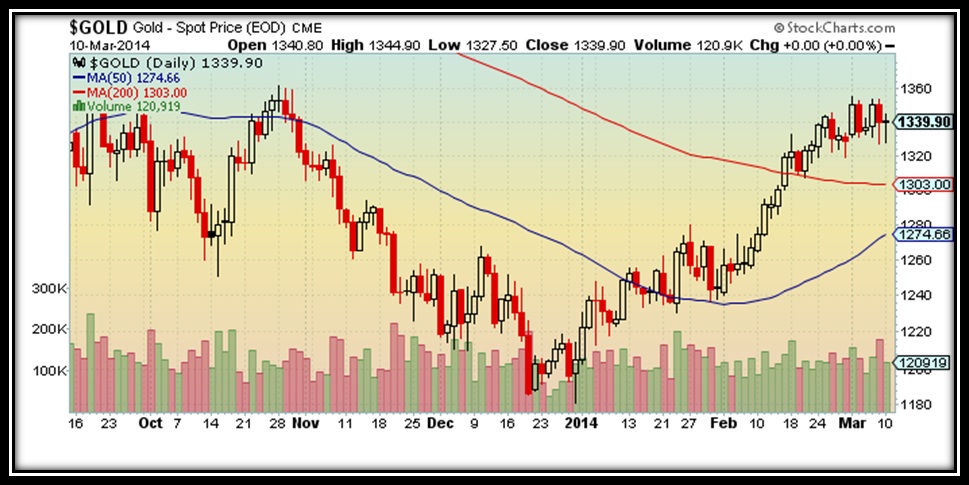 Gold prices remain stuck between $1320/oz. and $1350/oz. However, the upward move from December 2013 looks set to continue before any major pullback.