Gold Falls Through Key Technical Support, Must Hold Above $1,072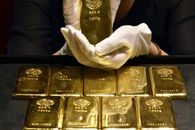 It has been a rough few weeks for gold investors, as the price has experienced a waterfall decline of over $100. First, the gold price dropped through key support at both the 200-day and 100-day moving averages. Then it proceeded to violate the uptrend (green line) that has been in place since July and support at the September low of $1,097.
Gold is now facing very critical support just above the 2015 low of $1,072. It is important for the gold price to bounce above this support level and make a higher low on the chart. If it falls below $1,072, the odds of a plunge to $1,000 or lower increase significantly. The RSI momentum indicator is now oversold and appears to be stabilizing. This gives some confidence in the chances of a short-term bounce, but the RSI for gold can slip into deeper oversold territory and remain there for weeks or months before rebounding.
Much of the recent decline is being driven by dollar strength and increased expectations of the FED raising rates in December. I have long predicted that the FED would not be able to raise rates and they have indeed delayed at multiple meetings despite analysts assigned high odds to the hike. The reason for this outlook is multiple data points suggesting the 'economic recovery' is not nearly as robust as it seems. Furthermore, global trade is slowing and any major hike has the potential to crash the stock market, bond market, energy market, real estate market and emerging markets. It will also make it more difficult for the U.S. government to service their debt and more costly for companies to prop up their share price via buybacks.
But these effects are likely to be muted, as I don't think the FED will be able to raise rates by more than 250 basis points. Furthermore, I expect that within a year they will need to reverse course and ease again to keep the markets afloat.
Gold may actually rise after the FED announces a rate hike. This is because the hike is already priced into precious metals (overpriced into them in my opinion). Once the uncertainty and fear of the rate hike subsides, I believe the downside pressure will be alleviated. And it is important to remember that since 1971 a rising FED funds rate has usually coincided with rising gold prices.
With gold prices hovering around the average all-in cost of production for the mining industry, I continue to believe that the downside is limited. A few prominent analysts are forecasting sub-$1,000 gold and I certainly can't rule out the possibility. But I believe any move below $1,000 will prove to be short-lived, as investors jump on the opportunity to buy gold at less than the cost to produce it.
It is also worth pointing out that most miners have used this corrective phase to become more efficient, cut the fat and reduce their costs. Considering that mining stocks are trading at the lowest levels (relative to the metals) in history, I think we are likely to see an explosive move higher from best-in-breed mining companies once the gold price rebounds.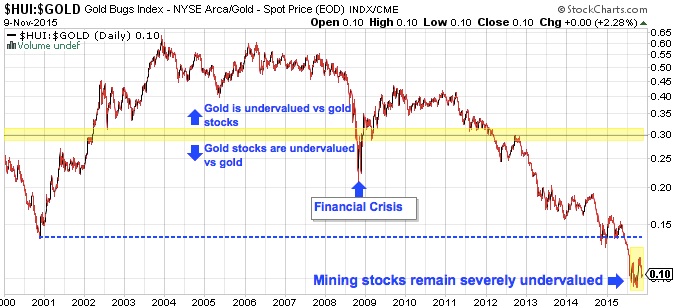 ********
To view the list of mining stocks that we believe will outperform, plus our top energy and agriculture stock picks, click here to join our premium membership. You can try it out risk-free for 30 days right now!