Gold Forecast And Penny Stocks Testing Key Support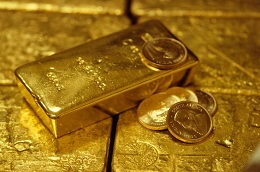 In 2011 gold and gold mining stocks topped…and since then prices have been falling. I think there are several reasons for this with the main ones being the strengthening dollar, and the fact gold and gold stocks were the most talked about investment I had ever seen when they were at their highs in 2010/2011.
When there are ADs on the TV and radio to buy gold or sell your gold jewelry, you know the market is saturated and every investor and trader who was open to the idea of buying gold had already done so. That is when prices start to erode, which they did and precious metals and miners are still in that bear market three years later.
Another important force at play here is the fact speculative investors or their emotions in which make them want to trade high risk stocks for massive gains have been broken.
In my next article I will be showing you a very interesting chart which shows this and it will likely answer your questions as to why your penny stocks are severely underperforming while the broad market has been making new highs for the last couple years.
Let's start off with the US Dollar index:
Stepping back and looking at the big picture of the US Dollar we can clearly see that price is trading at the end of a basing pattern which is highlighted in yellow. This monthly chart shows how the dollar rising since 2011 which is when gold and mining stocks put in their tops.
My forecast of the dollar index is that price will trade above the 85 level and over time continue to rally towards the 105+ level. This move could take a few years to unfold and until then commodities and gold will be under pressure.
Obviously if we have some global crisis or the US stock market turns down gold will naturally become the safe haven of choice and rally, but that is what it will take for gold and miners to find truly a bottom and start a new bull market.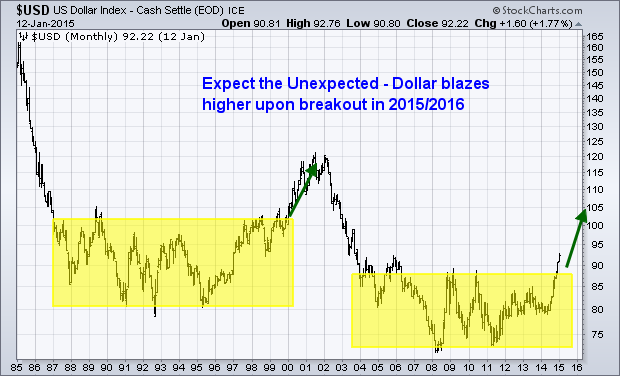 Gold Miners & Penny Stock Outlook:
Talking negatively about penny stocks is a touchy topic. Reason being most traders and investors are sitting with a few of these things in their portfolio holding a 50-90% loss, or should I say drawdowns… it is not a loss until you sell them.
The penny stock market (not gold stocks) is not looking bullish yet and to be completely honest, the selling to date may only be half of the downside move yet to come. But I will cover this in my next article later this week.
The chart below shows both the Toronto Venture exchange (penny stocks) which is the blue line, and also the gold mining stock index being the red and green candlesticks.
Looking at the positive side of things the penny stock market and gold stocks are trading at their 2008 lows. Odds favor we get some type of bounce and the question after that is to see if the price and volume are bullish, or if it's just a bounce.
During the 2000 stock market top, we saw gold stocks bottom and rallied over 300% within a year. With any luck that is what we should see in gold stocks looking forward 12+ months. Unfortunately major trend changes and asset rotation does take a long time to reverse direction. It can take 12 months to unfold in some cases. I do feel we are much closer than that, but only time will tell.
Many trades started buying gold stocks last year in anticipation of this play unfolding. They are now under water on these positions which is not a fun position to be in, but the truth is that I think this play is going to turn a big profit over time. Getting long gold stocks looks like one of a couple major investments that I see setting up for 2015-2016.
Gold Forecast & Mining Stock Conclusion:
In short, gold and gold miners require several more months to mature and form bullish price patterns. When they bottom there will be time to enter a position. It is better to be late than it is to be hold losing positions for years.
Also, when the time comes I will share with you a precious metals sector trade that pays over 12% income each year using a very smart covered call strategy on their gold/silver stock positions. This added income makes it a screaming buy when the time is right for this sector.
Stay tuned for my next article that will show you exactly how I know penny stock investors have left the market in a big way and what it means.
Join My ETF Trade Alert Newsletter Today and Profit!
Chris Vermeulen
www.TheGoldAndOilGuy.com
Gold-Eagle provides regular commentary and analysis of gold, precious metals and the economy. Be the first to be informed by signing up for our free email newsletter.
Free Gold-Eagle Newsletter!
Fresh weekly insights on gold, precious metals, and the economy
Leading authors from around the world
Always free, and your email address is never shared
Stay informed!