Gold Forecast: The Final Washout Has Begun, the Next Few Days are Crucial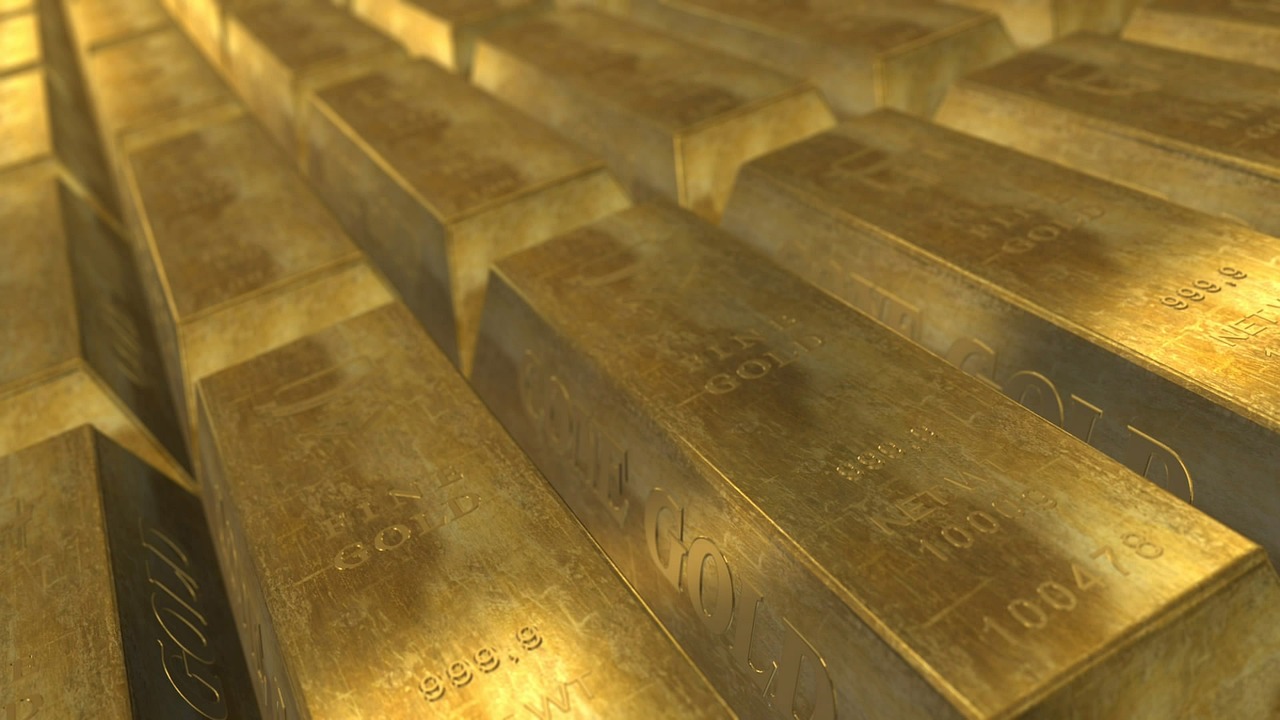 Gold broke key support and miners are collapsing - the final washout is in full swing. If I were to rate the current panic on a scale from 1 to 10, I'd give it a 6. Could it get worse? The next few days are crucial.
The Good News
The gold miners have been bottoming in late September for the last few years. Prices tend to peak in April or May and bottom just before October. If the cycle holds, GDX could reach a low in the next few trading days. To confirm a bottom, prices would need to close above the most recent gap.
The Bad News
If GDX doesn't bottom in the next few trading days, then the current washout could extend into October and miners may retest last year's lows. With gold entering its fifth month of lower prices we see a sustained downtrend unlikely.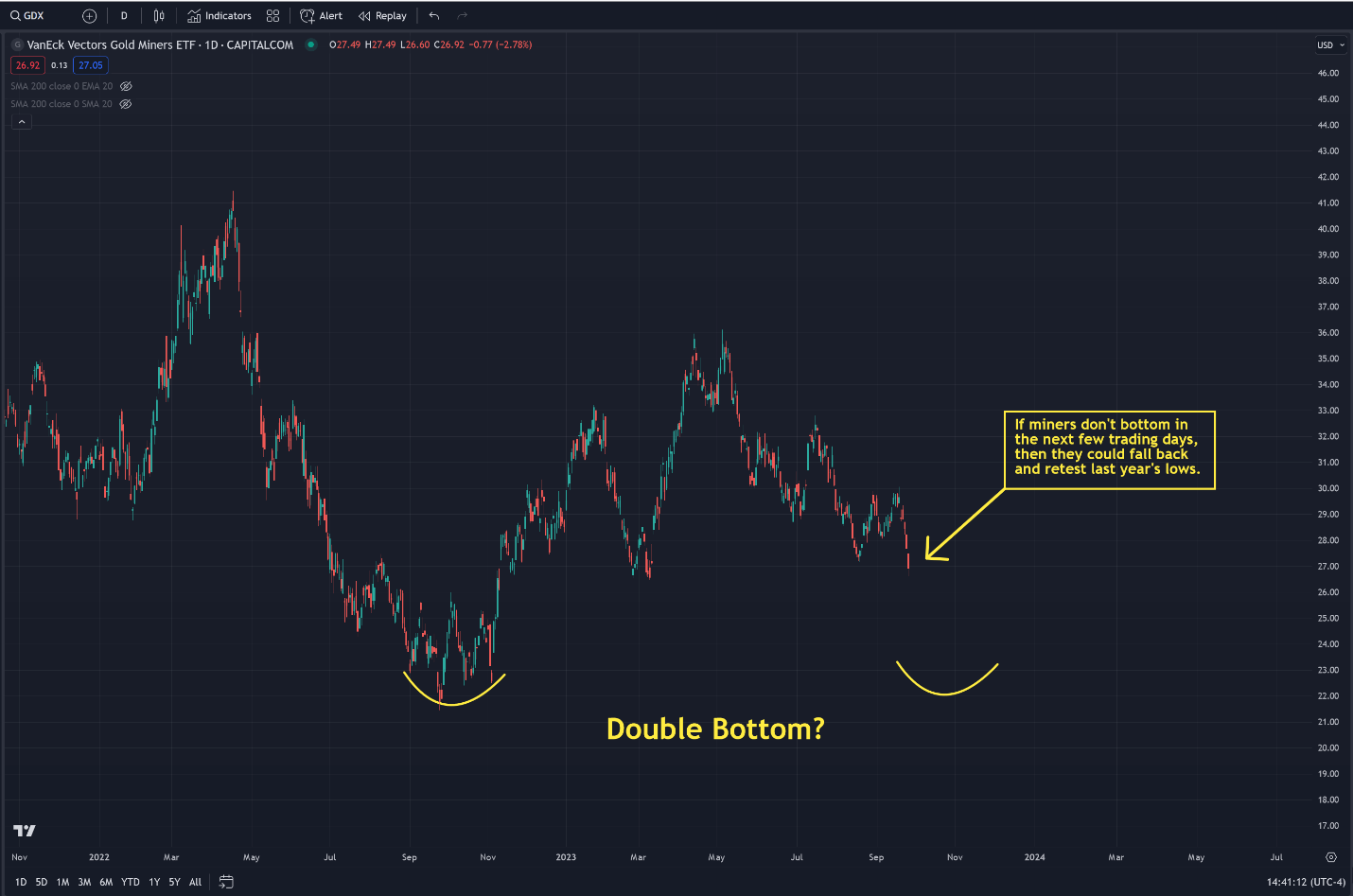 Gold Seasonality
Seasonal weakness in gold typically bottoms between August or September followed by strength into year-end. The current drawdown is par for the course and prices should begin to stabilize.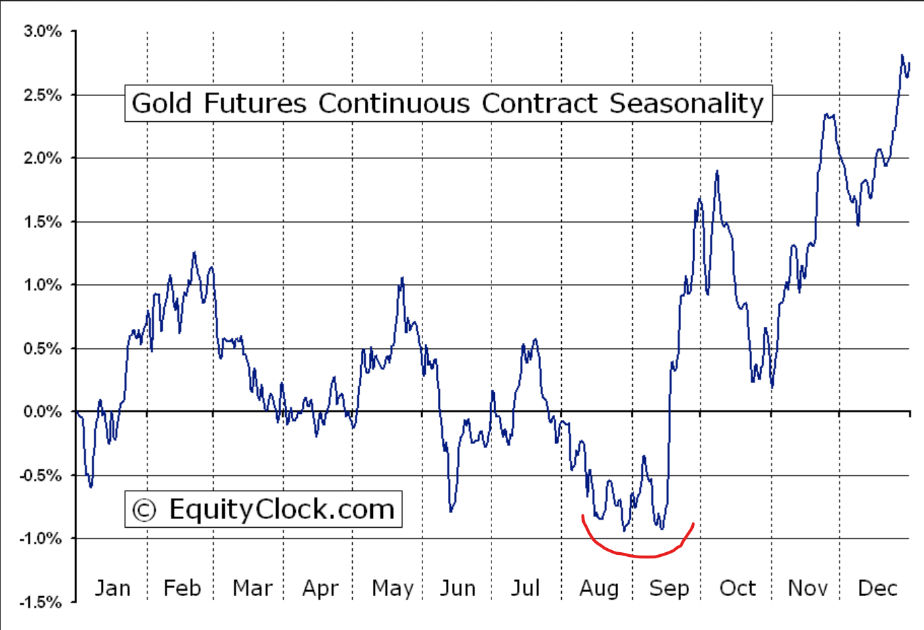 Gold Big Picture
When you step back and look at the weekly chart of gold, we see a robust bullish setup. The falling wedge pattern is nearly complete, and we expect an upside breakout in the coming months. A rally above $2100 should trigger a strong advance in 2024.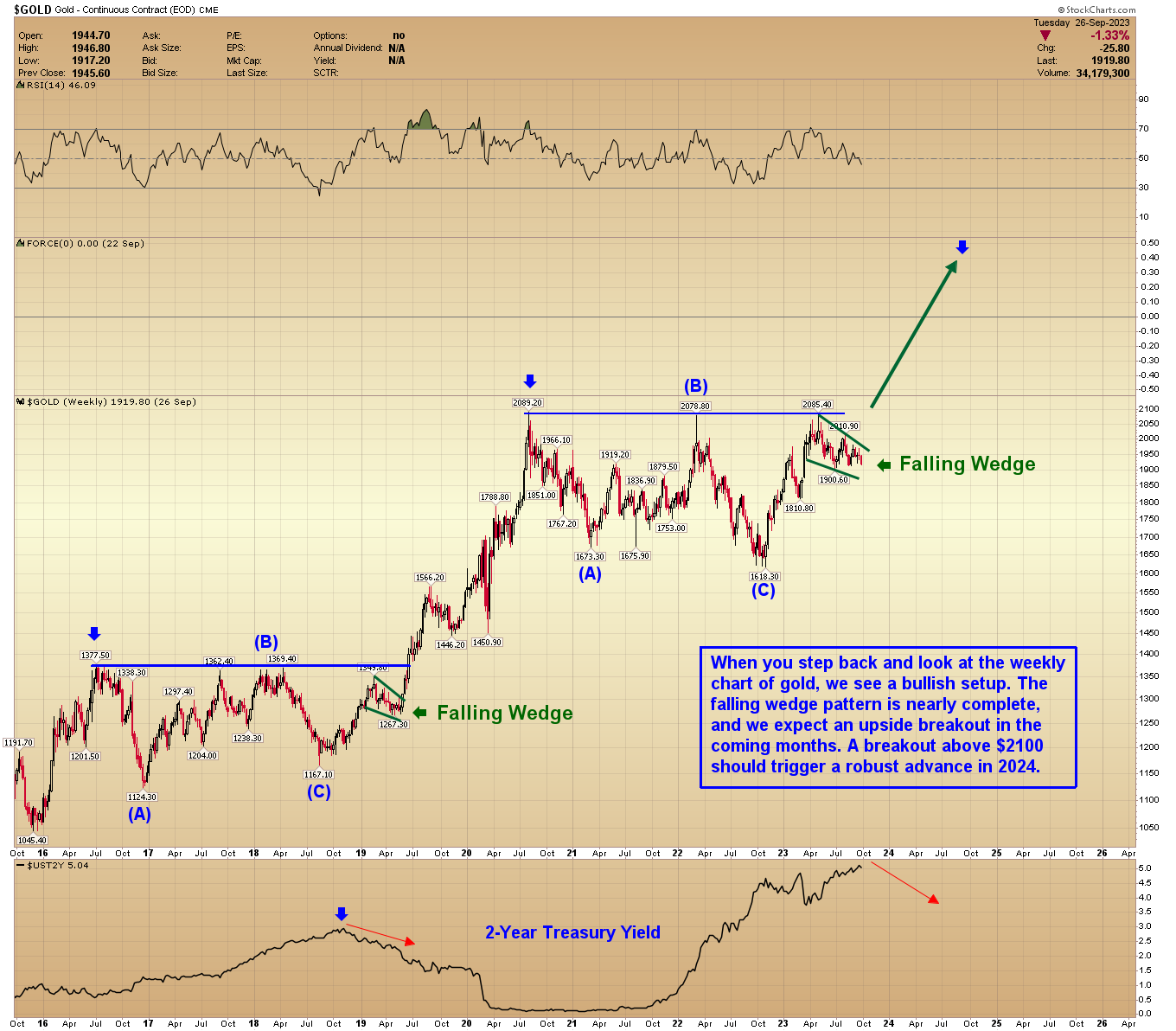 UAW Strike Update 
The United Auto Workers union expanded its strike against major carmakers, walking out of all 38 parts-distribution centers operated by General Motors and Jeep and Ram owner Stellantis in 20 states. Vehicles can't be repaired without parts, which could have devastating consequences. 
Automotive manufacturing is the largest sector of production in America. According to Peter Zeihan, a prolonged strike (3 weeks or longer) could contract GPD and send the economy into recession.
Looming Government Shutdown
The federal government is heading toward a shutdown (September 30th) that could disrupt many services and squeeze workers as Republicans in the House demand deep cuts in federal spending.
Government services would be disrupted, and hundreds of thousands of federal workers would be furloughed without pay if Congress fails to provide funding. Workers deemed "essential" would remain on the job but without pay.
Double Top in Semiconductors 
The Monthly SOXX chart may be putting in a MASSIVE double top, suggesting prices could retest the 2020 COVID lows, which, from today's prices, equates to a 65% decline. The yearly chart formed a rare bearish engulfing candle.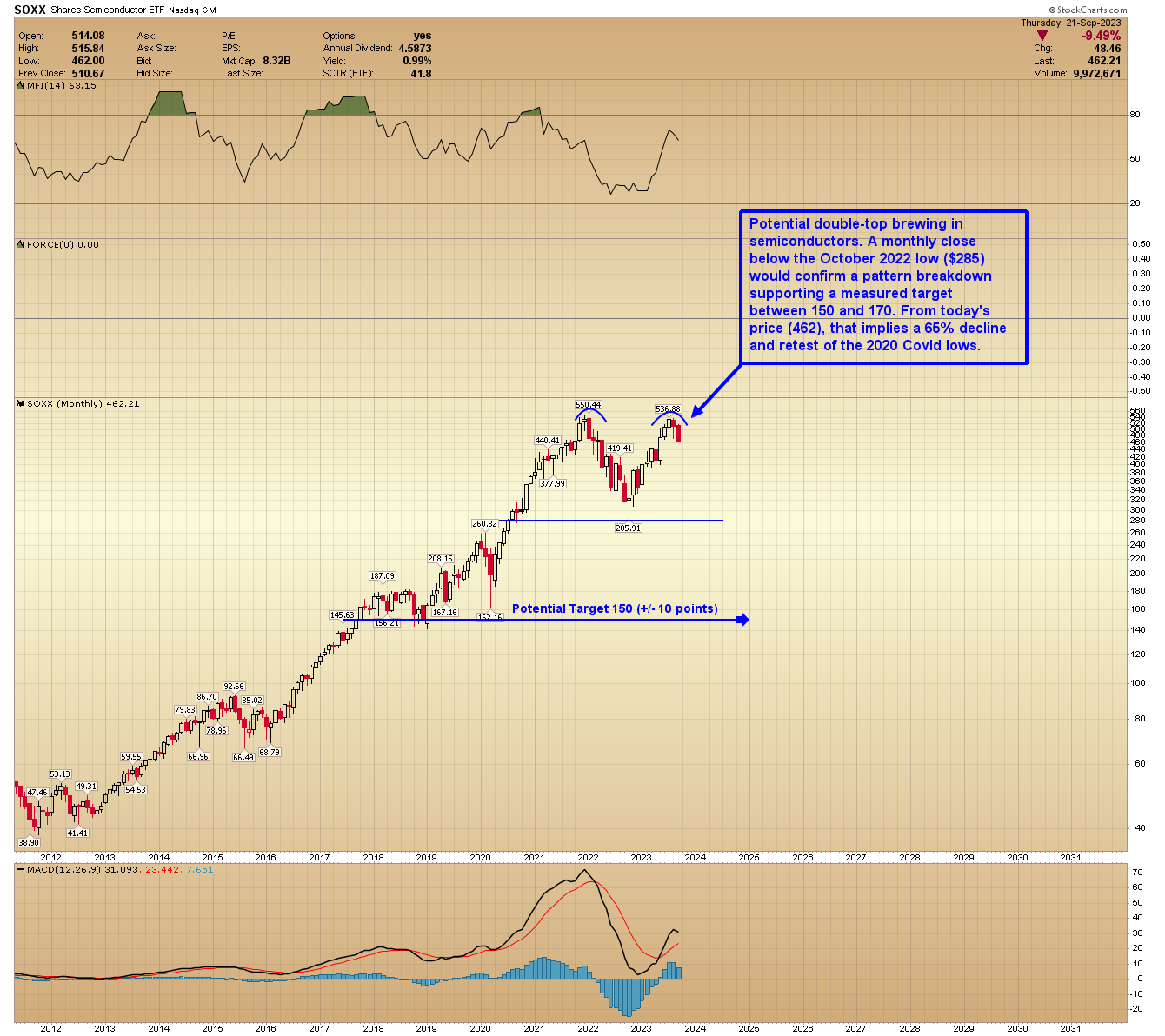 Potential Flash Crash
Some analysts have compared the strong run in stocks in 2023 to the price action leading up to the 1987 crash. 
In 1987, the S&P 500 rallied about 39%, peaked in August, and crashed in October, erasing all the gains in 2 weeks. 
The current rally that started in October 2022 has gained about 31%, peaked in July, and we are in the 4-week window for a potential crash, should it occur. 
Below is a side-by-side view of both time frames, which are strikingly similar. If the S&P 500 closes below 4250, I'd start to be concerned.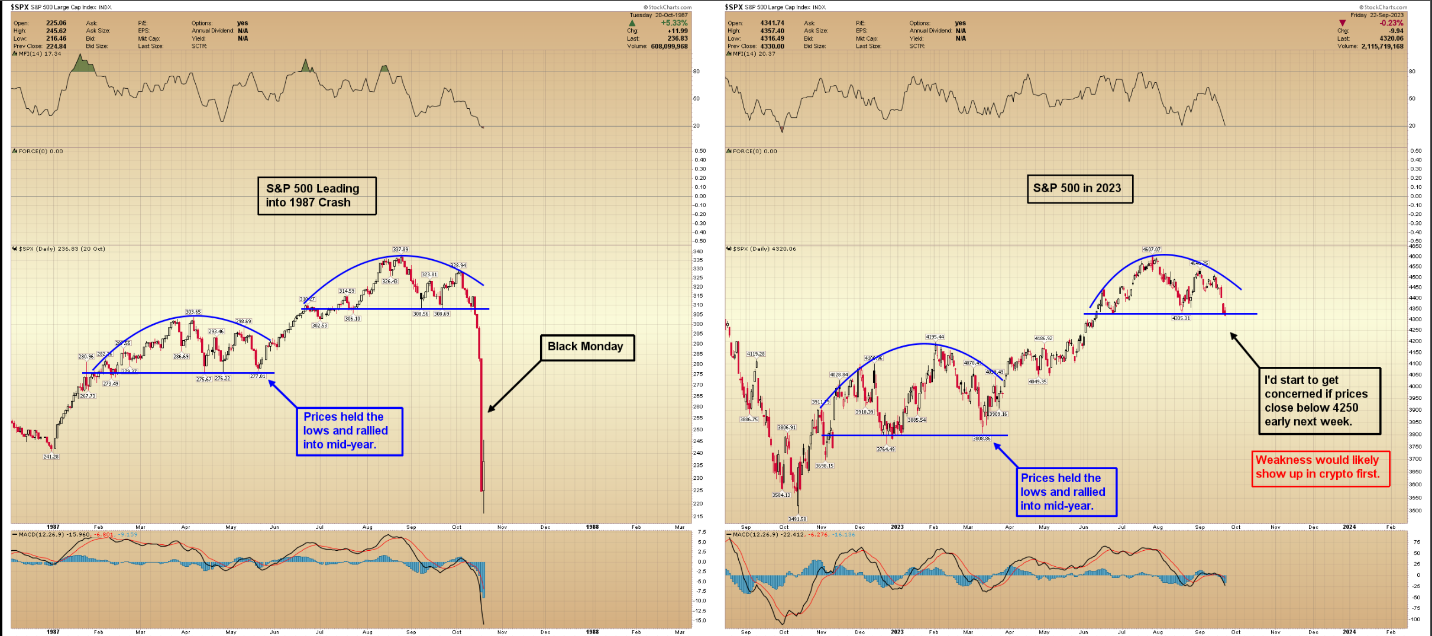 Potential Triggers: I've been concerned about 0DTE options for a while. They now account for about 55% of the trading volume in S&P 500 futures. 
If stocks fell 5% intraday over a very short period (5 or 10 minutes), market makers would have to sell into a weak market, pushing prices lower and forcing algorithms and systems-based traders to liquidate, triggering a feedback loop. 
The September Effect
September is historically the worst month for stocks out of the calendar year. According to S&P Global, the S&P 500 has declined in September 55% of years since 1928.
Why is this? 
My guess is that after an extended summer, everyone checks their finances. Where do they sit on their credit cards, car notes, rent/mortgage, education costs, saving up for Holiday spending, etc.? 
They come to one of two conclusions:
Everything is fine, and they can keep spending.

Everything is NOT fine, and they need to make some hard choices.
Conclusion: After three months of summer running, everyone is catching up on current events. Maybe some are beginning to realize things aren't so great. 

Conclusion
The final washout in metals and miners is underway. Overleveraged longs and weak investors are capitulating. The big picture outlook remains bullish, and we see a strong rally after this bottom. The next few trading days are crucial. I'll be watching miners for signs bottoming.
AG Thorson is a registered CMT and an expert in technical analysis. For regular updates, please visit www.GoldPredict.com.
*********