Gold Imports 'Phenomenal' In India - 571 Percent Surge To 150 Tonnes in November
India's gold imports were over a staggering 150 tonnes in November and have seen a "phenomenal" rise in India according to India's Trade Secretary, Rajeev Kher.
A few weeks ago we said that the death of the Indian gold market was greatly exaggerated. The latest gold import data out of India confirms this.
The import restrictions on gold that were imposed on Indians in August of 2013 were lifted at the end of last month. Despite the fact that the restrictions were still in place gold importation in November surged an incredible 571% relative to the same month last year at over 151.58 tonnes.
This was an increase of 38 percent from 109.55 tonnes a month earlier, trade ministry data showed on Tuesday.
The Indian government had recognised the socially destructive impact of the 80:20 scheme - which obliged importers to export 20% of it's gold imports before bringing in another shipment – by pushing business into the hands of smugglers and thereby empowering criminality while losing out on the 10% duty currently charged on all gold imports.
It had been assumed that, because demand was being met by these "informal" supplies, the relaxing of the 80:20 policy would not have a dramatic impact on gold imports into India. That remains to be seen. Smuggling networks are now well established and arguably could provide cheaper gold than government-sanctioned channels.
The restrictions were put in place because the appetite of the growing Indian middle classes for gold was causing India to run large trade deficits. It is believed that it was also a misguided attempt at financial repression of gold in order to discourage Indians from buying physical gold. There were concurrent attempts to get Indians to open bank accounts and indeed to own digital and paper gold.
This highlights once again how deeply Indians feel about gold in that demand for this single commodity or form of money - could skew the trade deficit in such a dramatic way.
India officially imported $5.6 billion worth of gold in November. The trade deficit increased to $16.9 billion in the same period despite the cost of oil imports being low. This is putting pressure on the rupee which is currently valued at almost 63 to the dollar.
The central bank appears happy enough at this level as it will help boost exports which have been booming. However, India's trade secretary - Rajeev Kher - has said that any level below 62 rupees to the dollar would cause him to be a "little more concerned."  
Russia's drastic rate hike of 6.5% up to 17% is likely to further unnerve the Indian government as it tries to balance insatiable public demand for gold with the need to rein in the deficit. If the rupee falls more India will be forced to raise rates to discourage capital flight.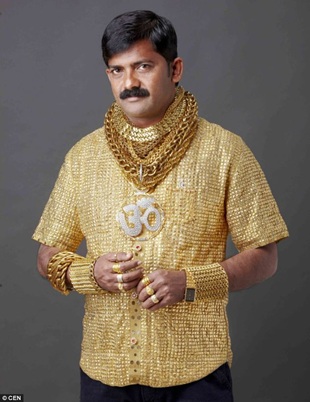 However, taking the longer term view, it must be said that – as a country that imports between 25% and 33% of the global gold supply – India will be well placed when currency wars deepen and the inevitable world-wide monetary reset occurs.
India's imports are around the 1,000 metric tonne mark and global gold production is just under 3,000 metric tonnes.
We believe that it will be eastern countries who will determine monetary policy when that time comes. As Russia's foreign minister Lavrov has pointed out the seven countries led by the BRICS nations now have a larger combined GDP than the western G7.
The old adage that "those who own the gold make the rules" will likely come to pass again. As it did in 1945, when the U.S. was the largest holder of gold in the world which enabled it to dictate the terms of the new Bretton Woods monetary system.
This seems likely given the affinity that the people, governments and central banks of India, China and the East have for gold as a store of value.
MARKET UPDATE
Today's AM fix was USD 1,199.25, EUR 960.25 and GBP 763.95 per ounce.
Yesterday's AM fix was USD 1,210.75, EUR 974.53 and GBP 772.41 per ounce.
Spot gold slid $30.40 or 2.49% to $1,191.70 per ounce yesterday and silver plummeted $0.87 or 5.12% to $16.14 per ounce despite no market moving news or developments.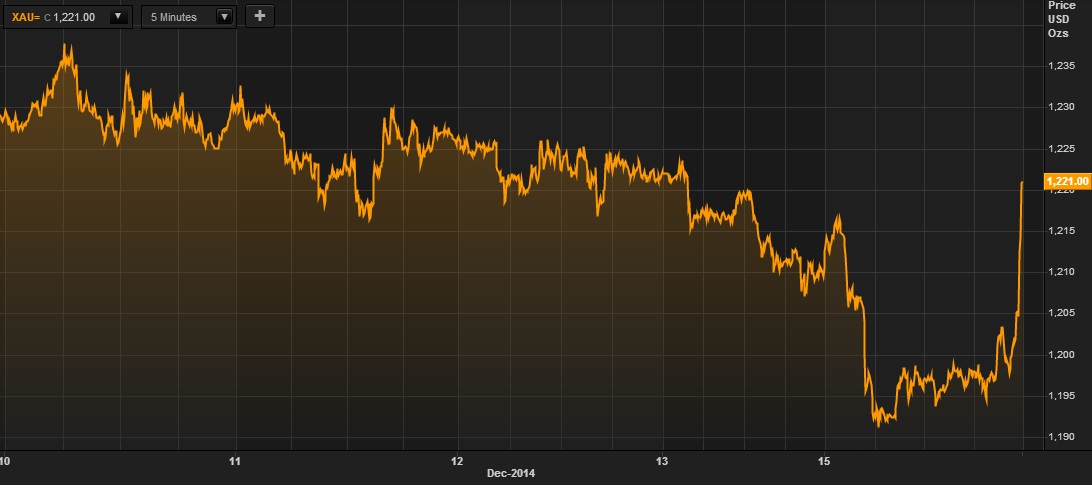 Gold in USD - 5 Days (Thomson Reuters)
Gold in Singapore was flat overnight in Asia prior to gold bouncing back from yesterday's biggest drop this year and is over 2% higher today as buyers accumulate after yesterday's dip. Traders await the policy statement from the U.S. Federal Reserve meeting tomorrow.
Gold fell yesterday as U.S. manufacturing data beat estimates supporting the case for higher borrowing costs next year. Federal Reserve officials meet today and tomorrow to debate the possibility of rising U.S. interest rates, which have been near zero since 2008.
Silver for immediate delivery rose 2.5% to $16.70 an ounce, after plunging by 5.1% yesterday. Platinum was little changed at $1,209.88 an ounce. Palladium added 0.3% to $800.38 an ounce.
Holdings in gold-backed ETPs dropped 3 metric tons to 1,608.2 tons as of yesterday, Bloomberg data showed.

Silver in USD - 5 Days (Thomson Reuters)
The world's second largest gold consumer surprised analysts and discarded a rule for traders to export 20% of all gold imports.  This change led to gold imports surging to 151.58 tonnes in November, an increase of 38% from 109.55 tonnes a month earlier, noted the trade ministry data yesterday.
Indian gold imports had risen hugely and the government should examine the impact of last month's revision of the so-called 80:20 rule commented Trade Secretary Rajeev Kher.
The global price of crude oil plummeted through $60 a barrel for the first time in five years with almost no signs producers are ready to tackle a glut. Brent futures slid as much 3.3% to its lowest since May 2009 in London.
Crude oil fell about 45% this year as OPEC (Organization of Petroleum Exporting Countries) sought to defend market share amid a U.S. shale boom that's exacerbating a global glut. The group, responsible for 40% of the world's supply, will refrain from curbing output, U.A.E. Energy Minister Suhail al-Mazrouei said over the weekend.
******** 
Courtesy of http://www.goldcore.com/