Gold Jumped The Most In Two Years Last Week. Will The Rally Last?
Strengths
The best performing precious metal for the week was palladium June 22 future, up 1.21% which surged on the first day of the Russian invasion. Gold moved to its highest since 2020 after Russian forces attacked targets across Ukraine, triggering the worst security crisis in Europe since World War II and crushing risk sentiment. President Vladimir Putin vowed to "demilitarize" Ukraine and replace its leaders, while the West threatened additional sanctions in response. U.S. President Joe Biden announced he would impose "further consequences" on Russia after what he called an "unprovoked and unjustified attack." The move sparked a flight to haven assets, with European stocks and U.S. futures dropping while Treasuries rallied. Gold jumped the most in almost two years, even as the dollar strengthened.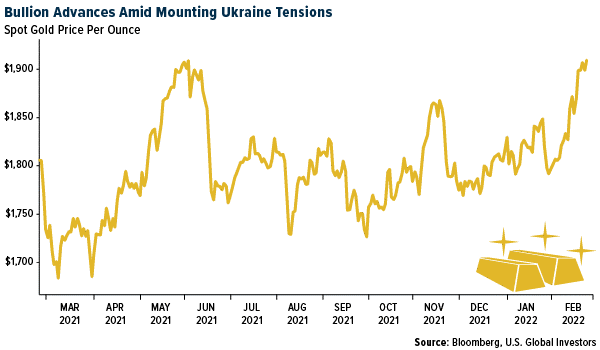 Gold Royalty has entered into an agreement to acquire an existing 0.75% net smelter return royalty on a portion of the Cote Gold Project, located in Ontario, Canada, and owned by IAMGOLD Corp. and Sumitomo Metal Mining, according to a news release. "Together with our royalty on Canadian Malartic's Odyssey Project, Gold Royalty will own royalties on what is expected to be two of Canada's largest and longest-life gold mines," said CEO David Garofalo.
Lundin Mining reported a strong quarter. Revenue of $1.02 billion was up 9% versus consensus and EBITDA (earnings before interest, taxes, depreciation and amortization) of $623 million was up 14% versus consensus. Net earnings of $282 million was up 8% versus consensus.
Weaknesses
The worst performing precious metal for the week was platinum April 22 future, down 1.65%, despite hedge funds raising their net long position to a 14-week high on fear of disruptions to Russian supplies. AngloGold Ashanti trimmed jobs and is reviewing its assets after full-year profits declined amid rising costs and the temporary halt of operations at a key African mine. The Johannesburg-based company cut 215 support roles across its global business as part of a cost-savings reorganization. It has also begun a full review of the potential of all its assets.
Agnico Eagle Mines reported fourth quarter earnings per share (EPS) of $0.46, a miss versus the $0.57 consensus. Fourth quarter cash flow per share (pre-WC) was $1.37, also a miss versus the $1.45 consensus. Agnico Eagle announced that Ammar Al-Joundi has been appointed President and CEO, effective immediately, and that Tony Makuch will step down as CEO and director. Mr. Makuch's departure is sudden, as he was announced as Agnico's incoming CEO in September 2021 following the merger with Kirkland Lake.
Dundee Precious Metals' fourth quarter earnings were 10% below consensus, driven by higher operating costs, general and administration expense (G&A) and depreciation. The company continues to experience inflation pressures, which are expected to continue into 2022 cost guidance achieved with fiscal year 2021 AISC of $657 per ounce.
Opportunities
Centerra Gold is acquiring the Goldfield District Project from Waterton. Centerra will pay $175 million in cash at closing plus a $31.5 million milestone payment upon the earlier of 18 months following closing or Centerra making a construction decision with respect to the project.
"In the globe's latest maelstrom—U.S./Russia/Ukraine—Bitcoin, the asset purported to be the answer to every question, has quietly weakened and is notably underperforming its arch-enemy, gold," said John Roque of 22V Research in a note on Monday.
Sandstorm Gold announced the restructuring of its 30% interest in Hod Maden into a traditional gold stream. This is a transformative event that repositions Sandstorm's portfolio as a pure-play royalty/streaming company. Sandstorm will retain a $200 million gold stream on the Hod Maden project.
Threats
Bloomberg reports that as part of streamlining new U.S. regulations to permit domestic mines to meet future critical mineral needs to support the energy transition, an overhaul of the 1872 General Mining Law is envisioned. This body of law has largely remained unchanged and could be counterproductive to the goal of increasing production. A new royalty payment system would be introduced alongside a more certain permitting timeline. There is already a publicly traded market for royalty and streaming companies, so this would be an additional tax of the resource being mined.
Pan American Silver reported fourth quarter adjusted EPS of $0.19 versus consensus of $0.30. Cash flow from operations came in at $118 million versus consensus of $149 million. Revenues of $422 million were below consensus of $455 million, with the company noting that revenues were impacted by the timing of sales this quarter.
According to JPMorgan, following CEO Alberto Calderon's appointment in July 2021, AngloGold's shares are up 14% but have lagged the Philadelphia Gold and Silver Index at 30% since the start of 2020 due to operational weakness and the strategic overhang triggered by his predecessor's surprise departure. The bank expected a "reset" by Mr. Calderon for fourth quarter results, and 2022 production guidance was lowered, and costs raised. In the fourth quarter of 2022 the group expects a further cut to previous management's ambitious longer-term guidance as new management completes their portfolio review.
**********