The Gold Market Review
Market Update
Since mid-December the precious metals sector is in an uptrend. Especially gold has been acting very well while the mining stocks are basically consolidating since early February. After their phenomenal rally in the first half of 2016 they probably now need the confirmation of a higher gold price. At latest once gold can clear the 1,300 - 1,310 USD level they should start moving higher as well. I guess over the next one to three months we will get some great buying opportunities. Not at the lowest price probably but right in front of the next large move higher.
As you know I expect gold to move towards 1,500 USD by spring 2018. For silver the target sits around 26,00 USD. Both targets are the former strong support areas from 2011 to 2013. Also the falling wedge which gold left in early 2016 points towards 1,500 USD. At those levels gold and silver will be a sell and should start a multi month correction. but these levels are still far away and the gold bulls have a lot of work to do to reach those targets.
My only concern at the moment is the very oversold US-Dollar. Should the greenback start a bounce gold silver and the mining stocks might suffer for some weeks or even one to three months. Generally I currently believe that the Dollar has started a new bear-market as the whole world is participating in the witch hunt for Mr. Trump. Trump needs a weaker US-Dollar and the small rate hikes actually have been inflationary.
Of course the booming cryptocurrencies are much more interesting these days as you could have made a fortune here by just simply buying into any of them. I am pretty sure that this is becoming a bubble but we are probably still at the beginning. I hope I can make a new recommendation here once the sector makes a pullback.
The Midas Touch Gold Model neutral since 24th of April 2017
The Midas Touch Gold Model™ is in neutral mode since 24th of April 2017. Even though gold posted a strong rally over the last couple of weeks it was not enough to turn the model bullish. The most positive development is the new bullish signal coming from the weekly chart but as long as the monthly chart as well as the gold/silver-ratio are bearish it will be difficult to get the model into a bullish conclusion. Overall the model tells us to remain patient. If you want to see how the model acted over the last year click here.
Gold - Buy The Next Dip Around 1,240 USD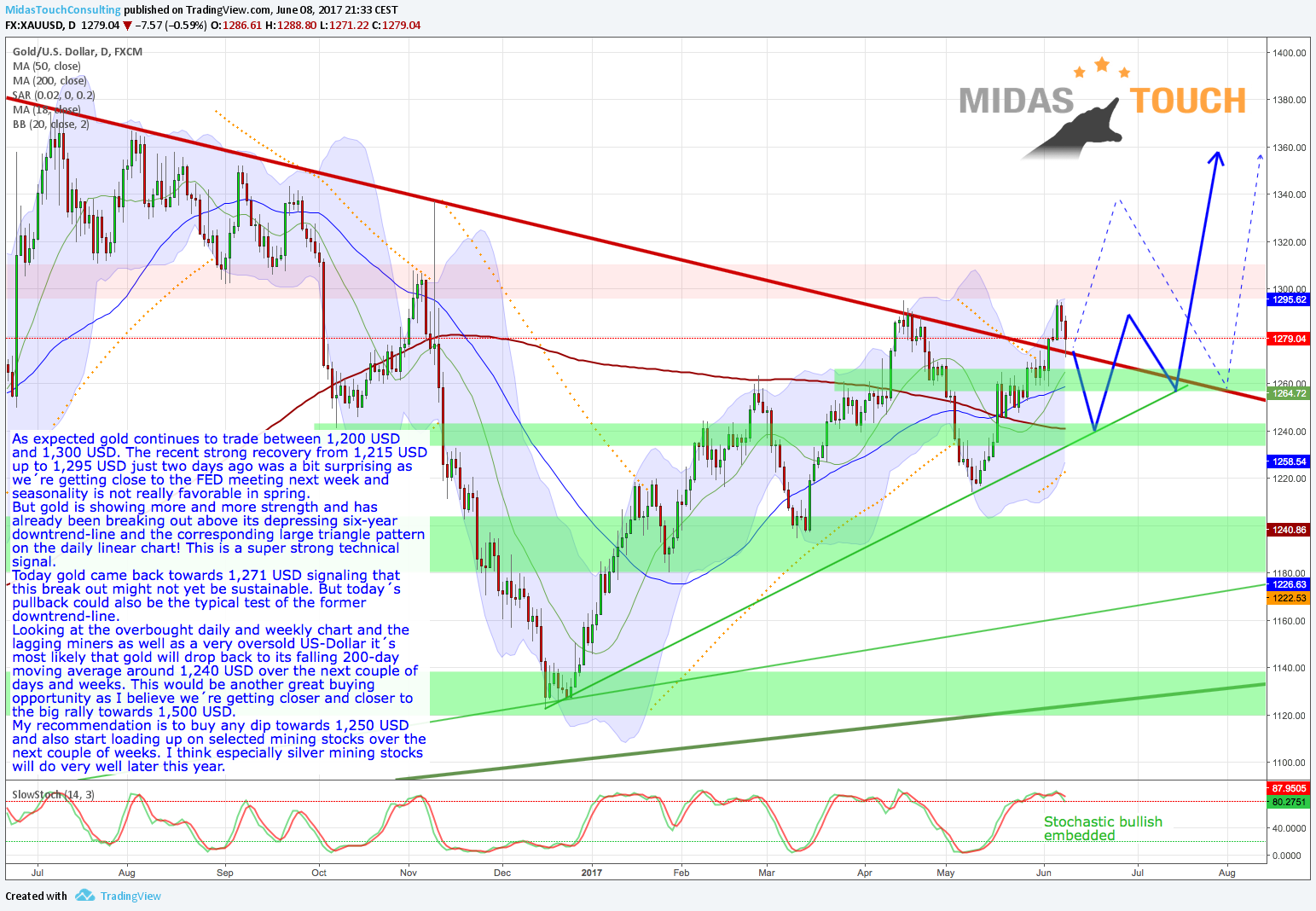 As expected gold continues to trade between 1,200 USD and 1,300 USD. The recent strong recovery from 1,215 USD up to 1,295 USD just two days ago was a bit surprising as we´re getting close to the FED meeting next week and seasonality is not really favorable in spring.
But gold is showing more and more strength and has already been breaking out above its  depressing six-year downtrend-line and the corresponding large triangle pattern! This is a super strong technical signal. Today gold came back towards 1,271 USD signaling that this break out might not yet be sustainable. But today´s pullback could also be the typical test of the former downtrend-line.
Looking at the overbought daily and weekly chart and the lagging miners as well as a very oversold US-Dollar it´s most likely that gold will drop back to its falling 200-day moving average around 1,240 USD over the next couple of days and weeks. This would be another great buying opportunity as I believe we´re getting closer and closer to the big rally towards 1,500 USD.
My recommendation is to buy any dip towards 1,250 USD and also start loading up on selected mining stocks over the next couple of weeks. I think especially silver mining stocks will do very well later this year.
If you like to get regular updates on our gold model, gold and bitcoin you can subscribe to my free newsletter here: http://bit.ly/1EUdt2K
© Florian Grummes 2017 all rights reserved
Hohenzollerstrasse 36, 80802 Munich, Germany
Disclaimer & Limitation of Liability
The above represents the opinion and analysis of Mr Florian Grummes, based on data available to him, at the time of writing. Mr. Grummes's opinions are his own and are not a recommendation or an offer to buy or sell securities. Mr. Grummes is an independent analyst who receives no compensation of any kind from any groups, individuals or corporations mentioned in the Midas Touch. As trading and investing in any financial markets may involve serious risk of loss, Mr. Grummes recommends that you consult with a qualified investment advisor, one licensed by appropriate regulatory agencies in your legal jurisdiction and do your own due diligence and research when making any kind of a transaction with financial ramifications. Although a qualified and experienced stock market analyst, Florian Grummes is not a Registered Securities Advisor. Therefore Mr. Grummes's opinions on the market and stocks can only be construed as a solicitation to buy and sell securities when they are subject to the prior approval and endorsement of a Registered Securities Advisor operating in accordance with the appropriate regulations in your area of jurisdiction. The passing on and reproduction of this report is only legal with a written permission of the author. This report is free of charge. You can sign up here: http://eepurl.com/pOKDb
Hinweis gemäß § 34 WpHG (Deutschland):
Mitarbeiter und Redakteure des Midas Touch Gold Newsletter halten folgende in dieser Ausgabe besprochenen Wertpapiere: physisches Gold und Silber, Bitcoins sowie Gold-Terminkontrakte.
Imprint & Legal Disclosure
Anbieterkennzeichnung gemäß § 6 Teledienstgesetz (TDG)/Impressum bzw. Informationen gem § 5 ECG, §14UGB, §24Mediengesetz 
Herausgeber und verantwortlich im Sinne des Presserechts / inhaltlich Verantwortlicher gemäß §6 MDStV
Florian Grummes
Hohenzollernstrasse 36
80801 München
Germany
E-Mail: info@goldnewsletter.de 
Website: www.goldnewsletter.de