Gold Miners Boost Dividends On Heels Of Higher Metal Prices
Strengths
The best performing precious metal for the week ended September 18 was palladium, up 1.57 percent as hedge funds boosted their net-long position to the highest in six-months. Gold had a second weekly gain after the U.S. dollar steadied and investors weighed a growing number of coronavirus cases.

Platinum exports from Switzerland remained at elevated levels in August. According to data from the Swiss Federal Customs Administration, supplies of platinum hit 6.7 tons last month, up 40 percent from the previous month. Gold shipments from Switzerland resumed last month to China after a five-month break. China's gold demand is showing signs of recovery after importing 10 tons in August.

As the Turkish lira remains weak, Turks are piling into gold despite record high local prices. The average daily volume of gold sold at the Grand Bazaar was 4,500 pounds, up from 450 pounds. Ozgur Anik, general manager of Ozak Precious Metals AS, says "when gold prices are at record high, people normally sell their gold. This time, they kept buying more."
Weaknesses
The worst performing precious metal for the week ended September 18 was platinum, still up by just 0.04 percent, but posted its biggest drop this month on Thursday with weaker auto sales in Europe where diesel is a bigger percentage of the market. Gold slipped after investors weighed the Fed's outlook for a shallower contraction of 3.7 percent, up from June estimates of a 6.5 contraction. The FOMC expects to maintain an accommodative stance of money policy until it achieves inflation averaging 2 percent.

The world's biggest gold ETF, the $79 billion SPDR Gold Shares, saw a third straight week of outflows after eight consecutive months of inflows. This is a sign of profit-taking. On the other hand, the iShares Gold Trust continued its inflow streak of 25 weeks.

Former Deutsche Bank AG analyst David Liew told a Chicago jury that he learned how to manipulate precious metal prices, of the practice of spoofing, from two senior traders, writes Bloomberg News. Spoofing is when traders place buy and sell orders they never intended to execute in a strategy to influence prices for illegal profits. Liew, who is pleading guilty and aiding the prosecution, said he knew manipulation was wrong, but the spoofing trades were "so commonplace" among co-workers that he thought it was okay to do.
Opportunities
Kinross Gold, a Canadian miner, is paying its first dividend in seven years after boosting output and seeing record high gold prices. Shareholders will receive 3 cents a common share and resume quarterly dividends of the same amount. The company said production is expected to increase 20 percent by 2023. Newmont CEO Tom Palmer said he expects gold prices to remain elevated and boasted the company's high dividend. "As we now look at the strength of our balance sheet, the discipline we have in running our business and our sustainable portfolio, we are actively debating and assessing opportunities for further shareholder returns." Newmont increased its dividend by 79 percent earlier this year to $1 per share.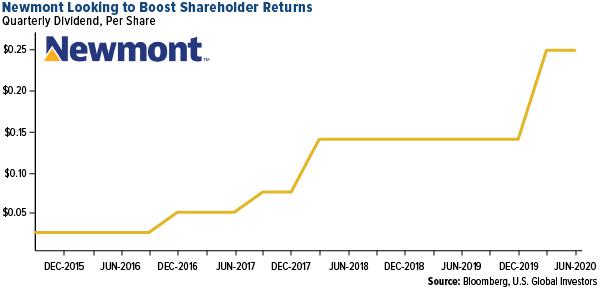 Petra Diamonds found five blue diamonds, considered the most valuable in the world, at its flagship Cullinan mine in South Africa. The gems range in size from 9.6 carats to 25.8 carats. Bloomberg notes Petra sold a 20-carat blue diamond for almost $15 million last year. This is rare positive news for the struggling producer.

Lundin Gold received an exploration permit for its Barbasco project in Ecuador. Kore Mining announcement a positive preliminary economic assessment for its Long Valle Gold Deposit in California. SSR Mining said it expects to see at least a 60 percent increase in gold production this year after its acquisition of Alacer Gold Corp.
Threat
Russia is considering raising mineral-extraction taxes on mining companies to narrow a budget deficit of 4 percent of GDP, reports Bloomberg. The Finance Ministry proposed more than tripling taxes for extracting most metal and fertilizers for next year. This is a threat to Russian mining companies and would increase costs.

B2Gold Corp is expanding its gold mining operations in Mali, even as the West African nation ousted its president last month – the second coup in less than 10 years. Mali's gold mines have not been affected by the political turmoil, but it is still a threat to operation in the region. CEO Clive Johnson said in a phone interview with Bloomberg that "the current situation doesn't deter us."

Equities and gold have benefitted from the trillions of dollars in fiscal spending and money printing, but those efforts are debasing the dollar and raising the possibility that the U.S. will go too far in testing the limits of government stimulus, says Ray Dalio in a Bloomberg TV interview. "There is so much debt production and debt monetization." Again, this is positive for gold and Dalio recommends the metal, but it is a threat in the dollar losing its status as the world's reserve currency.
*********