Gold Miners: It's Time To Buy
Both US political parties enjoy referring to their horrifying debt and money printing programs as "economic stimulus".They sound like characters in a George Orwell novel, which is quite disturbing.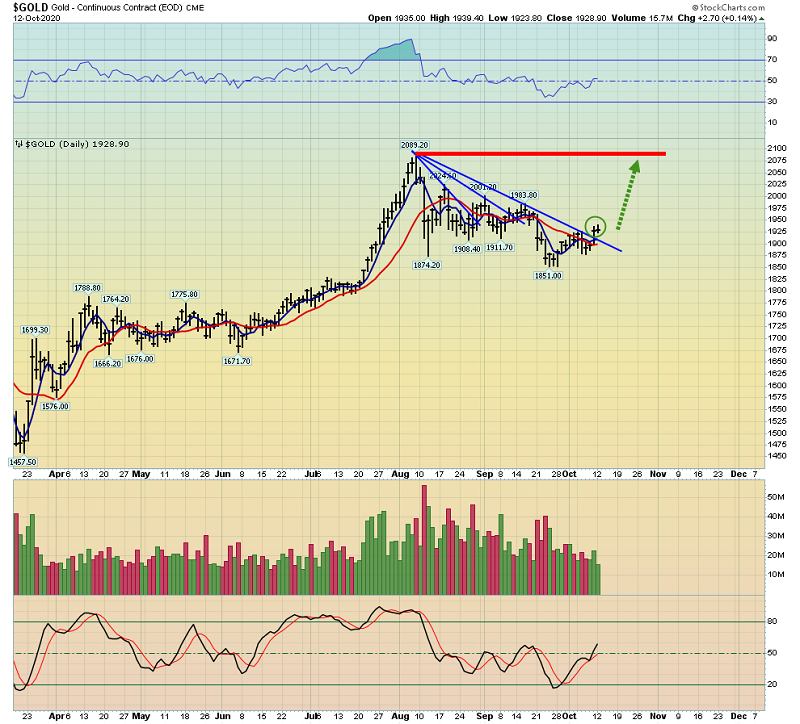 Of course, their insane actions are great news for gold.The daily gold chart.
Basis "Edwards and Magee", there's now a breakout from a third fan line.It's a solid technical green shoot.
The modest support zone defined by the mid-August low of about $1874 has held well.It's fueled some decent rallies, including the current one.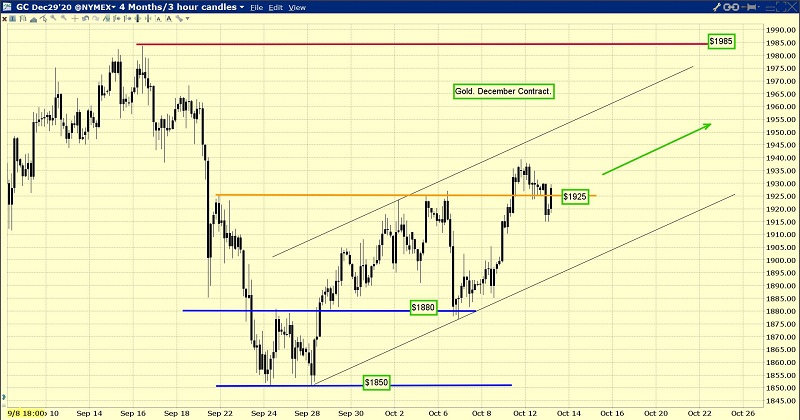 In the short-term, gold is struggling to break through the $1925 light resistance zone.
That's only a minor issue, as is the fact that Tuesdays are often a soft day for gold.The bottom line is that the medium and long-term charts look great.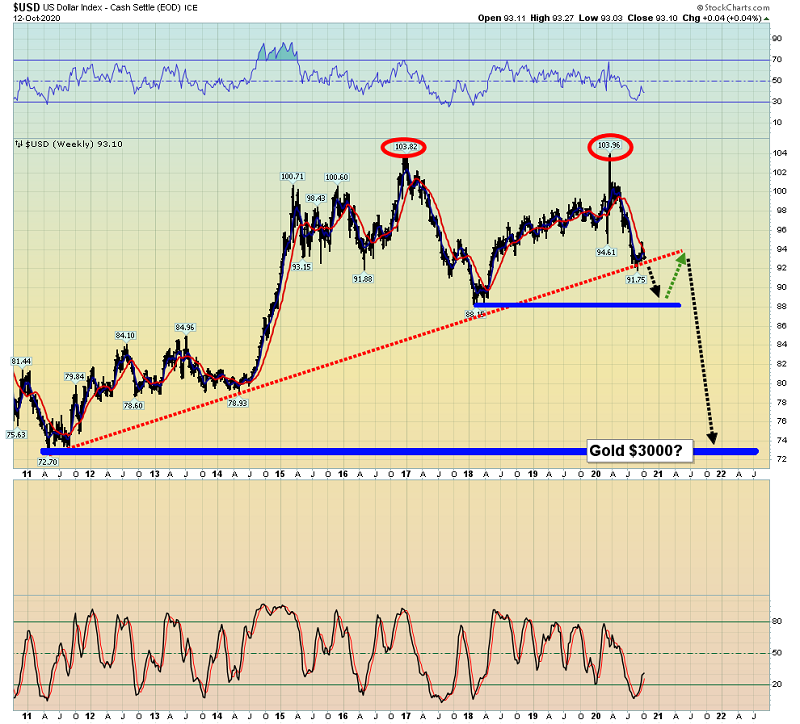 The horrifying US dollar chart.
A gigantic double top pattern appears to be active.A break of the long-term uptrend line seems imminent.
US politicians seem oblivious to the danger of their obsession with debt ramp-up.The 88 level is the neckline of the double top pattern and a break could coincide with a shocking spike in debt-oriented inflation.
I've talked about an ominous 2021-2025 war cycle.Wars are inflationary and US democrats have a history of being involved in the biggest ones.
If the democrats win the election, the odds of the war cycle coming to life likely rise dramatically.  Large wars have historically been financed with… inflation. 
Technically, the target of the dollar's double top pattern is about 73.That could coincide with my $3000 gold target price.
Regardless of whether crazed republican debt worshippers win the US election or crazed democrat debt worshippers win, the dollar chart's implications are clear; something very bad is going to happen soon after the election is over.
A loss of confidence event in the dollar would have catastrophic implications for US stock, bond, and real estate markets… and for the government.
A 1970s type of stagflation could occur in America, and it would almost certainly be coupled with an acceleration in the rise of 1.4 billion gold-oriented citizens of China as global empire leaders.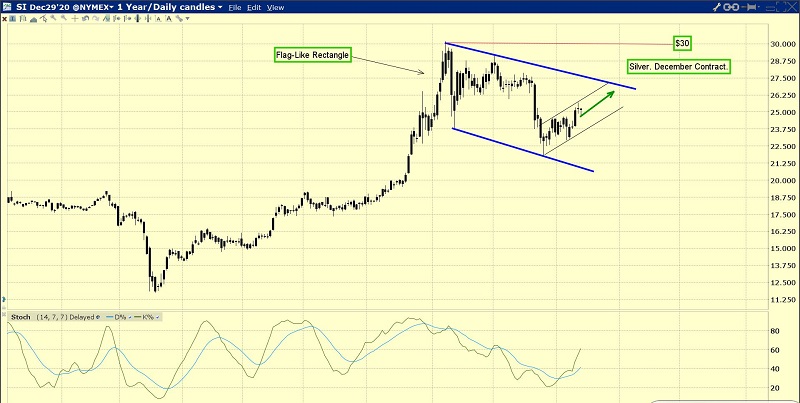 Silver is a "must own" asset during times of inflation and so are the companies that mine it.
On this daily chart, there's a large flag-like pattern which targets not just the $30 area highs, but also the $46 zone!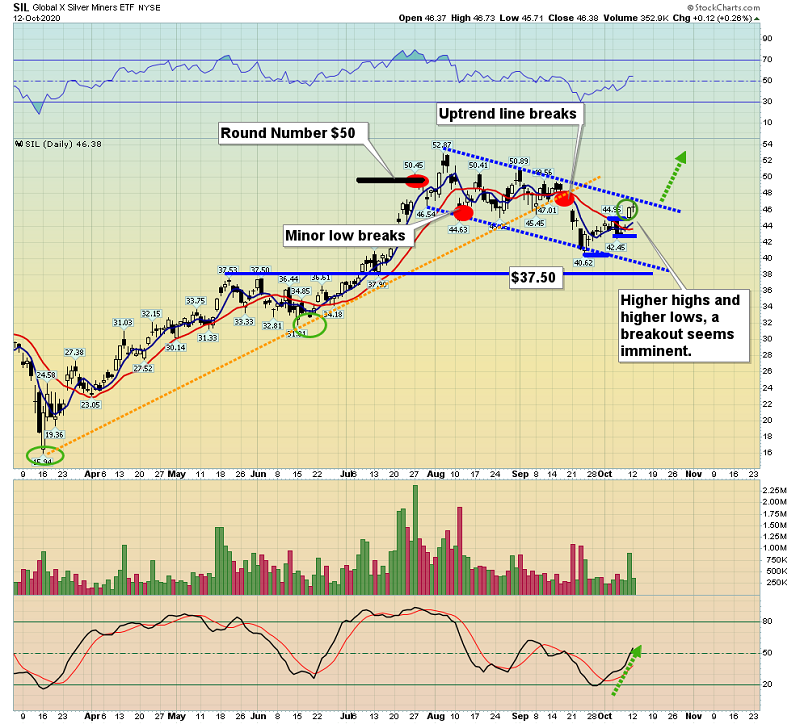 The awesome SIL ETF chart.
When the price of any investment item rises to a round number, breaks an Edwards and Magee pattern of higher highs and higher lows, and snaps a significant uptrend line, a reaction is to be expected.
In the precious metals market, traders can sell these warning signs in anticipation of a reaction, and both traders and investors should be ready to buy the dip!
The dip has occurred, and it's taken the form of a drifting rectangle.  Green shoots are in technical play.  Investors can buy, with an optional stoploss under the recent lows.  An upside breakout seems imminent.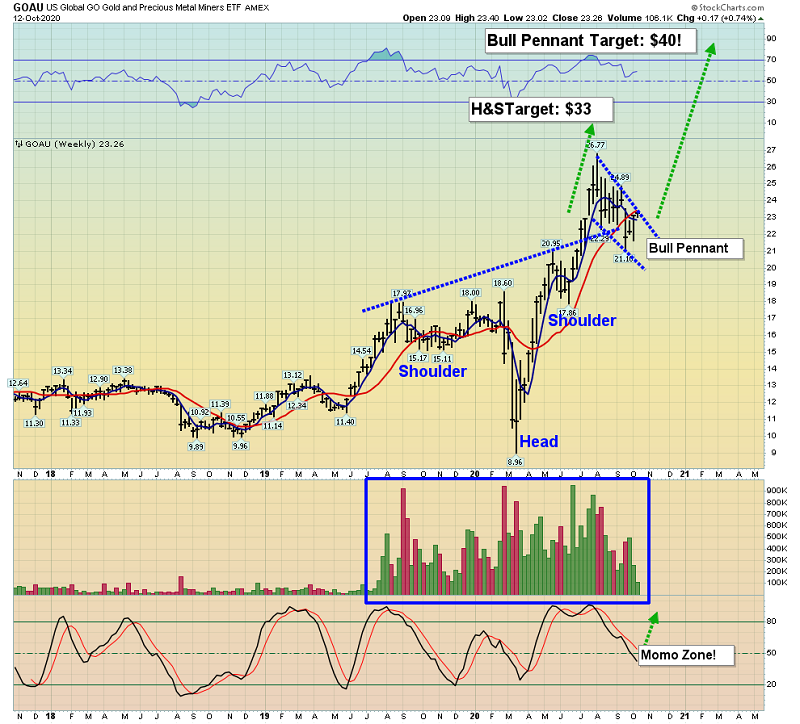 What is probably the most spectacular chart in the current precious metals market.
This weekly GOAU ETF chart sports an inverse head and shoulders bull continuation pattern, a breakout over the neckline, and a pullback that takes the form of a beautiful bull wedge.
If investors are not involved in the miners, now is the time to take a position.Then, sit back and enjoy what should be a spectacular rally that carries GOAU to my $40 target zone!
Special Offer For Gold-Eagle Readers: please send me an Email to [email protected] and I'll send you my free "Junior Gold Snipers In Action!" report.  I highlight key junior gold and silver miners leaping out of their consolidation patterns and embarking on powerful new rallies!  Key tactics are included for each great stock.
Note: We are privacy oriented.  We accept cheques, credit card, and if needed, PayPal.
Written between 4am-7am.  5-6 issues per week.  Emailed at aprox 9am daily    
Email:
Rate Sheet (us funds):
Lifetime: $1299
2yr:  $299     (over 500 issues)
1yr:  $199     (over 250 issues)
6 mths: $129 (over 125 issues)
To pay by credit card/paypal, please click this link:
https://gracelandupdates.com/subscribe-pp/
To pay by cheque, make cheque payable to "Stewart Thomson"
Mail to:
Stewart Thomson / 1276 Lakeview Drive / Oakville, Ontario L6H 2M8 Canada
Stewart Thomson is a retired Merrill Lynch broker. Stewart writes the Graceland Updates daily between 4am-7am. They are sent out around 8am-9am. The newsletter is attractively priced and the format is a unique numbered point form.  Giving clarity of each point and saving valuable reading time.
Risks, Disclaimers, Legal
Stewart Thomson is no longer an investment advisor. The information provided by Stewart and Graceland Updates is for general information purposes only. Before taking any action on any investment, it is imperative that you consult with multiple properly licensed, experienced and qualified investment advisors and get numerous opinions before taking any action. Your minimum risk on any investment in the world is: 100% loss of all your money. You may be taking or preparing to take leveraged positions in investments and not know it, exposing yourself to unlimited risks. This is highly concerning if you are an investor in any derivatives products. There is an approx $700 trillion OTC Derivatives Iceberg with a tiny portion written off officially. The bottom line:  
Are You Prepared?
********