Gold: A Pitstop At $1750?
Gold rallied strongly after Friday's jobs report was released, but all the gains have been lost.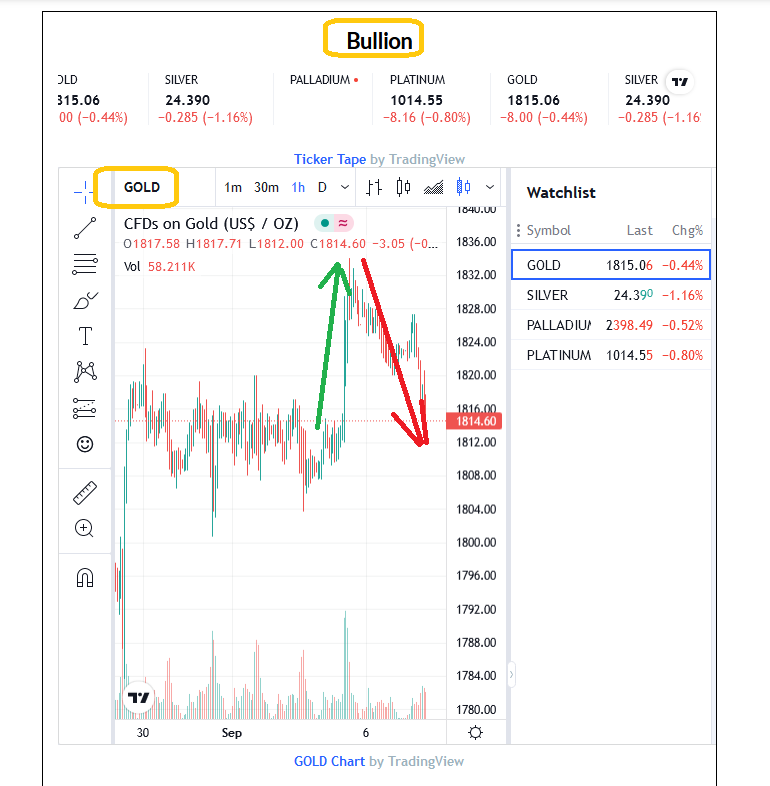 Gold tends to consistently retrace most violent rallies and declines… and often quite quickly.Tuesdays are often a down day for the metals and today that mantra is in play.
A dip to $1750 would be disappointing, but it would only add to the already very-positive look of this chart.
I urge all gold market investors to begin their day by drawing an "arrow of disappointment" on the gold chart.
When I start my day expecting to be disappointed, I often am, but it's not a surprise. That helps me stay firmly focused on key chart levels and the big picture.
An enormous "once a decade" opportunity may be at hand for investors, as a gargantuan inverse H&S bull continuation pattern nears completion.
The price drivers are solid and have synergy:
Indian gold imports are surging again and the world's "fear trade headquarters" (America) looks set to fall into a disturbing stagflationary gulag that could be much bigger than 1966-1980… because the debt to GDP ratio is so much bigger.
An ominous war cycle (both civil and global) for 2021-2025 adds to the bullish posture for gold.
The bottom line: All the technical, fundamental, and cyclical stars are aligned, for a 2022 breakout and journey towards my $3000 target zone!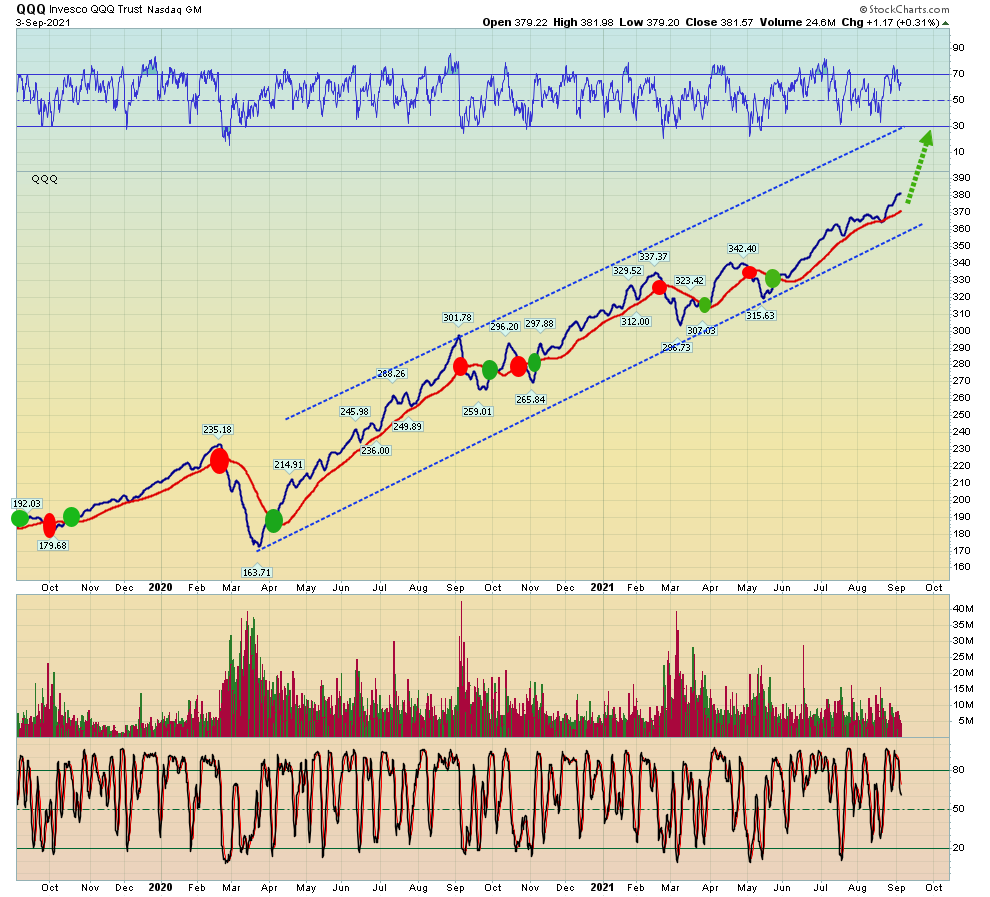 The annual Sept/Oct "crash season" is upon us, and a sell signal on the short-term moving averages would be an initial "Get out of Dodge" warning.
The SP500 PE ratio is in nosebleed territory at about 35, yet the Fed still talks about the need to provide rich stock market investors with more "liquidity" (welfare handouts for the elite).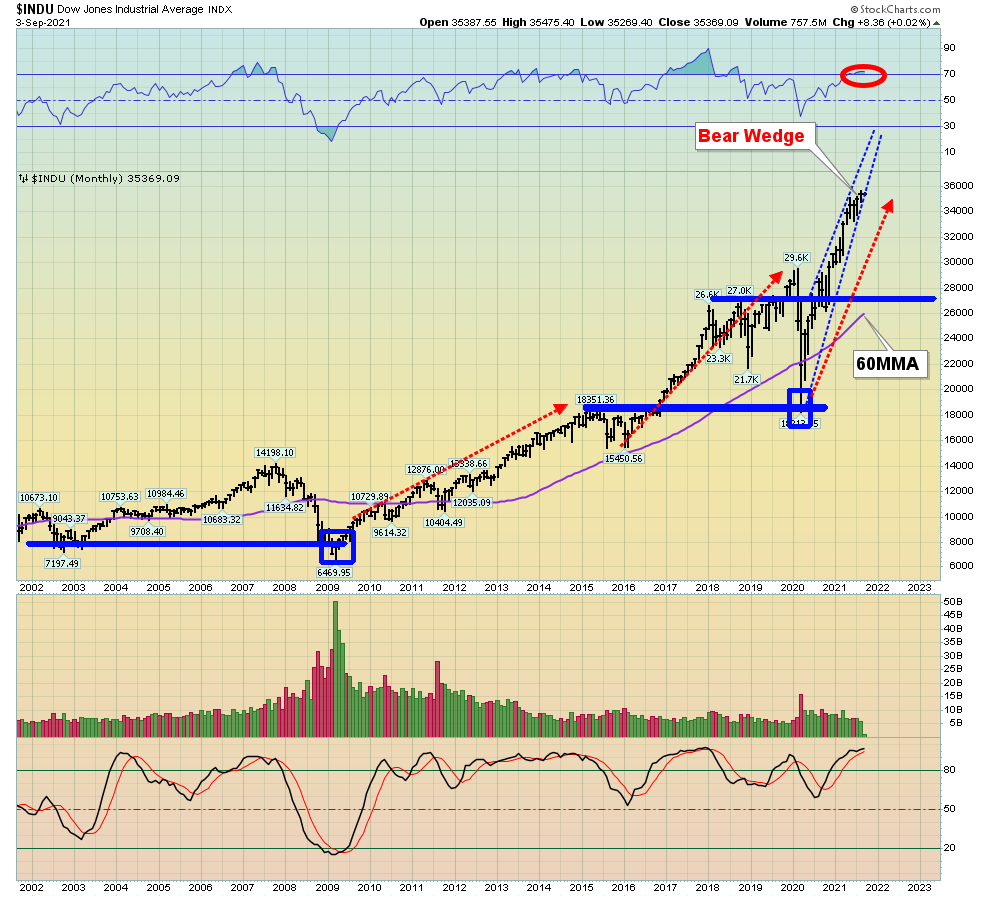 Bloomberg stock market analysts note that the Dow is about 40% higher than the 60MMA (60 month moving average).
They expect the market will "normalize" by falling to that moving average (currently at about 26,000).
I'll simply highlight the madness of giving rich stock market investors QE welfare money handouts while the nation's sick and elderly get nothing.
Ben Bernanke, Janet Yellen, and Jay Powell have been incredibly successful at creating substantial inflation…. in the stock, bond, OTC derivative, and real estate markets where they put all the money they printed.
They have been equally successful in deflating the average citizen, something that appears deliberate given that the average citizen got none of the printed money.
The bottom line: The Fed doesn't need an audit. It needs to be shut down.
I've highlighted the bullish posture of the 14,5,5 Stochastics oscillator at the bottom of the chart.
A gold bullion dip to $1750 would create a "flat line" event for the oscillator. The good news:
That's only a minor concern, and a Stochastics move above the 20-line should usher in the start of one of the greatest rallies in the history of mining stocks.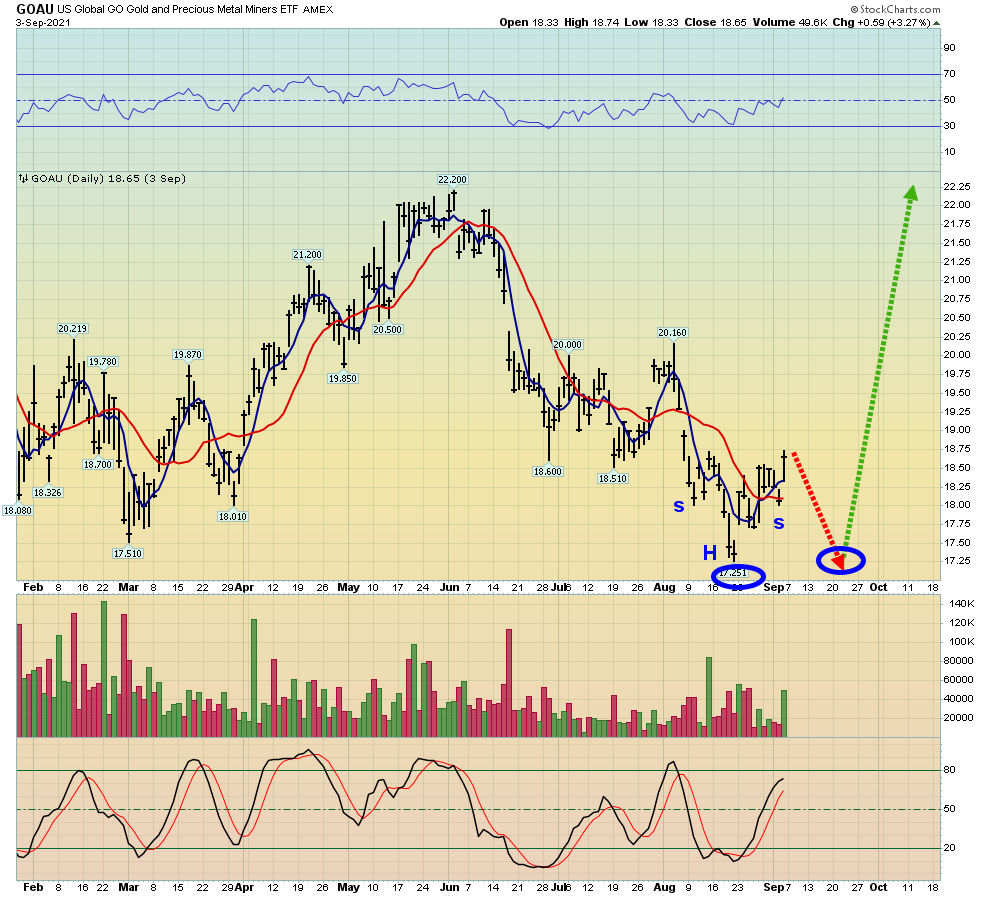 Small inverse H&S bottom patterns often become part of a larger double bottom scenario, and that could be what is happening with a lot of mining stocks now.
With their trusty "arrows of disappointment" drawn on the short-term gold and mining stock charts, savvy investors can stay laser-focused on the fabulous long-term cyclical, fundamental, and technical picture… a picture that is set to become even more fabulous in the years ahead!
Special Offer For Gold-Eagle Readers: Please send me an Email to [email protected] and I'll send you my free "Golden Ten Baggers" report. I highlight eight gold and silver miners staging channel breakouts that are ready for multi-year rallies! Key investor tactics on weekly and daily charts are included in the report.
Thanks!
Cheers
St
Stewart Thomson
Graceland Updates
Note: We are privacy oriented. We accept cheques, credit card, and if needed, PayPal.
Written between 4am-7am. 5-6 issues per week. Emailed at aprox 9am daily
Email:
Rate Sheet (us funds):
Lifetime: $1299
2yr: $299 (over 500 issues)
1yr: $199 (over 250 issues)
6 mths: $129 (over 125 issues)
To pay by credit card/paypal, please click this link:
https://gracelandupdates.com/subscribe-pp/
To pay by cheque, make cheque payable to "Stewart Thomson"
Mail to:
Stewart Thomson / 1276 Lakeview Drive / Oakville, Ontario L6H 2M8 Canada
Stewart Thomson is a retired Merrill Lynch broker. Stewart writes the Graceland Updates daily between 4am-7am. They are sent out around 8am-9am. The newsletter is attractively priced and the format is a unique numbered point form. Giving clarity of each point and saving valuable reading time.
Risks, Disclaimers, Legal
Stewart Thomson is no longer an investment advisor. The information provided by Stewart and Graceland Updates is for general information purposes only. Before taking any action on any investment, it is imperative that you consult with multiple properly licensed, experienced and qualified investment advisors and get numerous opinions before taking any action. Your minimum risk on any investment in the world is: 100% loss of all your money. You may be taking or preparing to take leveraged positions in investments and not know it, exposing yourself to unlimited risks. This is highly concerning if you are an investor in any derivatives products. There is an approx $700 trillion OTC Derivatives Iceberg with a tiny portion written off officially. The bottom line:
Are You Prepared?
********