Gold Price Update
We continue to get mixed signals from the precious metals sector. A few of the mining stocks are looking bullish while the mining indexes remain fairly bearish. Gold looks somewhat bullish in the daily timeframe but the weekly chart is bearish. These mixed signals may be part of a bottoming process but after three years of relentlessly lower prices caution remains the order of the day.
Let's take a look at the daily and weekly charts of COMEX Gold.
GC – COMEX Gold – daily
We have signs of bottoming in this daily chart of Gold. After a $100+ drop in price Gold appears to be finding support along the median line of the red modified-Schiff pitchfork and the lower median line of the blue mod-Schiff fork. MACD is turning up and the MACD histogram is approaching the zero line. Volume declined along with price and there was a capitulation spike in volume at the end of the downtrend.
GC – COMEX Gold – weekly
The weekly chart of Gold is not bullish to say the least. Price remains in a long-term downtrend within the channel formed by the regular-Schiff pitchfork (solid lines). In the shorter-term we have an Andrews pitchfork (dashed lines) describing the price action. Based on the 5 rules for using Andrews pitchforks price is currently targeting this fork's median line around $1150. The moving averages are in bearish configuration and MACD is in bear mode with the MACD histogram falling.
GC – COMEX Gold – weekly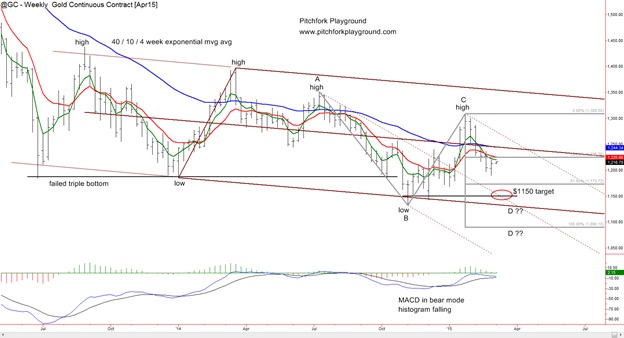 To throw fuel onto the fire of the bearish case for Gold we can draw a Fibonacci Extension of the A-B-C move to predict price targets at $1173 (61.8% extension) and $1090 (100%).
While we might wish for higher prices in the precious metals sector we need to remain realistic about what the price charts are telling us. Based on these charts caution remains the order of the day.
********
Editor-in-Chief, Pitchfork Playground