Gold Speculators Edged Their Bullish Bets Lower This Week
Gold COT Futures Large Trader Positions
Gold Non-Commercial Speculator Positions
Large precious metals speculators slightly lowered their bullish net positions in the Gold futures markets this week after a streak of strong gains, according to the latest Commitment of Traders (COT) data released by the Commodity Futures Trading Commission (CFTC) on Friday.
The non-commercial futures contracts of Gold futures, traded by large speculators and hedge funds, totaled a net position of 290,090 contracts in the data reported through Tuesday August 13th. This was a weekly decrease of -2,455 net contracts from the previous week which had a total of 292,545 net contracts.
The week's net position was the result of the gross bullish position (longs) sliding by -4,335 contracts (to a weekly total of 346,223 contracts) while the gross bearish position (shorts) declined by -1,880 contracts for the week (to a total of 56,133 contracts).
Gold speculators took their foot off the gas pedal this week after having risen for nine out of the previous ten weeks and by a total of +205,857 contracts over that period. Overall, the speculator bets continue to be in a very strong bullish position and just below the +300,000 net contract level which has not been reached since June of 2016.
Gold Commercial Positions:
The commercial traders' position, hedgers or traders engaged in buying and selling for business purposes, totaled a net position of -323,727 contracts on the week. This was a weekly uptick of 598 contracts from the total net of -324,325 contracts reported the previous week.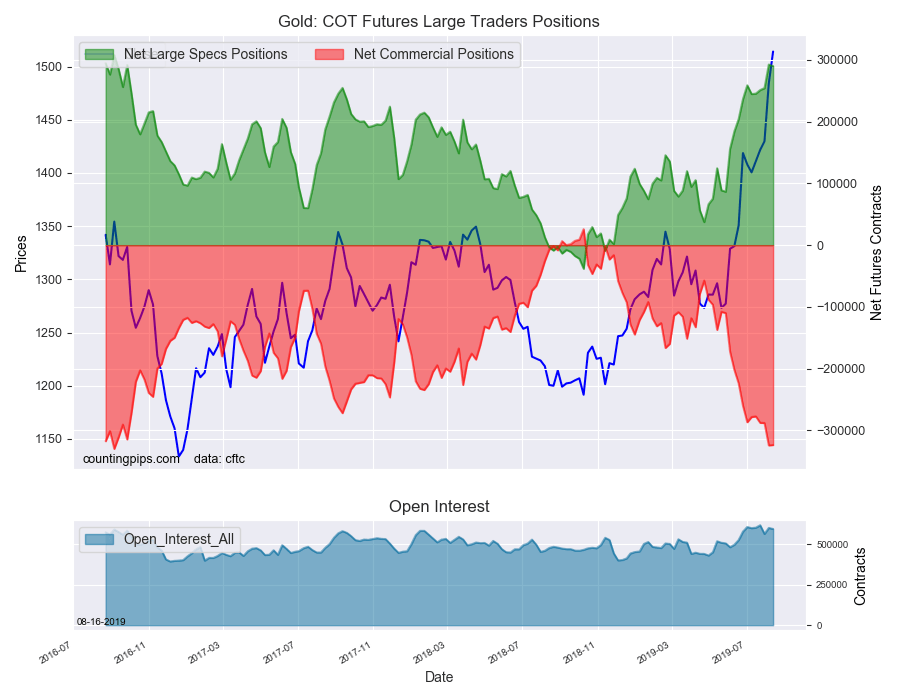 Gold COT Futures Large Trader Positions
Over the same weekly reporting time-frame, from Tuesday to Tuesday, the Gold Futures (Front Month) closed at approximately $1514.10 which was a rise of $29.9 from the previous close of $1484.20, according to unofficial market data.
*********