Gold Speculators Sharply Dropped Bets Back To Overall Bearish Position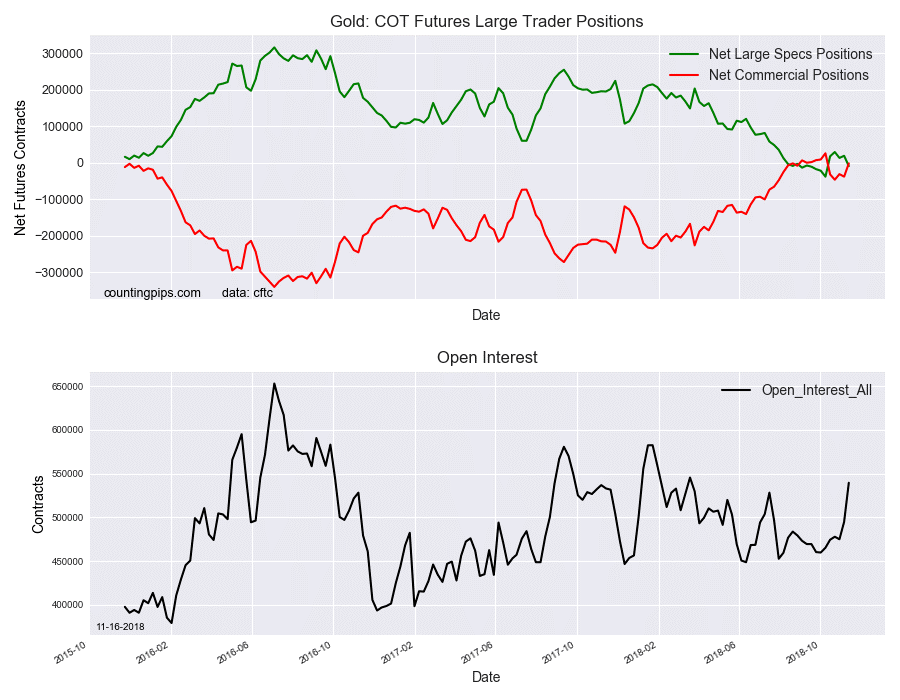 Gold COT Futures Large Trader Positions
Gold Non-Commercial Speculator Positions
Large precious metals speculator sentiment took a hit this week and registered a new bearish net position in the Gold futures markets, according to the latest Commitment of Traders (COT) data released by the Commodity Futures Trading Commission (CFTC) on Friday.
The non-commercial futures contracts of Gold futures, traded by large speculators and hedge funds, totaled a net position of -9,247 contracts in the data reported through Tuesday November 13th. This was a weekly reduction of -28,273 net contracts from the previous week which had a total of 19,026 net contracts.
This week's net position was the result of the gross bullish position dropping by -725 contracts to a weekly total of 168,416 contracts while the gross bearish position which saw a sharp rise by 27,548 contracts for the week to a total of 177,663 contracts.
The gold speculative position is back in bearish territory after spending the previous four weeks in a bullish position and shows that gold sentiment has not turned a corner yet. Overall, the gold speculative net position has been in a bearish standing for ten out of the past fourteen weeks.
Gold Commercial Positions
The commercial traders position, hedgers or traders engaged in buying and selling for business purposes, totaled a net position of -1,823 contracts on the week. This was a weekly increase of 36,313 contracts from the total net of -38,136 contracts reported the previous week.
Gold COT Futures Large Trader Vs Gold Futures
Gold Futures
Over the same weekly reporting time-frame, from Tuesday to Tuesday, the Gold Futures (Front Month) closed at approximately $1201.40 which was a loss of $-24.90 from the previous close of $1226.30, according to unofficial market data.
*********