Gold Stocks are Last Refuge in an Overvalued Market
What a refuge the investor has in those peerless gold stocks! While technical deterioration and extreme overvaluation abounds throughout the stock market today, a brand new bull market is just beginning in the golds sector. And investors who get in now will literally be buying at bargain basement prices just in time for the rocket ride to new heights.
At the risk of sounding "irrationally exuberant," we contend that an investor could almost blindly throw a dart at a random list of gold mining and mineral stocks and come up with a winner nine times out of ten. That's how bullish this sector has become. Almost every chart in this sector shows either an accumulation pattern (which precedes a bull market) or an already existing bullish trend. Only a small handful are bearish and these are easily avoided by looking at the charts. Best of all, the masses have not yet caught wind of this nascent gold stock bull market—they're all too wrapped up in the Internet and tech sector to notice—but when they do you had better be on board for the trip to the moon. So without further adieu, let's examine in depth some of the more attractive offerings from this golden sector.
Without question, the stock with the biggest potential right now is Black Swan Gold Mines Ltd. [BSW.TO]. Take a look at the textbook perfect head and shoulders reversal pattern in its chart, which was confirmed by a high-volume breakout above neckline resistance. For those of you who do not understand technical analysis, do not be intimidated by these terms. What it all boils down to is that Black Swan is a beauty with high growth potential. Already a bullish flag pattern is forming just below $.05. This would be an ideal place to take long positions in anticipation of the next move higher. Chart patterns are very important but they can sometimes mislead. Trading volume, however, never lies and this is where the old adage "the truth of the tape" comes to play. And the tape is telling us that Black Swan is being accumulated by insiders. Get on now!
Our next recommendation is Randgold & Exploration Co. [RANGY:NASDAQ]. This chart shows another accumulation pattern—specifically, a rounding bottom. Volume has been confirmatory of this pattern so far and it appears a breakout is nigh at hand. Already we see an important downtrend line has been broken and RANGY appears to have found a base of support at $2. Volume is increasing in this stock indicative of insider accumulation. Another worthwhile investment in our opinion. Set your protective stops at the $2 level initially. Once $2.75 overhead resistance has been cleared it should be smooth sailing for this stock, and we anticipate a nice move to the upside.
Pan American Silver [PAASF:NASDAQ] is a worthwhile silver play that is also undergoing insider accumulation. A consolidation rectangle has formed between $5-$6 and this base of support will ensure a solid upward move once $6 resistance is finally overcome. Once again, volume has been supportive of a bullish outlook in this stock and we envision an upside breakout anytime now. A 3% breakout above $6 will let you know to get on board for the ride to higher levels.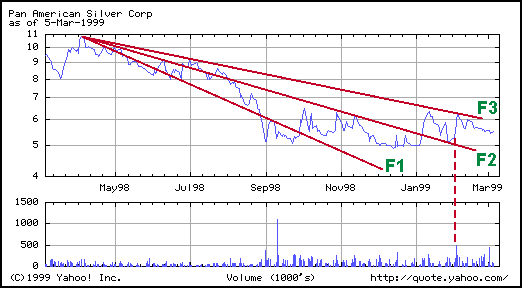 We do not usually analyze non-precious metals mining stocks, but we couldn't resist this one. SRR Mercantile Inc. [SRA.V] is a publicly listed company that is engaged in mining one of the top four precious gems in the world—sapphires. Best of all, SRA is trading at bargain basement levels and shows a promising bullish flag pattern in its chart. Another undervalued stock being accumulated by insiders. In fact, were first made aware of this stock by a certain investment analyst whose judgment we have always respected. Definitely worth a look-see.
Another gold-related stock that isn't actually a mining company but whose prospects look very promising is Itronics Inc. [ITRO:OTC]. This young company specializes in gold and silver refining and technical services for the mining and recycling industries. After many years of struggling and base-building, Itronics has finally shown promise and its shares are being accumulated. In fact, its shares are being purchased by big-money portfolio managers and its outlook is sterling. We don't usually recommend a company based on fundamentals, but this one is an exception. The fundamentals—as well as the technicals—are rock solid for Itronics.
Celtic Minerals [CME.AL] shows a nice rounding bottom pattern in its chart which again reflects insider accumulation. It may take a while longer for CME's price to respond, but a solid base of support for a major bull move has already been built. This stock is a good one for investors with a long-term outlook.
The chart for Cambridge Minerals [CBM.AL] shows a huge volume spike which alone qualifies it for a buy candidate. This volume spike which appeared recently in its chart is sending a message loud and clear: "I am being accumulated. Get on now!"
Finally, Central Pacific Minerals [CPMNY.NYSE] is showing a bullish flag pattern on its chart which portends higher prices ahead. Another worthwhile consideration.