Gold Stocks Are NOT Close To Bottom
It has been a rough year for gold stock investors.
Since gold failed to break to the upside and the US Dollar bottomed, gold stocks have been in a strong downtrend. In September they hit two and a half year lows.
The oversold condition since then has been corrected but that rebound has been quite weak.
Evidence of that can be seen in the GDX advance decline (A/D) line (an important breadth indicator) which is showing a negative divergence and hit a new low on Wednesday.
Rebounds from major market lows are accompanied by strong participation. Note the strength in the A/D line during the rebounds which began especially in December 2015 and less so in December 2016.
Just a week after GDX retested major resistance at $21, its A/D line closed at a lower low.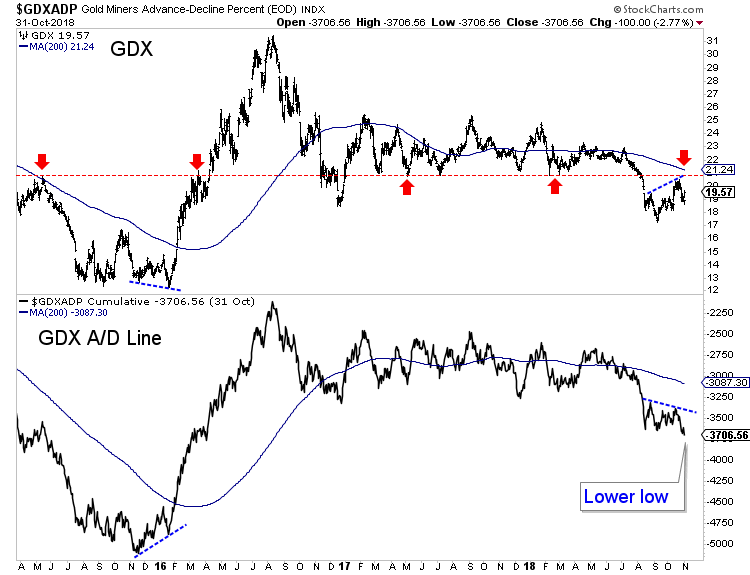 The gold stocks enjoyed a strong Thursday but from a bird's eye view, we should not get excited.
Given the weak nature of the rally and strong overhead resistance nearby, we should be on guard for the primary downtrend to reassert itself. Evidence of that taking place would be a break in the trendline connecting the September and October lows (in yellow).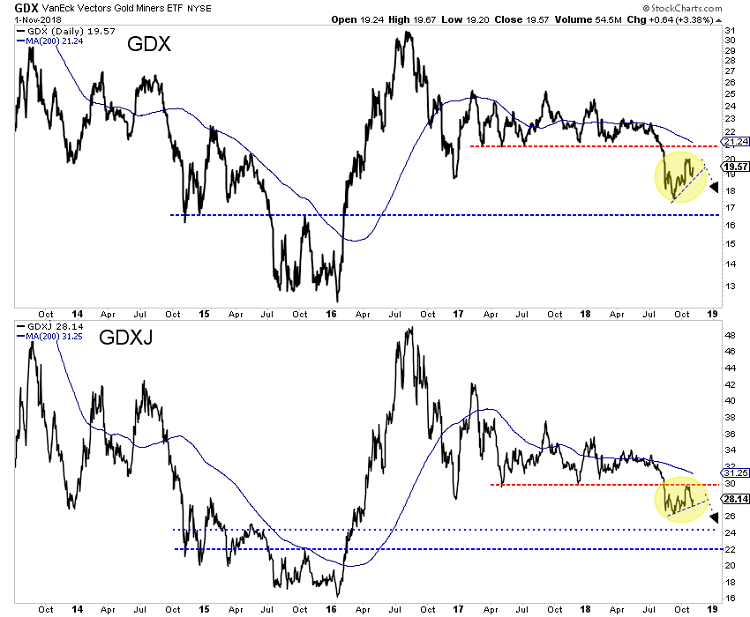 A continued decline into an epic bottom would not be atypical. In fact, one should recall how the gold stocks performed prior to the epic bottoms in Q4 of 2000 and 2008.
The rate of change for 6 months for the HUI gold bugs Index hit -50% in Q4 of 2000 and -70% in Q4 of 2008.
This does not mean that gold stocks have to crash into their bottom. More so, it reminds us it would not be abnormal if it were to happen.
On the fundamental side nothing has changed.
As we have noted several times in recent months, precious metals will not bottom until the Federal Reserve is done with its rate hikes.
Over the past 60 years, the majority of bottoms in gold stocks (but not all) have coincided with the end of Fed rate hike cycles.
When the economy and stock market weaken, the Fed will end its hikes and gold will begin to outperform stocks. If the Fed shifts to rate cuts, then we'll see miners making triple digit gains in a matter of months.
But for now investors and speculators alike should be very cautious and patient.
They should raise cash and if skilled enough use hedges when appropriate. That's what we are doing.
To prepare yourself for an epic buying opportunity in junior gold and silver stocks in 2019, consider learning more about our premium service.