Gold Stocks: Outperformance Begins Now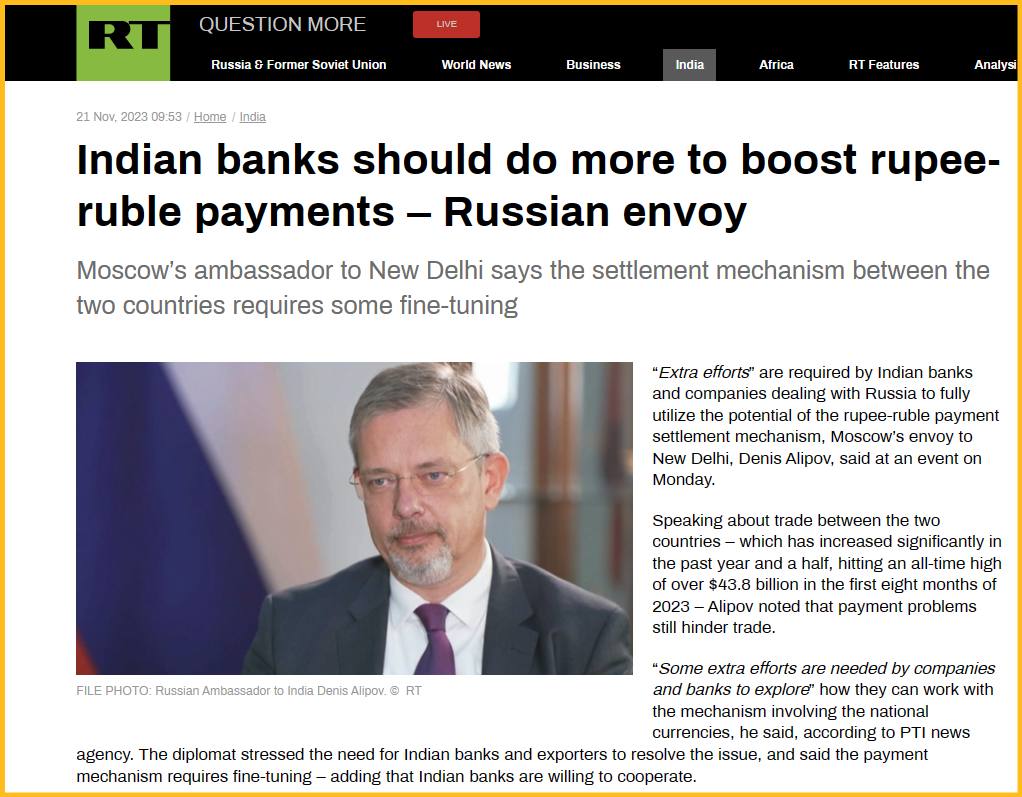 In the 2021-2025 war cycle, tempers are running hot, so it's easy to lose focus on the rampant de-dollarization that is enveloping the world.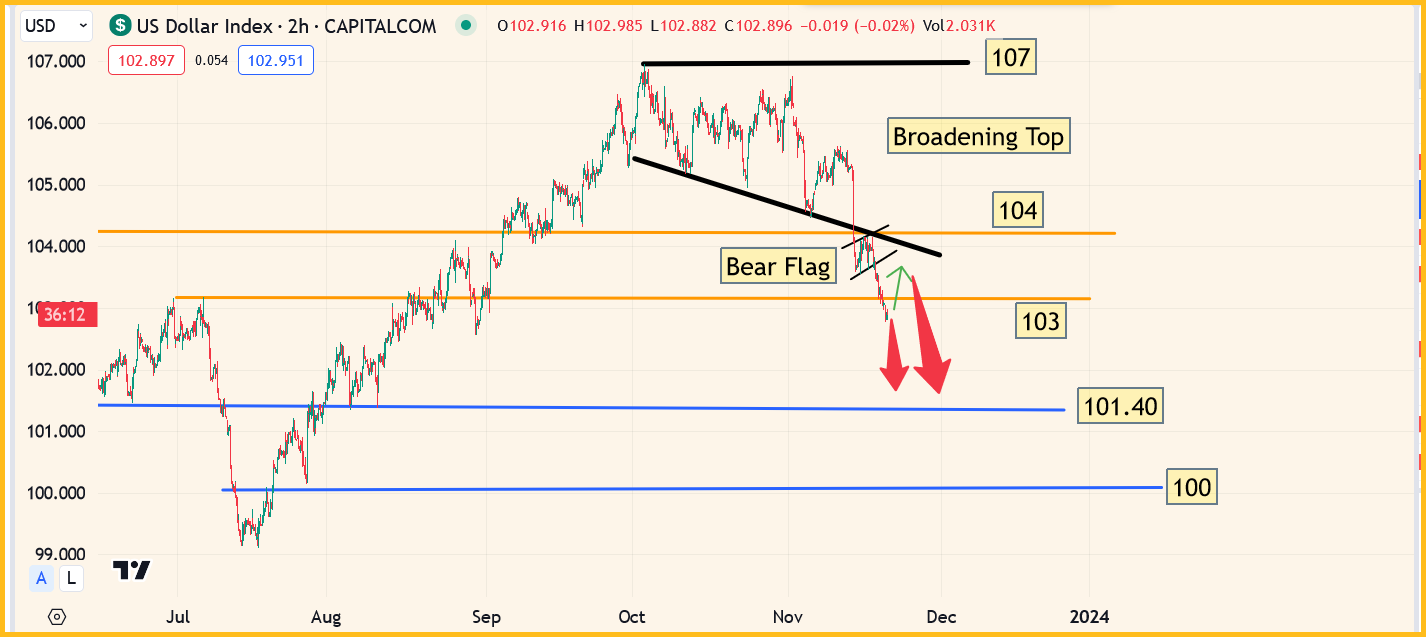 Double-click to enlarge this short-term dollar chart. After breaking down from a broadening top pattern, a bear flag ushered in a near-vertical drop.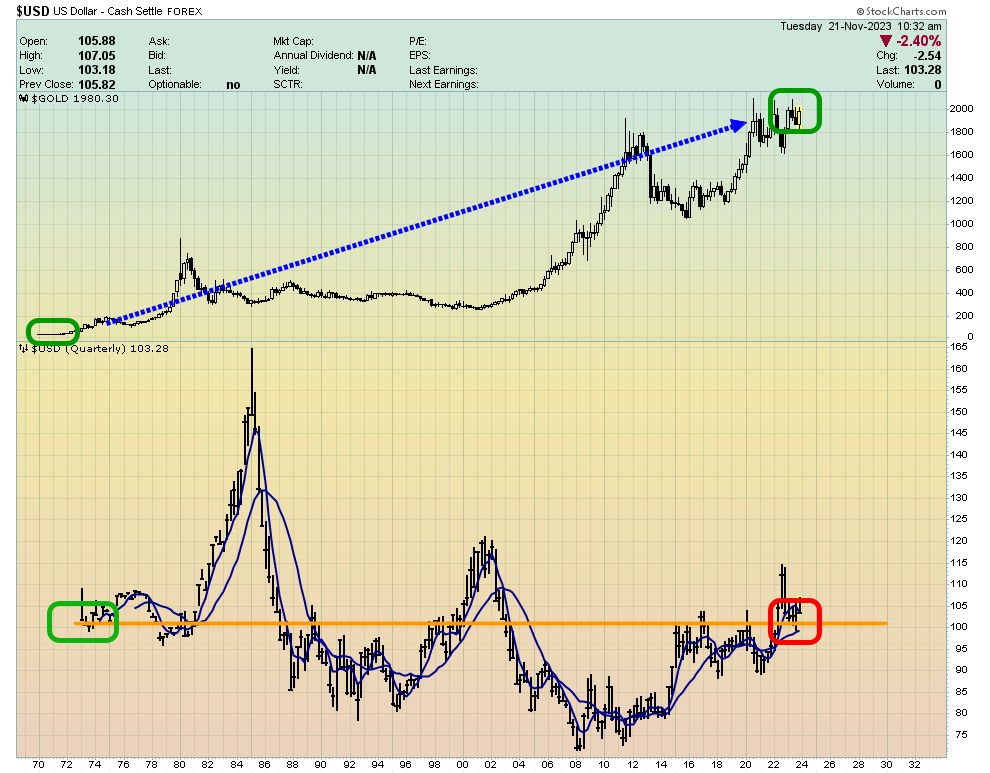 Double-click to enlarge this dollar versus gold comparison chart. Over the past 50 years, the dollar has gone nowhere against other key fiats…
While being viciously mauled by the ultimate currency that of course can only be gold. The big question gold bugs are asking is this:  
Is gold set to begin a fresh mauling of all the world's fiat?
The answer appears to be, "Yes, but…". For some insight into the action,
Double-click to enlarge this key US rates chart. There's an interim top roughly in place, but if a bigger/second right shoulder gets built, there could be a week or two of pressure on gold.
Regardless, rates look headed to my 3.4% target zone over the next 12 to 24 months. That would likely see the dollar fall back to par (100) or lower.
These events alone would probably propel gold to $2400, and $3000 could be reached if other events come into play.
Double-click to enlarge this daily gold chart. While this isn't a textbook inverse H&S pattern, I call it "H&S action".
Market reversals and consolidations don't have to begin from textbook formations… and often don't. They often launch from "price blobs" or "quasi patterns", and that appears to be what's happening here with gold.
Note the fresh crossover buy signal for the 14,7,7 Stochastics series.  
All the above suggests that there won't be much right shoulder action, if any, for US rates. Instead, it appears more downside lies almost directly ahead.
Today, there's no need to go into detail about the US government's debt and global meddling that has so obviously gone off the rails. 
All that's needed is for gold bugs to watch for the next horrific surprise related to that madness… surprise that propels gold at least as high as the dollar, rates, and gold charts suggest it will go.  
For a look at the action on the "ultimate trade" side of the golden pond,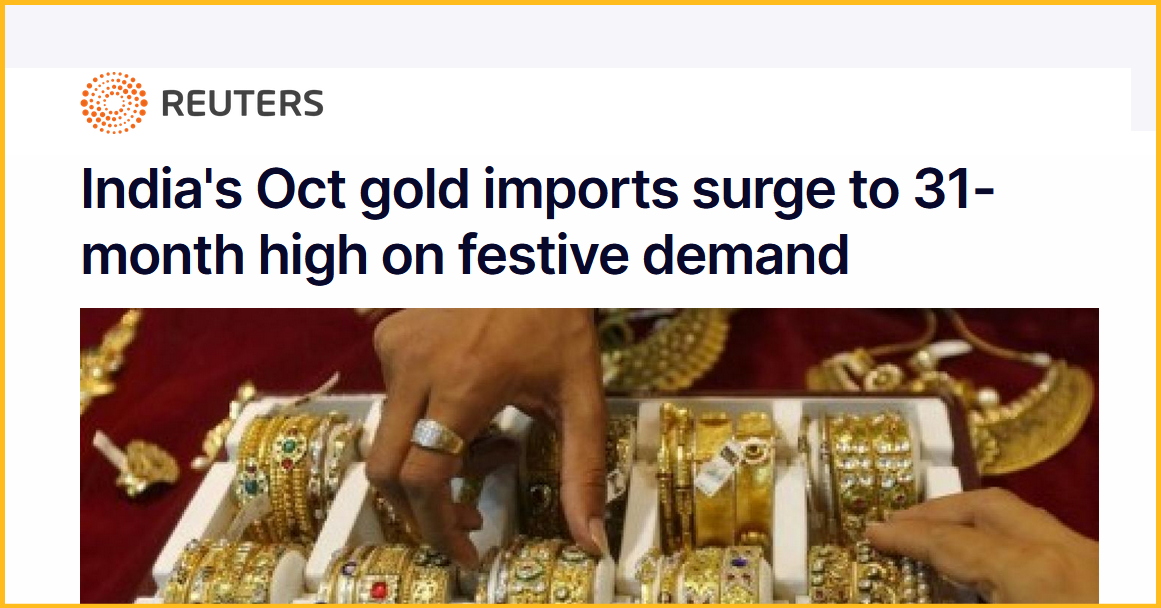 Indian dealers (just in the official duty-impaled market) imported 123 tons in the month of October, and most of that likely took place right around the $1810 low for gold.
Most analysts refer to the Asian trade for gold as the "love" trade, but I'm adamant that it's better termed, "The Ultimate Trade". Three billion Chindians buy gold to celebrate good economic times, key religious events, and great family news… but they also buy it to defend themselves against the hideous entity that is government, and all money that is fiat.
Note that fiat money isn't just paper money. It can be Roman gold coins diluted with tin.  Indians focus on minimally diluted 22 carat gold, while citizens of China generally prefer theirs to be 24. If the free (black) market of India is taken into consideration, Indian imports in October were likely closer to 150-160 tons. 
A consistent focus on the big picture is critical for gold and silver market investors. I cover that picture 5-6 times a week in updates just like this one, in my flagship Galactic Updates newsletter. At $199/year, investors feel the price is too low, and I'm doing a $179/15mths special offer that investors can use to get in on the winning action. Click this link to get the offer or send me an email and I'll get you a payment link. Thanks!
What about silver?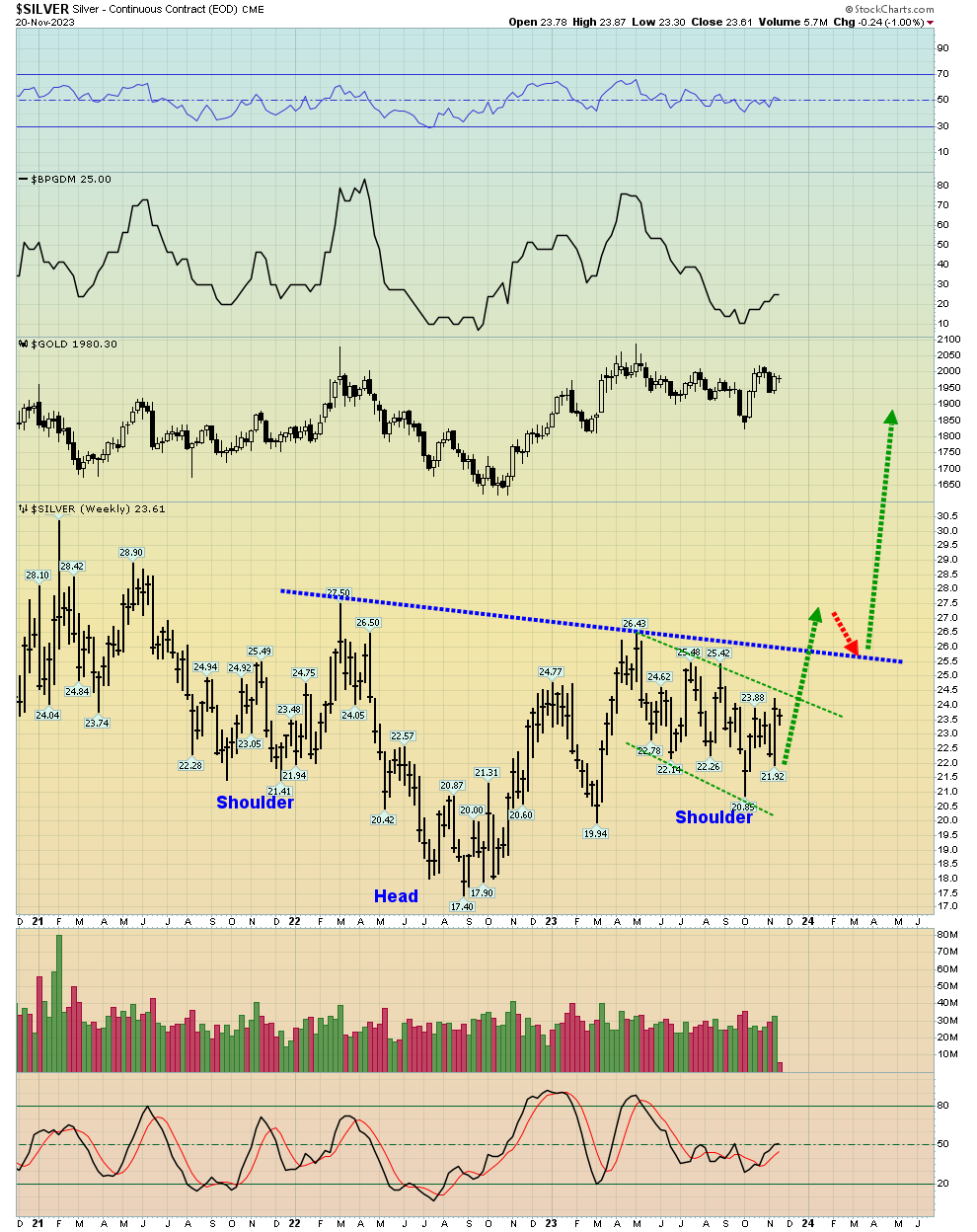 Double-click to enlarge this very impressive weekly silver chart. The inverse H&S action is substantial.
A surge in 2024 should see silver reach a price of $35.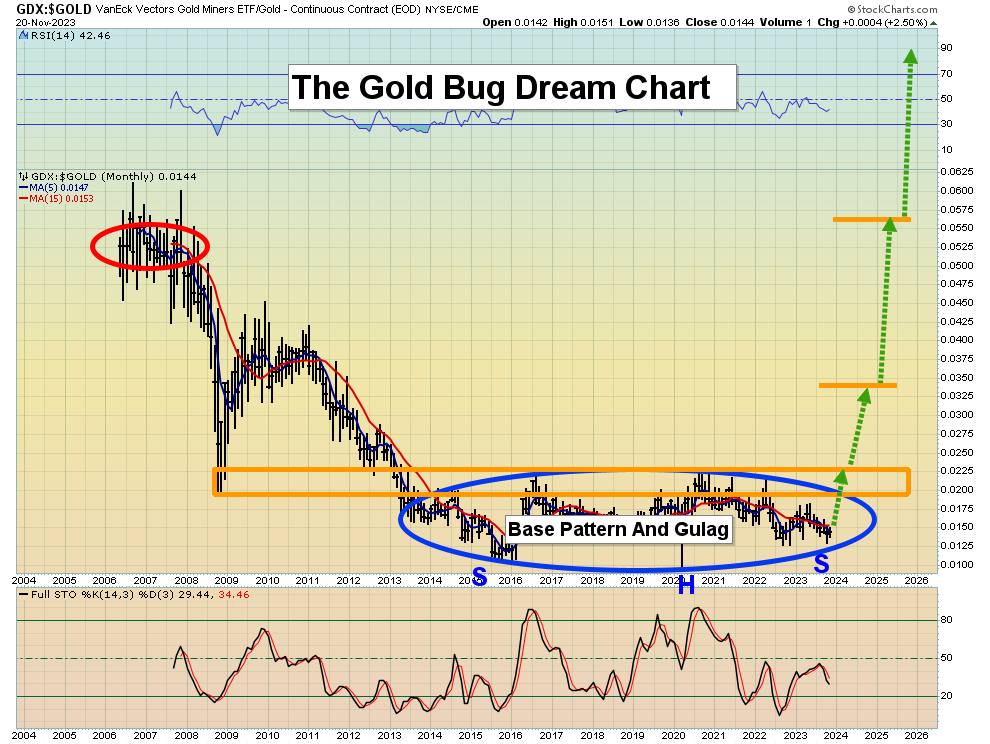 Double-click to enlarge this GDX "base pattern and gulag" chart. While some gold stock bugs may feel the Cooper Brothers rock band song, "The Dream Never Dies, Just The Dreamer" is fitting for the action of gold stocks versus gold, I'll dare to suggest this chart has become much more base pattern than gulag.
The upcoming BRICS meeting concerns the gulag that is Gaza, but a lot of de-dollarization talk (and potential action) is likely to happen too.
De-dollarization and "De-Americanization" of the world are themes that are in their infancy. While some fear Western analysts may be a bit too hasty in their calls for an imminent gold price parabola, long-term de-dollarization is likely to be in sync with long-term upside action for gold, and for outperformance of gold stocks.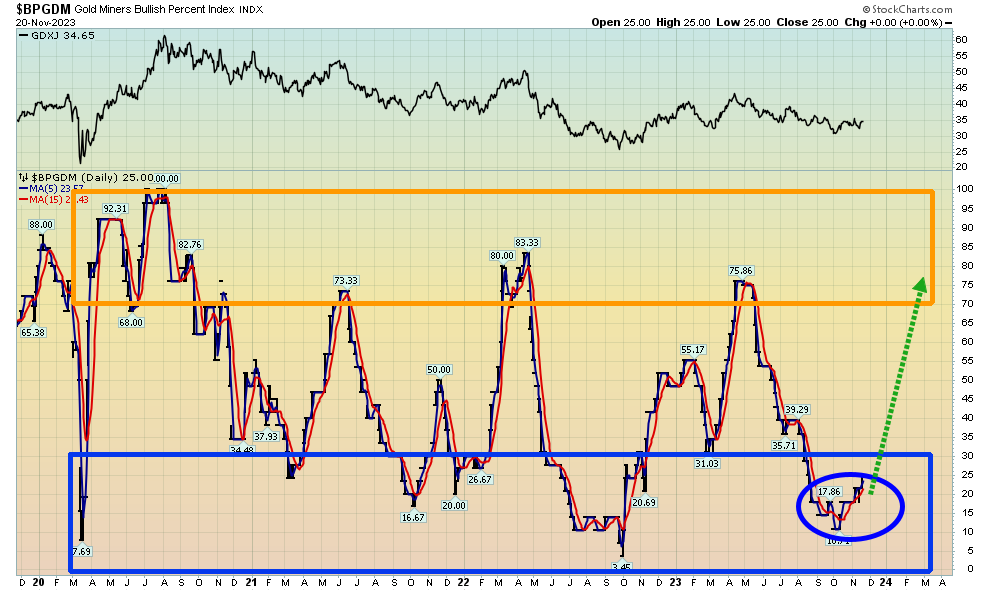 Double-click to enlarge. The BPGDM sentiment index suggests that the GDX is about to break out of its base pattern versus gold. For a look at the GDX daily chart,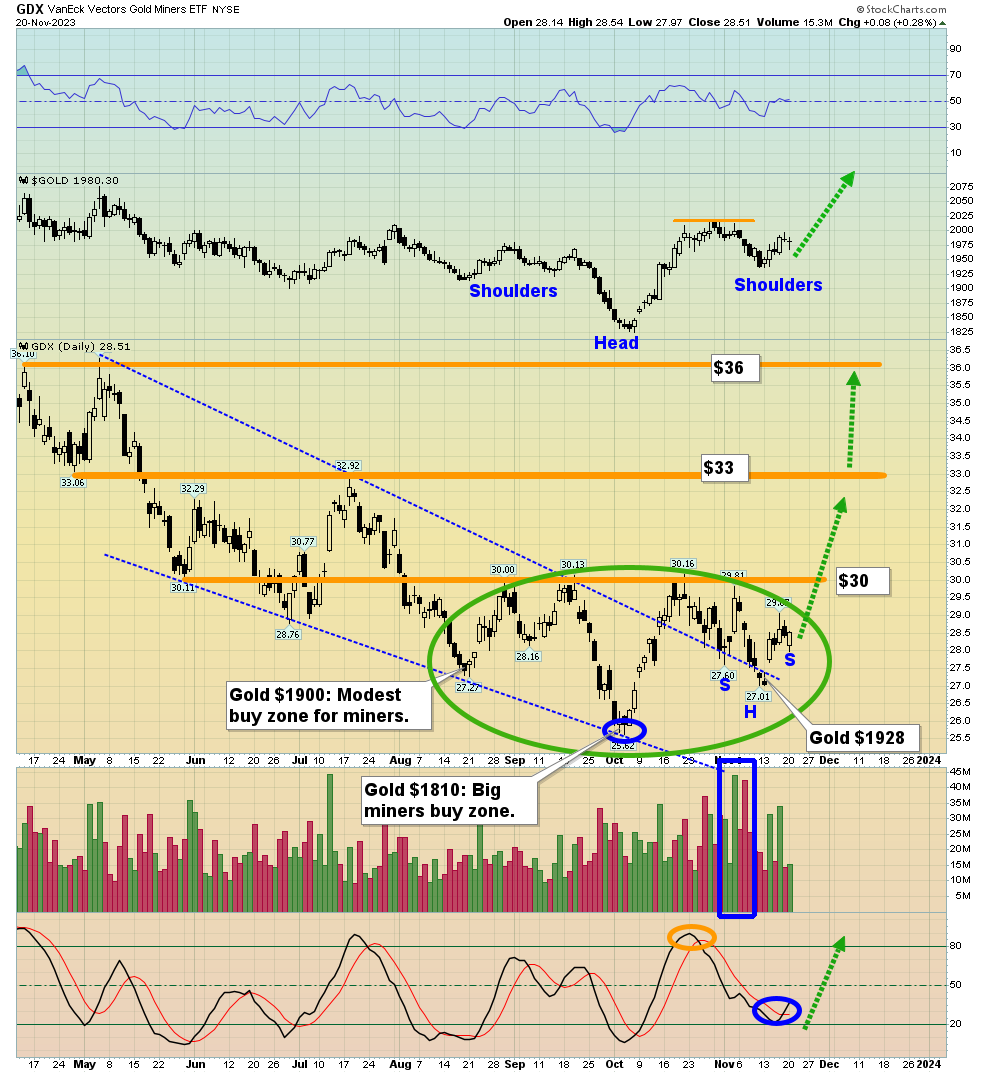 Double-click to enlarge. There's now a buy signal on the key 14,7,7 series Stochastics oscillator. Also, please note the inverse H&S pattern in play. Gold stocks are poised to show gold bugs all the money they have waited patiently for… and deserve!
Thanks!
Cheers
St
Special Offer For Gold-Eagle Readers: Please send me an Email to [email protected] and I'll send you my free "Get Jacked With J!" report. I highlight key GDXJ stocks that could surge after Fed man Jay's speech this week! Both core and trading position tactics are included in the report.
Stewart Thomson
Galactic Updates
Note: We are privacy oriented. We accept cheques, credit card, and if needed, PayPal.
Written between 4am-7am. 5-6 issues per week. Emailed at aprox 9am dailyhttps://www.gracelandupdates.com/
Email:
Rate Sheet (us funds):
Lifetime: $1299
2yr: $299 (over 500 issues)
1yr: $199 (over 250 issues)
6 mths: $129 (over 125 issues)
To pay by credit card/paypal, please click this link:
https://gracelandupdates.com/subscribe-pp/
To pay by cheque, make cheque payable to "Stewart Thomson"
Mail to:
Stewart Thomson / 1276 Lakeview Drive / Oakville, Ontario L6H 2M8 Canada
Stewart Thomson is a retired Merrill Lynch broker. Stewart writes the Graceland Updates daily between 4am-7am. They are sent out around 8am-9am. The newsletter is attractively priced and the format is a unique numbered point form. Giving clarity of each point and saving valuable reading time.
Risks, Disclaimers, Legal
Stewart Thomson is no longer an investment advisor. The information provided by Stewart and Graceland Updates is for general information purposes only. Before taking any action on any investment, it is imperative that you consult with multiple properly licensed, experienced and qualified investment advisors and get numerous opinions before taking any action. Your minimum risk on any investment in the world is: 100% loss of all your money. You may be taking or preparing to take leveraged positions in investments and not know it, exposing yourself to unlimited risks. This is highly concerning if you are an investor in any derivatives products. There is an approx $700 trillion OTC Derivatives Iceberg with a tiny portion written off officially. The bottom line:
Are You Prepared?
********