Gold Stocks: Some Profit Booking Is Prudent (Part II)
Years ago, when I predicted a "virus cycle carpet bombing" of America for 2019-2021, I warned that it could look like a "peanut play" compared to the 2021-2025 war cycle that would follow.
Americans are gleefully tossing their virus masks into the garbage can, just when they should consider buying hazmat suits and building bomb shelters.  Alas, such is the irony of life.
Unlike the disgusting regime change wars instigated by American government "Gmen" in the past, as this war cycle intensifies, significant blood is likely to be spilled… on American soil.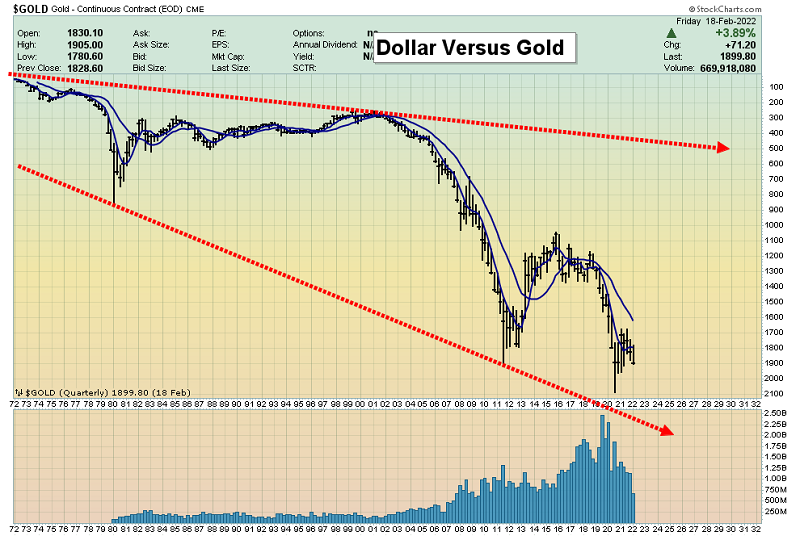 Gold is the money of champions, and fiat appears to be the money of… chumps.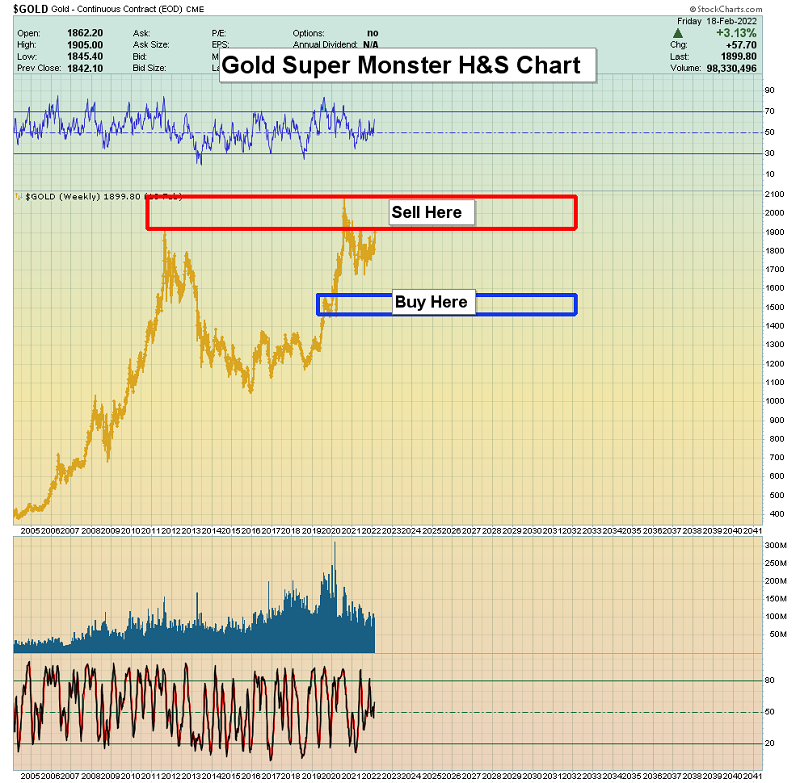 It should be obvious that fiat-oriented freedom isn't real freedom.  It's fake, because it's government-oriented.  This isn't a "top call".  It's a call to get richer!
Investors have significant profits on gold stocks bought at my buy zone of late September/Early October, and the time is here for conservative investors to book some of their gains.
A closer look at the $1900 sell zone.  $1900 is significant resistance and while a lot of bullish factors are in play, from a tactical viewpoint, it's a profit booking zone for mining stock investors.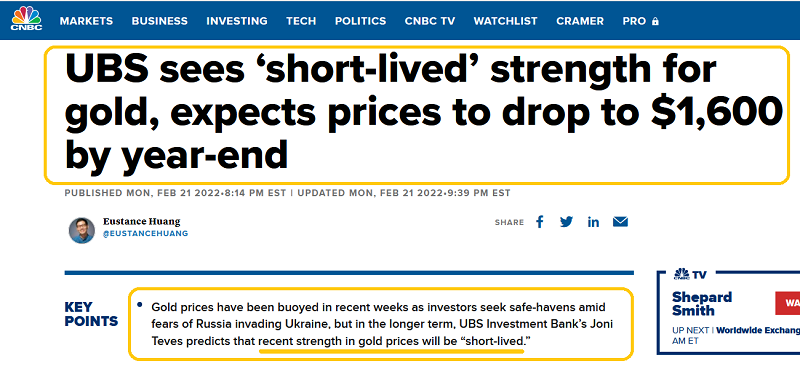 I don't have the same view that UBS analyst Joni Teves has, but anything is possible in markets, and her $1600 target is roughly the same as my $1577-$1450 buy zone.
The difference between her outlook and mine is that I want investors prepared to buy $1577-$1450 if it happens. 
In terms of prediction though, the odds favour a push towards $2089 more than a dip to her $1600 target price.

In the short term, upwards pressure on commodities is likely to continue, but bond yields could fall as the stock market enters a panic stage.
The disturbing Nasdaq ETF chart.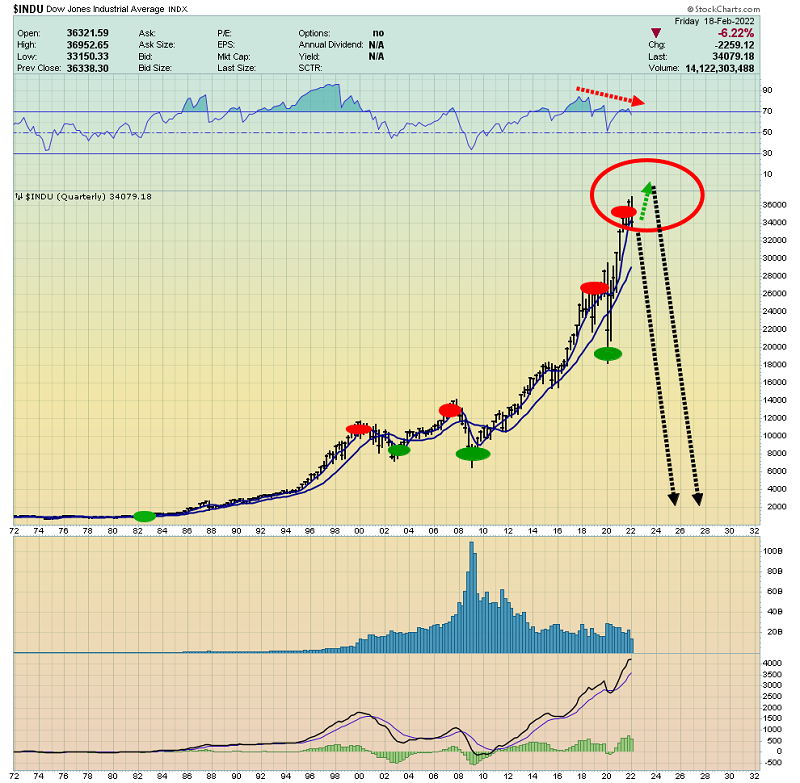 A big picture view of the US stock market.  The bottom line:  I've issued some major buy and sell signals over the past 40 years, and this sell signal is the biggest of them all.
It's essentially a sell signal for the entire American empire.
The US central bank uses inflation calculations that are out of touch with the "boots on the ground" pricing pain experienced by the average citizen.
That's one reason why Fed chair Jay hasn't announced an interim (between meetings) rate hike.  Here's another:
The Fed likely hoped that inflation would fade so it could continue its QE and zero interest rate welfare programs for the government, and for the stock and real estate market "oligarchs".
That hasn't happened.  Instead, the war cycle has intensified, and war is one of history's greatest catalysts for inflation!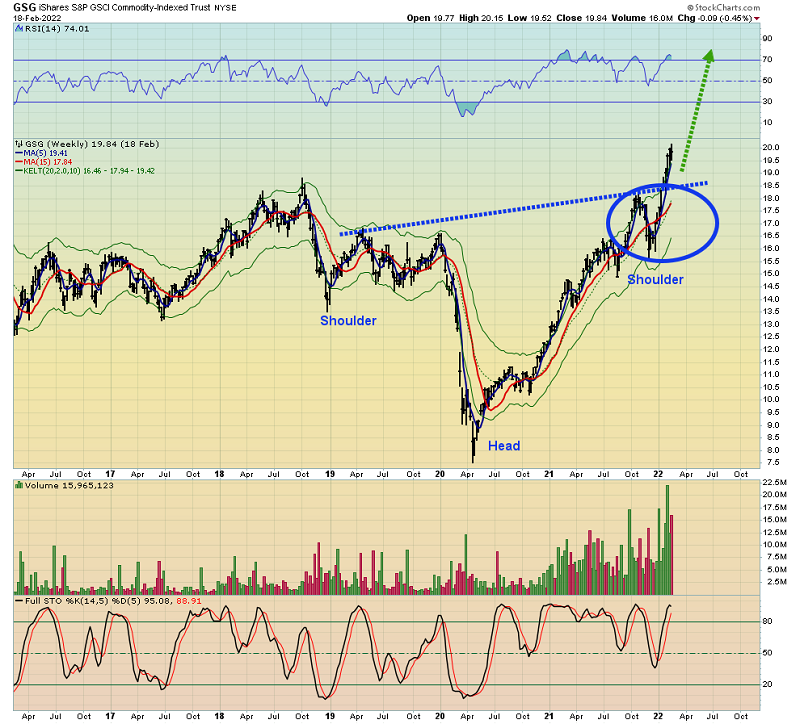 The spectacular GSG-NYSE commodity fund chart.  A powerful inverse H&S pattern is in play.
If gold stock investors are booking partial profits on some of their mining stock positions here, broad-based commodity funds (as well as gold bullion itself) are a good place to allocate some of the proceeds.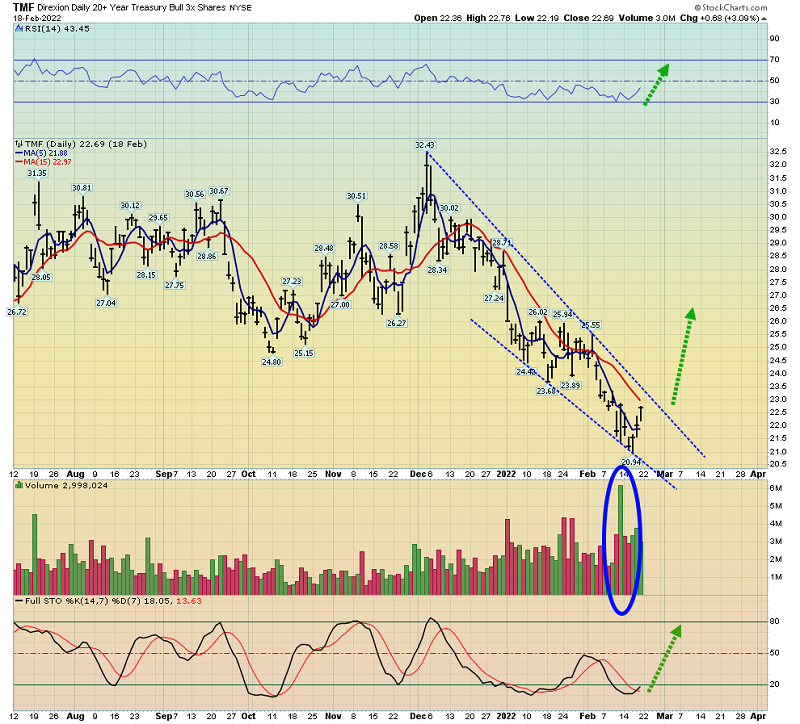 The triple-leveraged bond fund chart.
I do short-term trades for this bond fund as well as triple-leveraged GDXU and GDXD for gold stocks at my swing trade newsletter.  Regular pricing is $289 for 3 months.  I have a gold bug special this week of $249 for 4 months.  Traders can get the alerts by email or text to phone.  Send me an email if you want the swing trade special.  Thanks!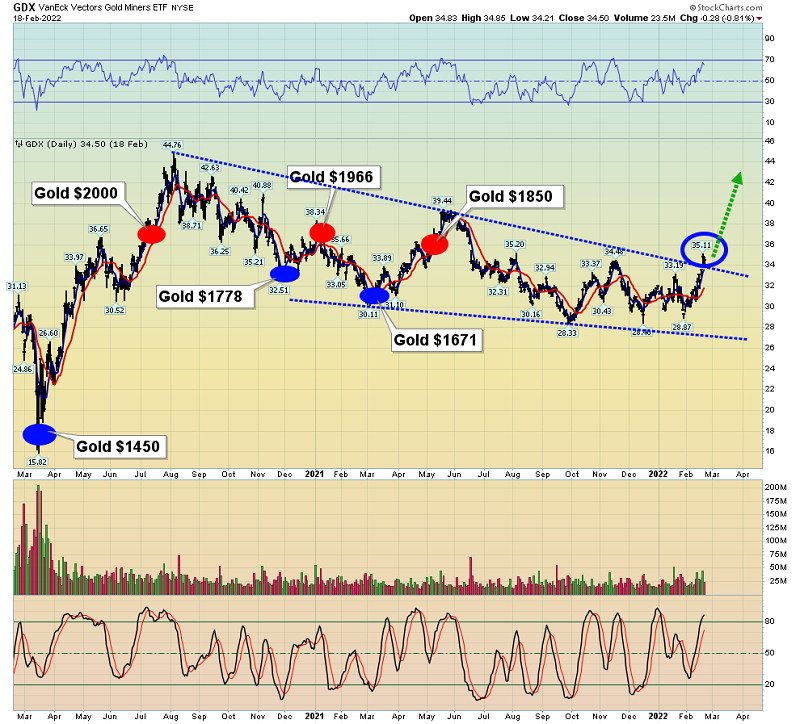 The enticing GDX chart.  A breakout from a massive drifting wedge pattern is in play but…
A Friday close over $35 is required to "lock it in".  Conservative investors should also wait for a Friday gold price close of $1915 before getting too excited, but there's no question that the tide is turning… and favours the bulls!
Special Offer For Gold-Eagle Readers:  Please send me an Email to [email protected] and I'll send you my free "Gold Stocks Dreams Become Real!" report.  I highlight eight maverick junior miners priced under $5 that show bullish price and volume action.  Investor tactics are included for each great stock!
Stewart Thomson 
Graceland Updates
Note: We are privacy oriented.  We accept cheques, credit card, and if needed, PayPal.
Written between 4am-7am.  5-6 issues per week.  Emailed at aprox 9am daily    
Email:
Rate Sheet (us funds):
Lifetime: $1299
2yr:  $299     (over 500 issues)
1yr:  $199     (over 250 issues)
6 mths: $129 (over 125 issues)
To pay by credit card/paypal, please click this link:
https://gracelandupdates.com/subscribe-pp/
To pay by cheque, make cheque payable to "Stewart Thomson"
Mail to:
Stewart Thomson / 1276 Lakeview Drive / Oakville, Ontario L6H 2M8 Canada
Stewart Thomson is a retired Merrill Lynch broker. Stewart writes the Graceland Updates daily between 4am-7am. They are sent out around 8am-9am. The newsletter is attractively priced and the format is a unique numbered point form.  Giving clarity of each point and saving valuable reading time.
Risks, Disclaimers, Legal
Stewart Thomson is no longer an investment advisor. The information provided by Stewart and Graceland Updates is for general information purposes only. Before taking any action on any investment, it is imperative that you consult with multiple properly licensed, experienced and qualified investment advisors and get numerous opinions before taking any action. Your minimum risk on any investment in the world is: 100% loss of all your money. You may be taking or preparing to take leveraged positions in investments and not know it, exposing yourself to unlimited risks. This is highly concerning if you are an investor in any derivatives products. There is an approx $700 trillion OTC Derivatives Iceberg with a tiny portion written off officially. The bottom line:  
Are You Prepared?
*********