Gold Surges To £1,175/oz, Near Record £1,179/oz In GBP, As Sterling Falls Sharply
Gold prices have surged in British pounds today as sterling fell sharply on concerns that Boris Johnson may lead the UK and EU into a "hard Brexit."
Gold surged to 1,175/oz and nearly touched the all-time record nominal high of £1,179/oz as the pound fell on international markets.
Gold gained nearly 0.5% in dollars ahead of the meeting of the U.S. Federal Reserve. Due to the slowing U.S. and global economy, they are expected to signal how big an interest rate cut the world's biggest economy might take.

Irish bonds saw selling, as did global stock markets before what is expected to be the first cut in U.S. rates since the financial crisis.

Gold has gained in all currencies today but especially in the embattled British pound. It is not just the 'no deal' Brexit that is leading to sharp falls in the pound. Trade wars, falling interest rates in the UK and globally, the slowing London and UK property market and the slowing UK and global economy are all contributing to the fall in sterling.

Gold in GBP – Monthly, 10 Year – GoldCore.com
As are the very large UK deficits and the completely unsustainable debt position. While all the focus is on Brexit, the UK faces the very real risk of a debt and currency crisis.
Britain has over $8 trillion in external debt and is the 2nd largest debtor in the world after the U.S.

True UK government debt exceeds £5 trillion as pension liabilities are not counted in the official numbers. Total UK debt (government, private, business & bank debt) as a percent of GDP is over 500% which in itself creates the risk of a currency crisis.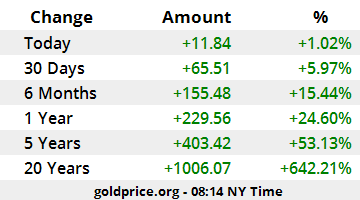 Gold Price Performance GBP
*********